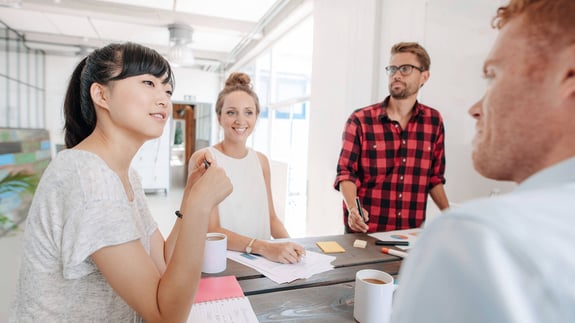 Agile Campaign Approach Helps Tech Leader Resonate with New Audience
Success Story
At a glance
We helped a tech leader plan and execute a LinkedIn campaign to grow its presence as a thought leader on a specific approach to machine learning for industrial scenarios. Working within a limited timeframe and budget, we used an agile, innovative methodology to regularly evaluate campaign performance and optimize efforts accordingly. The campaign successfully generated awareness among a targeted audience, achieving over 650 thousand impressions and outperforming original performance targets by 88%.
Generated awareness of a tech leader's thought leadership on a niche topic to a targeted audience through a LinkedIn campaign
>650k
campaign impressions achieved
88%
outperformance of original campaign performance targets
58%
decrease in ad cost per click (CPC) by end of campaign
Digital presence acceleration
Precision customer targeting
SCHEDULE A MEETING WITH AN EXPERT
Prioritizing agility
According to Forrester and AgileSherpas research, 77% of creative services, content creation, and operations teams use agile marketing. The approach is highly effective at helping teams continue to adapt to rapidly changing market conditions, business priorities, and customer behaviors.
Particularly when using social media campaigns to attract and resonate with new audiences to grow your business, agility is the key to success. It's essential to remain innovative and flexible to ensure you receive the highest ROI. Remaining flexible and adaptable allows your team to become more closely aligned with each other and with your goals. An agile approach also incorporates continuous feedback, allowing you to quickly revise and iterate efforts so you can achieve a faster rate of success.
Using paid media to reach a new audience
A leader in the technology industry wanted to generate awareness for its thought leadership on a specific approach to machine learning for industrial scenarios. Targeting a specific audience, we were asked to help our client develop and execute a paid media campaign on LinkedIn within a very short timeframe using a limited budget.
The campaign from start to finish
Taking an iterative and agile approach, our team took the following steps to plan, launch, and conclude the campaign:
Develop a campaign plan

Build creative ads

Execute the campaign

Assess initial campaign performance

Modify campaign ads based on real-time data and metrics

Conclude campaign
The first step to executing a successful campaign starts with planning. Our team kicked off the project by outlining the campaign objective, which was to drive awareness for the machine learning approach and establish our client as a thought leader for the concept via a paid media campaign on LinkedIn. Once we established the objective, we then clearly defined who the target audience would be. Our target audience would consist of engineers, but it needed further refinement to ensure the campaign landed with individuals who had the greatest chance of resonating with our messaging. We therefore narrowed down the audience by determining specific qualifying parameters such as job function and title, education, interests, etc.
Our plan also included a process for A/B testing, which we would implement to identify the best-performing ads during the initial campaign test period. The findings would be used to adjust the campaign moving forward. The campaign plan additionally outlined the LinkedIn execution approach, including channels and ad types that would be used, as well as the projected reach, frequency, and cost of media placements.
Next, we built the creative ads. We thoughtfully developed the messaging for these ads to convey our client's position as a thought leader on the specialized machine learning approach and to generate curiosity about the topic. Our team designed and created seven different ads using two ad types. The first type included carousels, of which we built three. Each one was made using different designs and copy. The second type of ad included videos that were made using existing footage from our client. Our team edited two separate videos, and they were each used in two versions with different messaging.
Then, we were ready to launch the six-week campaign. We used LinkedIn to target our previously determined audience, uploaded the ads, and began execution. The start of the launch also initiated the preliminary A/B testing period for all ads.
By the end of the test phase which lasted for 10 days, we assessed the campaign's initial performance to optimize the ads. Our findings revealed that video ads performed best due to their 'autoplay' functionality. Compared to carousel ads, they were also more cost-effective and received a higher number of impressions. Of the four different video ad versions, our A/B tests helped us reveal which of the two messaging variations for each of the two videos drove the highest reach. In light of these results, we decided to allocate our remaining budget to only use the two best-performing video ads until the end of the campaign.
Finally, the campaign came to a close. The final results proved the campaign's success as it largely outperformed our original performance projections. We used the conclusion of the campaign as an opportunity to glean project insights and key learnings that we presented to our client.
Agility and innovation drive campaign success
Exceeding the campaign's awareness goals, we outperformed our original performance targets by 88%, achieving over 650 thousand impressions. When we decided to only run video ads, we also dramatically decreased the cost per click (CPC) by 58%.
Our team attributed the campaign's success to our ability to consistently innovate and adjust despite working with a limited budget and short timeframe. When working to reach a new audience, it's essential to stop and assess what is working and what needs to be improved upon before a campaign is over. Taking the time to draw actionable insights from our initial performance allowed us to optimize current efforts, allowing our client to receive the best ROI possible.
Thought Leadership
Related Content