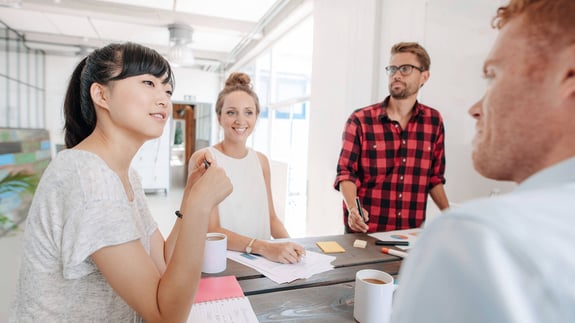 Automated Bot Improves Performance, Cost, and Employee Wellness
Success Story
At a glance
Our technology client regularly spent hours performing manual tasks. In response, we created a virtual bot to save time on repetitive and tedious workflow. As a result, our client reduced costs, increased team productivity, and eliminated manual data management errors.
20
working hours saved per month
Reduced costs and eliminated manual data management errors
Automated repetitive tasks
Developed new progress tracking
Data strategy, engineering, and analysis
Content strategy and development
Project, process, and program management
SCHEDULE A MEETING WITH AN EXPERT
Digital operations transforms workflow
Repetitive tasks. We all have them, and few of us enjoy spending precious work time to complete them. What if you could automate manual tasks for your company? You could use the time you and your team save to tackle strategic projects develop creative solutions to your business challenges.
Today line-of-business owners are constantly tasked with doing more with less. Especially during times of uncertainty, leaders are looking for ways to cut budgets, improve the productivity of their teams, and reduce costly errors.
Digital Operations is an emerging tech strategy that uses AI and Robotic Process Automation (RPA) to eliminate human error, reduce costs while boosting productivity, and enable employees to offload tedious tasks. The current adoption rate of AI and RPA is growing by 40-60 % per year.
Read more to learn how we helped one of our technology clients save hours of manual work each month and improve the employee experience for their monthly newsletter production process.
Newsletter production process poses challenge
Our client was building their monthly newsletter with hundreds of contributors. They had to individually contact each contributor, collect their submissions, compile the submissions into a newsletter, and distribute it. The existing newsletter production process was extremely laborious and manual.
Spur Reply creates user-friendly automated bot to automate repetitive tasks
Spur Reply created Lono, a customizable bot/virtual assistant to automate tasks that ranged from requesting content from users to tracking progress on complex tasks. Using artificial intelligence, Lono can also perform more complex tasks such as summarizing, text generation, image recognition, content extraction, and information classification.
For this particular project, Lono collects data directly from more than 150 users across several internal teams to deliver an accurate, reliable, and up-to-date resource that tracks the project status. Lono automatically reaches out to users for input on documents or status updates. In addition, the bot can also set up reminders if the users aren't ready to submit their data. Lono is extremely user-friendly and intuitive, so little to no training is required.
Optimized productivity, reduced cost, and ensured accuracy
Lono's performance optimization benefited multiple elements of our client's internal processes, including employee well-being. Streamlined workflows freed team members from monotonous or menial tasks to focus on higher priorities, such as business development, and improving customer service and quality. Consequently, initial results show the Lono bot will save 20 working hours per month for a senior employee, improving the overall company's work/life balance.
The quality and cost of the newsletter production process improved as well. Lono ensures process consistency and improves the experience for newsletter contributors. Implementing a bot eliminated tracking and communication errors from manual data management. Lono additionally stores data and keeps track of user progress. Finally, Lono automated repetitive tasks that were using valuable employee time, thus, reducing cost.
Thought Leadership
Related Content