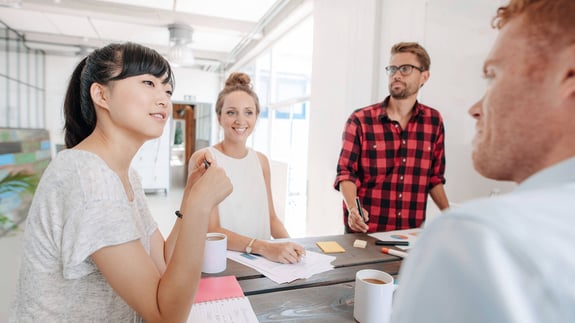 Competitive Analysis Research Translated into Actionable Results
Success Story
At a glance
A Fortune 100 tech company sought Spur Reply's guidance and expertise to elevate its presence as a multi-industry 'thought leader' and trusted advisor on tech-enabled industry transformation. The Spur team conducted competitive research and analysis related to five competitors' industry-specific (also referred to as 'vertical') marketing strategies. Identifying high-value insights from our analysis and research findings, we formed actionable recommendations that gave our client a path to strengthening their vertical marketing strategy – particularly their messaging and digital presence.
Leveraged industry-specific go-to-market expertise to inform a tech leader's marketing strategy across verticals
Accelerated the tech company's progress toward making cross-company decisions related to vertical marketing initiatives
Created actionable next steps based on competitive analysis research findings
Drove greater alignment across the tech company's internal teams
Competitive research and analysis
Customer and market planning
Vertical marketing insights and recommendations
SCHEDULE A MEETING WITH AN EXPERT
The rise of industry-specific marketing
According to a survey by Demand Gen Report, 66% of B2B buyers agree that it is "very important for a solution provider's website to speak directly to the needs of their industry and show expertise in their area." Additionally, 93% of respondents value vendors that demonstrate experience and knowledge of their industry.
Advances in technology over the past decade have created a shift in the way companies go to market. Whereas technology companies traditionally went to market in a horizontal fashion, keeping audiences such as developers, IT professionals and data specialists top-of-mind, they have expanded to market to decision-makers based on their vertical. This is largely because technology is no longer just the realm of IT experts – it is now integral to business strategy and differentiation, no matter the industry.
Technology solution providers have realized the importance their vertical marketing strategies carry when trying to gain competitive advantage. Providers realize that not only should they prioritize their vertical marketing strategies, but they also need to continuously optimize them to reach their target audience. Further, tech companies that effectively target by vertical earn customers' trust, improve brand recognition within specific industries, and outperform competitors.
Building thought leadership across verticals on industry transformation
Our client, a Fortune 100 tech company, wanted to elevate its presence as a multi-industry 'thought leader' and trusted advisor on industry transformation. To pursue this vision, it needed to build a deeper understanding of competitors' go-to-market presence across different industries. Additionally, our client wanted to identify best practices for implementation at a cross-portfolio level.
Conducting competitive analysis research
To address this challenge, our team analyzed how five of our client's competitors went to market by industry. The goal of the analysis was to benchmark how the tech company's vertical marketing efforts compared to those of its competitors.
Specifically, we wanted to examine how each competitor marketed its products and solutions to industries such as:
Banking and financial services
Healthcare and life sciences
Energy and utilities
Industrial and automotive manufacturing
Retail
Education
Hospitality
Using the findings from this research and analysis, our consultants delivered actionable recommendations and next steps to help our client strengthen its marketing strategy across industries.
The engagement with our client involved the following:
Project brief: Our team of consultants began the project by determining the evaluation areas that would help them gain accurate insight into how the five competitors went to market at an industry-specific level.
Gap analysis on existing research: We then examined internal market research previously conducted by our client on its competitors' vertical marketing strategies and pinpointed the gaps we needed to fill with our own research.
Web and social media audit: Our team filled the gaps by combing through the competitors' websites, social media accounts, and other digital marketing platforms to determine their individual industry-specific marketing tactics. This included reviewing general webpage positioning, social media presence, preferred calls to action, language used, etc.
Event audit: Like the web and social media audit, we evaluated each competitor's event strategy. Particularly, we identified the events they participate in, whether they position themselves within industry coalitions, and other ways they are expanding their involvement among industry communities.
Outline for final deck: Once we completed our research, our consultants created a framework for how they would present the findings and recommendations for next steps as a story to the client's executive team. We collaborated with our client to finetune the outline which was used to build the final deck.
Final executive summary and recommendations deck: Finally, we presented the final deck to our client's executive team. Based on the outline, the deck included a summary of key themes across all five competitors, individual findings for each competitor, recommended next steps, as well as an appendix with supplementary details and screenshots for each of the research topics.
Telling the vertical marketing comparative story and articulating actionable steps
Ultimately, the collaboration with Spur helped our client drive greater alignment across internal teams, accelerating progress toward making cross-company decisions about which vertical marketing initiatives to invest in and prioritize.
Thanks to the Spur team synthesizing data and research into concrete recommendations, our client gained the insight needed to make future decisions related to industry-specific marketing efforts. It was important for our team to go beyond analyzing the competitive analysis findings and take the extra step of providing meaning and context behind the research findings.
Spur Reply's go-to-market expertise across verticals allowed us to conduct the competitive research and analysis process in a matter of 5 weeks, giving our client the ability to act on our recommendations in a timely manner. Planning to dedicate the time and resources to make necessary website updates and strategize the tailoring of its web content by industry, our client extended their engagement with us after using the project findings to earn executive buy-in on executing next steps.
Thought Leadership
Related Content