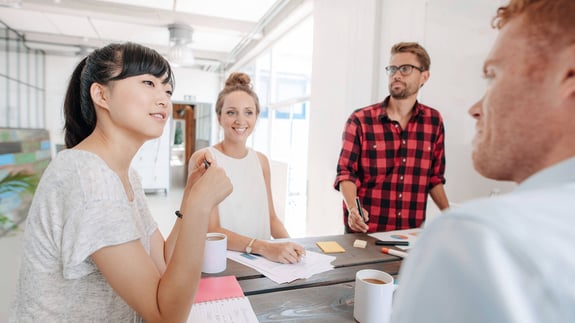 Customer Journey and Persona Development Bolsters Marketing Approach
Success Story
At a glance
A global manufacturer of technology that assists with food packaging and processing wanted to advance its strategic approach to the way its marketing and sales teams target and engage customers. We addressed our client's challenge by conducting a series of interviews to create buyer personas and a customer journey map. The collaboration left our client with a deeper understanding of their customers as well as the foundational resources needed to create more effective marketing and sales enablement assets to reach a broader set of customers.
Aligned our client's sales and marketing teams to the voice of the customer
Provided insights that will help our client optimize customer engagement
Built 12 buyer and influencer persona profiles that will guide our client with creating content and messaging tailored to its target audience(s)
Created a customer journey map that will serve as a foundational blueprint to help our client improve how it engages its customers, generate high-quality leads, and increase conversion rates
Buyer's journey experience mapping
Customer and market planning
SCHEDULE A MEETING WITH AN EXPERT
The rising value of the customer experience
According to Salesforce, "66% of customers expect companies to understand their needs and expectations." With constant advances in technology and rising competition in the marketplace, customer expectations of products, services, and brands continue to increase.
Now more than ever, delivering a powerful and meaningful customer experience is paramount to your brand's success. Moreover, an effective customer experience prioritizes and leverages what customers care about the most.
A high-performing marketing strategy is built on an understanding of how to best meet the needs of your target audience. One first step you can take to form a deeper understanding of your customers is to conduct a discovery into your buyer(s), document your findings and map them to buyer and influencer personas. Your persona profiles help establish a clear overview of your typical customers, their pain points, and where the pain points occur within their purchasing process and broader customer journey. Ultimately, this exercise will give you a better idea of how to best serve your customers.
Taking a strategic approach to strengthen sales and marketing
Our client, a global manufacturer of technology that assists with food packaging and processing, wanted to gain a deeper understanding of 1) its customers' purchase processes, priorities, and behaviors and 2) how to effectively engage with them.
The company wanted to advance its marketing strategy by building foundational materials that its sales and marketing teams could use to target customers with precise messages that help progress them along a purchase path. Specifically, we were asked to develop a customer journey and buyer personas for the client's north and south American region.
Getting a more holistic view of our client's customers
Our team kicked off the engagement by conducting a discovery into the manufacturer's active customers. We worked with our client and their sales team to develop a list of active customers that formed an accurate representative sample of the companies it sells products to in north and south America. The customers varied on a wide variety of factors, including company size, the products they sold, the types of equipment they previously purchased, and the strength of their relationship with the manufacturer.
Our consultants then interviewed each customer on the list, as well as our client's sales team, to learn about each customer's decision-making process for purchases in addition to their unique priorities and characteristics. Our findings revealed that the purchasing characteristics and make-up of the relevant organizations' buyer personas were most influenced by the size of the organization. Smaller companies within our client's target industries tended to have one business decision-maker (BDM) with ultimate approval authority for a purchase and spanned across operational and financial functions. Alternatively, larger enterprise companies involved a broader set of stakeholders and influencers when making buying decisions.
Segmenting customers based on the size of their companies, our team used insights from the interviews to build out 12 persona profiles that included a combination of buyers and influencers. The profiles outlined the typical roles, priorities, and needs for each segment of our client's target audience. Four personas represented small and mid-sized buyers while eight personas represented a combination of buyers and influencers within larger enterprise companies.
The final phase of the project required us to build out two versions of a customer journey deck that visualized and described a buyer's typical stages along the purchase path.
One version of the deck mapped the various potential touch points each persona was most likely to have with the manufacturer through each stage of the customer journey.
A second version included recommendations on how our client's marketing and sales teams could most effectively interact with each persona based on the stage they were at along the journey. The recommendations included guidance on both the kinds of content and information these personas were looking for as well as their preferred channels of engagement that could be used for targeting.
Voice of the customer bolsters future sales and marketing efforts
The collaboration ultimately helped align our client's sales and marketing teams to the voice of the customer. Our efforts gave the global company a deeper understanding of what matters the most to its target audience and valuable resources to effectively engage with customers moving forward.

Our deliverables serve as a documented blueprint that can now guide future sales and marketing efforts such as building out campaigns, case studies and other high-value assets. The resources will also support our client's teams in driving higher-quality leads through the sales funnel using a more targeted approach, which will help fuel company growth and success.
Thought Leadership
Related Content