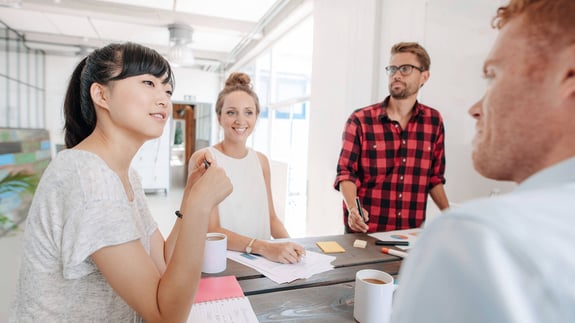 Data Automation Transforms Reporting And Sharpens Decision Making
Success Story
At a glance
A team at a leading technology company needed an efficient way to manage its data collection, allowing members to spend more time focusing on robust data analysis and deliver key insights. Our teams made this possible through the automation of data reporting for monthly performance metrics. Optimized reports gave our client continuous visibility to their performance against key performance indicators (KPIs).
30
working hours saved per month on MBR reporting
Improved reporting structure and visualization
Renewed focus on data analysis instead of data collection
Increased performance transparency for stakeholders
Uninterrupted access to data
Robotic process automation
Data strategy, engineering, and analysis
Dashboards, reporting, and visualizations
SCHEDULE A MEETING WITH AN EXPERT
Unlocking data's value
As the world of Big data evolves, organizations can sometimes be overwhelmed by the unprecedented amount of information coming at them in tera and petabytes. It's not difficult to capture that data. However, it is challenging to unlock the data's value by determining the relevant information for business decisions. If any part of that process is manual, it consumes time and resources and increases the risk of making costly mistakes. By creating an efficient collaboration between tools and human judgment in data analysis, organizations can achieve automated data collection and visualization.
Manual data collection and visualization
Providing insights that add value to business decision-making involves more than simply collecting and distributing information. The process should also involve diligent research and interpreting data to decide what matters.
In this case, our client was responsible not only for data analysis, but also the monthly task of manual data collection and visualization for their monthly business review (MBR). Our client needed to dedicate the first week of each month to this process.
Our client sought our expertise to optimize the processes, structure, and normalization for the MBR data. Without data automation, teams recreated and recalculated the metrics each month, often reallocating their time and resources to revise the data. The technology company was hoping to strengthen its reporting structure and visualizations to gain insights with ease.
Building reporting automation
We assisted our client with building reporting automation, which in turn provided accurate data that can be refreshed throughout the month.
Our consultants first collaboratively defined new KPIs to drive desired behaviors. To achieve the shared goal, our data and AI (artificial intelligence) team then created specialized reporting, using Power BI (business intelligence) tools. Furthermore, our teams reengineered the data collection to automate data feeds and calculations.
Power BI provided the client team with continuous transparency into performance and KPIs. Data automation allowed information to be shared across the organization through interactive, immersive dashboards and reports that provide actionable insights.
To determine reporting needs and wants, we conducted joint planning workshops and led Design Thinking interviews with stakeholders to develop the data views with the greatest return on investment (ROI). Additionally, we worked closely with partners to provide the client's team with access to required datasets.
Our client had faith in our ability to complete this project based on past positive experiences with our consultants. They valued our familiarity with streamlining reporting updates and implementing solutions with Power BI.
Reduced workload and improved transparency
Using our data and AI expertise, we helped our client bring automation to data collection and visualization, making the process repeatable and easily executable by anyone, at any time. Improved reporting structure and visualization created clearer communication of updates.
Consequently, anyone tasked with MBR ownership is now free to focus on data analysis rather than data collection. The time required to create MBR updates was reduced by about 30 hours each month. Simplified processes for continuously refreshing information allows teams to consume data in real-time. Finally, stakeholders now have increased transparency and managers have a greater line of sight into continuously updated team performance.
Thought Leadership
Related Content