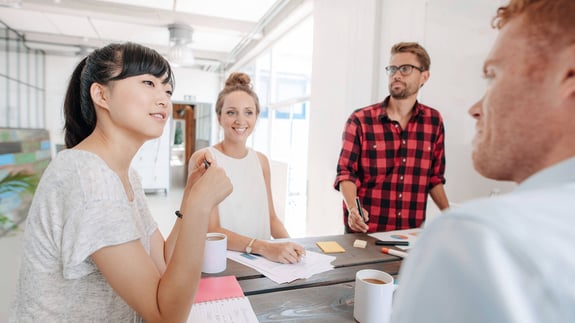 Emerging Metrics Help Top Cloud Provider Increase Sales
Success Story
At a glance
A top-three cloud provider approached Spur Reply to find a way to leverage cloud telemetry data for sales and field personnel. Using our end-to-end execution ability, we collaborated with our client to build an intelligence model that helped fuel sales conversations, ultimately growing revenue.
Helped fuel sales conversations
Delivered machine learning model to re-run at scale across all accounts
Data strategy, engineering, and analysis
Sales intelligence engine design
Sales pipeline management
SCHEDULE A MEETING WITH AN EXPERT
The power of cloud telemetry
The cloud has become a fast and powerful means for companies totransform customer experiences, modernize IT infrastructure, and effectively implement business- and customer-facing applications and services.
Monitoring cloud telemetry data can improve customer experiences, security, application health, quality, and performance. (IBM defines telemetry as the automatic collection and transmission of data to a centralized location for analysis.)
As a common saying in the industry goes, "Trying to manage a complex cloud solution without a proper telemetry infrastructure in place is like trying to walk across a busy highway with blind eyes and deaf ears." Furthermore, without cloud telemetry, companies have little visibility into the causes of issues and little chance to respond and mitigate them.
Leveraging telemetry for sales and field teams
Cloud telemetry is essential to make educated decisions about cost, efficiency analysis, capacity planning, and operational excellence. The telemetry datasets generated by the top public cloud providers are large and well beyond the scale of traditional data warehouses and cubes.
Our client, a leader in the cloud space, wanted to find a way to use datasets beyond issue mitigation. The team wanted to leverage telemetry data for its sales and field personnel. Without existing algorithms or shorthand to measure emerging data resources, the sales force had limited visibility into the usage patterns of enterprise customers. Specifically, our client set the following ambitious goals:
Understand the logical grouping or clusters of services within the cloud accounts
Identify where resources may be over or under-utilized
Provide insights to spark deeper conversation between sales strategists, sales architects, and their customers
Experts create machine learning model for top cloud provider
Using end-to-end execution capability, Spur Reply experts collaborated with client marketers and data scientists to build and test hypotheses. Using leading platforms and a modern massively parallel processing (MPP) engine for data aggregation, our team selected a core dataset with useful aspects. Our team then collaboratively engineered data features and trained the machine learning model across our client's top 100 customers.
New resource drives sales conversations and grows revenue
With our help, our client successfully created a model that provided new insight into the telemetry data set. The collaboration gave our client a machine learning model that could re-run at scale across all accounts.
Additionally, cluster analysis could now help calculate new key performance indicators that were previously obscured by data scale and complexity. The data will continue to be invaluable to field personnel as they update per-account usage and health metrics to drive sales conversations. Supplying the client's field sales teams with useful resources will ultimately grow the company's revenue and maintain its status as a cloud leader.
Thought Leadership
Related Content