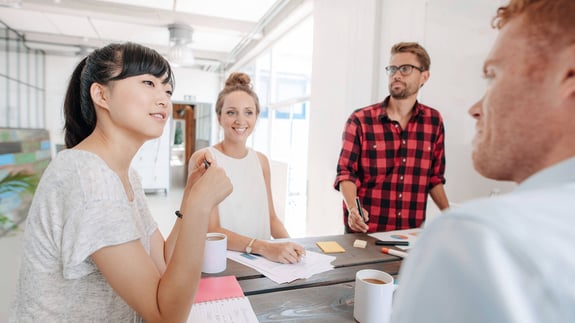 End-to-End Support Launches Global Cloud Training Program
Success Story
At a glance
Spur Reply partnered with a technology leader on the go-to-market launch for its online cloud education program. We led project management (PMO) execution, built and executed product development strategies, supported stakeholder communication, and facilitated the program's internal launch.
16,000
unique participants within four months (post-program soft launch)
26million
people reached through global marketing campaign
Hundreds participated daily within initial launch
Brand and product messaging
Content strategy and development
SCHEDULE A MEETING WITH AN EXPERT
A new opportunity for hands-on learning
As technology continues to evolve the world around us, the need for developers to expand their technical skillsets and learn new applications continues to grow. Our client wanted to connect with technical developers by providing them an opportunity to attain the hands-on knowledge required to design and implement cloud solutions using the company's technologies.
With that goal in mind, the tech giant launched an online training program that enhances cloud development skills. The program uses company technologies to expand a person's knowledge on a variety of topics such as artificial intelligence (AI), DevOps, and IoT.
The topics are broken down into learning journeys. Each learning journey prepares participants for a certification exam in their selected topic. Designed specifically for developers, the cloud education program empowers them to learn how to use the technologies to advance their careers. Participants also use the program to help prepare for certification exams. As an incentive, they can receive a discount by completing a learning journey within 30 days.
The need for a skill-building program
Due to our client's limited bandwidth at the time, Spur Reply's go-to-market expertise proved to be invaluable. We partnered with our client's team to help them launch the cloud education program in a smooth and proficient manner. Our lead consultant, a subject matter expert in program execution at the technology company, helped execute the cloud training program from start to finish.
We collaborated with our client to develop PMO execution, build a product development strategy, support strategic stakeholder engagement, create an internal and external marketing and communications plan, and facilitate the program's internal landing orchestration.
Cultivating a successful program launch
The most important goals of the engagement were 1.) for our client's team to effectively engage and connect with their target audience and 2.) for our lead consultant to holistically carry out the project from concept to launch. The engagement is ongoing as our team continues to support the program post-launch.
We helped create more than 30 assets for the technology leader's internal teams, partners, and target audiences. Our bill of materials (BOM) included:
Strategy documents, including a messaging and positioning framework and internal/external FAQs
Sales resources, such as email templates and a pitch deck
Informational marketing materials like blogs, one-pagers, an infographic, image/branding, and social media assets
Project management resources, such as a walking deck that showcases the program's branding and internal product/offer deck showcasing project strategy and execution
Our lead consultant addressed our client's needs in six key areas:
Offer definition and potential reach: We first created a demand generation plan, as well as a total reach and funnel view to estimate potential user engagement.
Executive planning, alignment, and execution: We aligned workstreams toward a successful launch through consistent and frequent reporting, timely execution, and strategic negotiation.
Platform development: We coordinated the user experience design, drove the content creation for the nurture email campaign, and led the strategic product planning to develop the platform for our client's offering.
Stakeholder orchestration and management: We facilitated the strategic planning and operational management of our client's workstreams. This involved increasing transparency through continuous reporting and streamlining internal communications for all stakeholders. We worked with the technology company's virtual team, which included 16 members within seven workstreams, and additionally created content alongside 16 learning journey owners within nine business units. We also facilitated broad stakeholder communication among more than 200 of the technology company's employees and five different vendor companies.
FAQ documentation: We conceptualized and created two internal and external FAQ documents.
Marketing campaign assets: We developed general guidance on how to leverage the training program's content as a 'plug and play' strategy. Amplifying the tech giant's current marketing efforts, the content could be easily 'plugged,' or incorporated, into other campaigns.
Our client knew Spur Reply was the right fit for this engagement based on a previous working relationship with a manager at our firm. That manager had worked with the lead consultant on this engagement in the past and valued their extensive experience working across several of our client's business units.
lmpactful launch empowers technologists
After seven months, the technology company successfully launched the online cloud training program. Within weeks of launching, hundreds of global participants used the interactive program daily. Specifically, within four months of launching, nearly 16,000 unique participants signed up for the program.
The global marketing campaign spanned multiple owned channels, including social media, email newsletters, and online communities. The campaign's reach impacted more than 26 million people.
We will continue to help the tech giant drive business impact and gain a better understanding of the power and global footprint of skill-building programs. The program continues to empower developers to advance their skills in our client's technologies on a global level.
Thought Leadership
Related Content