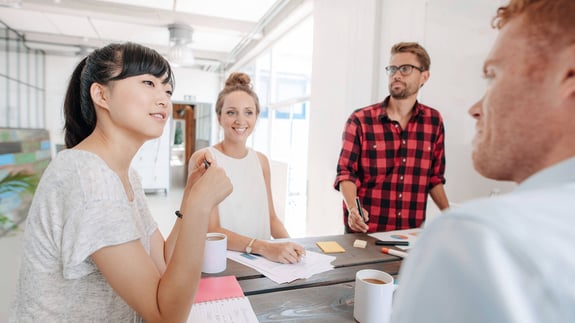 Marketing and Partner Expertise Drives Product Launch in New Vertical
Success Story
At a glance
Through extensive collaboration, Spur Reply helped a tech client launch a cloud solution in a new vertical using marketing and channel expertise to develop product messaging, sales enablement materials and partner programs.
7
unique deliverables created
24
subject matter experts engaged
38
gathered key members' & stakeholders' feedback
Brand and product messaging
Content strategy and development
Sales enablement and playbooks
SCHEDULE A MEETING WITH AN EXPERT
The rapid growth of 'the cloud' within industries
Cloud capabilities continue to expand on a large scale, and in turn cloud has become a fast and powerful means for companies to transform customer experiences, modernize IT infrastructure, and effectively implement business- and customer-facing applications and services. Initially, cloud services were built horizontally to serve a general purpose and did not tailor to individual industries and customers.
Continuing to innovate, cloud service providers have now evolved vertically to meet specific industry needs and use cases.
Building a compelling go-to-market strategy
Our technology client sought Spur Reply's marketing and channel expertise to help them launch its cloud solution for a new industry vertical. With our extensive expertise bringing technology solutions to market, as well as building best-in-class partner ecosystems, our client felt we would be well positioned to help them launch the product. Further, Spur Reply has in-depth knowledge of the solution having worked on several engagements with the client in the past.
We worked across different engineering teams to create a technical presentation that helped customers understand how our client brought different use cases to life. For this launch to be a success, it was crucial that we build a unifying narrative that provided an overview of the technology features, for which we worked with over 24 stakeholders, all with different points of view. We created pricing guidelines, a data sheet, and drill-down decks that presented an in-depth view of the cloud solution's core capabilities and use cases.
Product launch in a new industry
Spur Reply consulting teams implemented creative thinking to help the tech giant's teams and a broad group of stakeholders coordinate and collaborate in an efficient way.
Our marketing experts assisted our client in clearly and effectively communicating industry-specific information to customers. One challenge throughout the project was effectively and clearly showcasing the highly technical benefits of the cloud solution to the target audience.
Our content development process required that we:
Build a specialized team of consultants with experience in cross-industry projects




In order to start project planning, meet with and identify our client's core project client team, SME (subject matter expert) group, stakeholders, and decision-makers




Acquire project consensus on the story's conceptual architecture and finalize it with the broader team




Develop seven unique sales and marketing deliverables — including a battlecard, two BDM (business decision maker) decks, a marketecture, a data sheet, a pricing sheet, and a TDM (technical decision maker) deck
To build our client's partner program, we:
Built a specialized team of consultants with experience working within the technology company's partner ecosystem




Created a matrix of project stakeholders and identified key individuals who needed to remain informed through duration of project




Established partner messaging




Determined marketing assets needed for partners




Developed project management workback plans for marketing assets




Delivered assets through two pre-determined partner channels




Executed the partner program launch
Successful collaboration sets up client for future launches
In addition to this launch, we used this project's deliverables to create blueprints and templates that could be leveraged for future product launches in other industries.
As a result of the engagement, our client established a smooth customer journey for sales prospects, connecting the industry story through all customer journey stages and types of content.
Despite the complexities involved, Spur Reply managed all elements of the go-to-market plan, both internally and externally, to launch the product solution with impact across our client's customers, partners, and teams.
Thought Leadership
Related Content