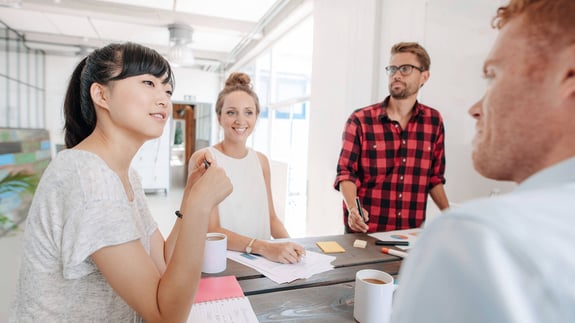 How We Helped Facilitate a Start-up's First Company Event
Success Story
At a glance
Our financial services client sought our guidance to facilitate its first-ever leadership event. Through goal setting, providing our client's team with an effective communication framework, and aligning stakeholders, we helped them meet their objectives and cultivate a successful company offsite.
Assisted in planning and organizing an inaugural leadership offsite event
Facilitated discussions centered around our client's product plan and strategic decisions for product launch
Helped provide our client with an effective communication framework and methodology
Aligned our client's team on its objectives for the event
Goal setting, planning, and OKRs
Program and product management services
Event strategy and management
SCHEDULE A MEETING WITH AN EXPERT
Breaking through the chaos of event planning

Planning in-person events can be overwhelming, especially when dealing with elements such as the global coronavirus pandemic, ongoing technological advancements, and stakeholder alignment. Amid event planning, it can be easy to overlook establishing the event's goals.
Our consultants plan corporate events around what matters most. Specifically, we take a concrete methodology to determining an agenda and goals, creating an overall message, and keeping attendees engaged. Our years of experience with helping industry leaders plan and launch successful events has allowed us to create our own proven, deliberate approach.
Facilitating a start-up's first leadership offsite

We used our event planning approach to help a start-up that was in the midst of planning one of its first-ever product releases. Our client was looking to establish alignment on the project's initiatives and objectives.
Spur Reply was asked to put together a plan and agenda for the offsite, at which our client's team would be meeting in person for the first time. Our consultants helped our client meet their goals for the event and provided invaluable resources for using effective intra-team communication for strategic planning.

Creating project goals and building out an agenda

Our team of consultants kicked off the project by meeting with our client's leadership team to discuss the goals of the event. Beyond goal setting, we additionally discussed our client's current pain points and the most important outcomes that our team needed drive throughout the event.
After the initial meeting, we facilitated a series of discussions with the leadership team to establish how we would address the key objectives by creating a plan and agenda for the event.
One of the agenda items that Spur Reply recommended was to introduce our client to a leadership coach who specializes in helping corporate teams succeed through collaboration, productivity, and strategic alignment. This was added to the agenda and the coach spoke to the leadership team on the first day of the offsite to train them on the best ways to communicate with each other.

On the second and final day of the offsite, one of Spur Reply's senior leaders facilitated discussions on technical aspects of our client's recent product plan and strategic decisions that needed to be made prior to the product launch.
Supporting a new company on their growth path

Throughout our collaboration, we helped a team of five plan an event at which 16 executive stakeholders attended. The offsite was paramount to making strategic decisions for an upcoming product release as a new firm, as well as ensuring the new leadership could work together effectively and collaboratively.
Thought Leadership
Related Content