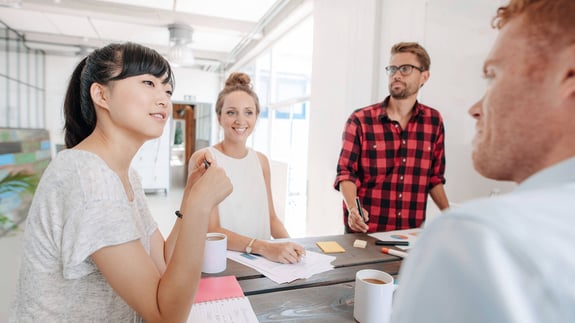 Go-to-Market Messaging Transforms Sales Approach for Education Sector
Success Story
At a glance
A large technology company needed to strengthen its go-to-market messaging in the higher education sector and develop sales enablement content for a specific initiative. Our experts helped create a winning messaging framework and practical content for a successful sales campaign.
4
deliverables created within a marketing blueprint
20
assets developed to showcase five education solutions
Created a messaging structure and value pillars to guide content creation
Launched a successful campaign through effective sales enablement content and a powerful messaging framework
Unified previously divided stakeholder groups into a shared go-to-market approach
Content strategy and development
Stakeholder communications
Project, process, and program management
Governance process and review cadence
Brand and product messaging
SCHEDULE A MEETING WITH AN EXPERT
Strong messaging drives results
Value-based communication initiatives can produce significant revenue for technology companies, particularly when directed by a cohesive messaging framework and strategy.
However, coordinating with internal stakeholders on how to market the solutions can sometimes be a complex endeavor. To produce world-class content, teams need a conscientious approach to finding the best subject-matter experts (SMEs) and bringing together multiple viewpoints.
Messaging approach needed to unify multiple audiences
With the ambitious goal of empowering every student on the planet to achieve more, our client set out to provide educators with the tools to help students thrive in new learning environments. To support this initiative, the client needed an all-up Higher Education messaging approach and collateral for five key solutions across both Higher Education and K12.
Faced with the need to communicate wide-ranging ideas to a diverse audience of teachers, administrators, and IT professionals, our client was looking to increase their market reach for key solutions, unify opinions of stakeholders about how to market the solutions, and, finally, coordinate with numerous SMEs for both solution-specific and product-specific information.
Creating value with a marketing blueprint and related assets
Spur Reply worked in close collaboration with our client's education experts to form a messaging approach based on value-centered content. Using our end-to-end execution capability, we partnered with them to plan every part of the project — from the earliest creative stages to final graphics tweaks.
We created a marketing blueprint consisting of four deliverables —pitch deck, eBook, one-pager, and battle card — for higher ed all-up and each of the five key solutions.
After developing a messaging structure to guide content creation, we built four value pillars comprised of ideas from the original education frameworks. We used the deliverables to tell their higher education story, including market context, key values, and product specifics — helping to build messaging for the other education blueprints. The next step was to ensure the messaging was consistent across communications and connected to the overall business objectives. Once done, we developed 20 additional assets showcasing the five key solutions with a pitch deck, eBook, one-pager, and battle card for each.
Our extensive experience in developing marketing collateral allowed us to address our client's challenges creatively and efficiently. We were proactive about ideation, allowing us to execute strategies without waiting on our client to feed us the right information.
Campaign resonates with education audience
With this partnership, Spur Reply helped our client develop sales collateral for digital learning environments, campus security, and using data analysis for institutional processes improvement.
We freed up internal team members for other projects and helped increase the target audience's understanding of the available education products.
Our team unified previously divided stakeholder groups into a shared go-to-market approach and equipped internal and external sellers with a portfolio of sales enablement content tailored for the five key education solutions.
Ultimately, our collaboration resulted in a successful campaign for the client, and also improved the learning environment of countless students and teachers by empowering them with the knowledge and resources they needed to succeed.
Thought Leadership
Related Content