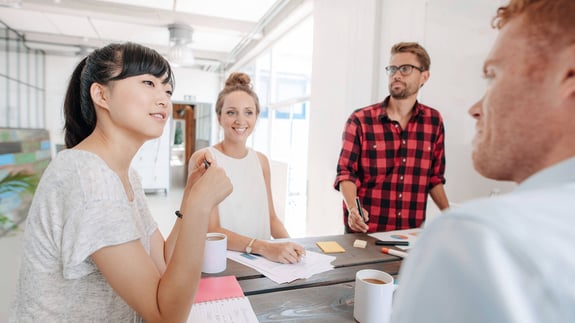 Sales Go-To-Market Strategy Transforms In-Store Retail Experience
Success Story
At a glance
A partnership between Kroger and Sunrise Technology led to the creation of two retail-as-a-service (RaaS) solutions. To effectively launch the solutions, Spur Reply helped deliver a powerful go-to-market (GTM) strategy. Our efforts ultimately led to a successful pilot showcase at retail stores and National Retail Federation (NRF) in 2019.
4
Months to complete project
Enabled cross-team asset management
Reduced duplication efforts
Greater transparency into team activities
Partner programs and strategy
Brand and product messaging
Content strategy and development
SCHEDULE A MEETING WITH AN EXPERT
Redefining the way we shop
Kroger's EDGE Shelf and Sunrise Technology's, LEAP, are redefining the in-store experience for retailers. Both assets empower the companies to create hyper-personalization for customers, maximize sales, enhance operations, and pave the way for ongoing innovation.
The EDGE shelves serve as digital display systems, making shopping a modern, engaging experience. The shelves work together with LEAP, a platform that enables brand advertising on shelves, media players, and handhelds in physical stores. These new RaaS solutions connect through Microsoft Azure Artificial Intelligence (AI) and Kroger's 'Scan, Bag, Go' mobile checkout technology.
Developing a RaaS go-to-market strategy
Sunrise Technology approached us with the vision of developing its RaaS go-to-market (GTM) strategy. The company also wanted to build messaging, positioning, and marketing collateral for its transformative retail technology reveal at NRF 2019.
Launching innovative products
Working with the talented product and technical teams at Sunrise, we helped articulate the commercialization plans for EDGE Shelf and LEAP. Our team then helped create a launch framework for an ongoing GTM strategy. We also helped develop a core set of strategic sales and marketing materials for NRF and beyond.
We were inspired as we learned about the innovative technology Sunrise developed. We enjoyed working alongside the agile Sunrise team and visiting a pilot of the connected store experience in Redmond, Washington to see the powerful new systems in action.
Success at retail stores and NRF
The partnership between Kroger, Sunrise, and Microsoft Azure brought many new opportunities to shoppers and consumer packaged goods brands. Those opportunities included visual cues for direct shoppers based on packing orders and advanced video analytics that helped associates manage out-of-stock products.
Kroger and Sunrise successfully showcased their innovations at NRF 2019. Developing the GTM strategy for the RaaS set Sunrise up for future success as they continue to develop best practices for retail advertising.
Thought Leadership
Related Content