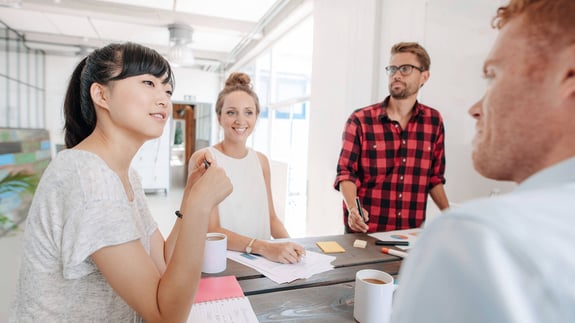 How Microsoft Launched The First Ever AI Business School
Success Story
At a glance
Microsoft's goal was to launch the first-ever Artificial Intelligence (AI) Business School. After helping the tech giant through some initial hurdles, the school's launch successfully established presence and leadership with its target audience.
67
Million Twitter impressions
32,000
Unique visitors to the business school's website
46
Published articles with more than 3,900 shares
Data strategy, engineering, and analysis
Content strategy and development
Project, process, and program management
SCHEDULE A MEETING WITH AN EXPERT
AI is evolving the business landscape
By 2021, 80% of emerging technologies will have AI foundations, according to Gartner research. Most of the world's fastest-growing companies are actively pursuing high-profile AI initiatives to solve business problems and grow revenue.
Given the AI revolution happening, companies cannot afford to waste time on poorly defined and ineffective operations. Instead, business leaders need holistic problem-solving, outcome-focused project management and a reliance on industry best practices to achieve superior results. 
Microsoft had one goal: to successfully launch the first AI Business School. The online master class series supported the strategic direction of Microsoft CEO Satya Nadella, who argues that technology has the potential to positively transform business and society in his 2017 book "Hit Refresh." 
Communication, competition, and connection challenges
Our client, Microsoft, wanted to solidify their position as a leader by becoming the first technology company to build and launch an AI Business School The master class series aimed to empower business leaders to attain meaningful results from AI.
"Creating the AI Business School represented an opportunity for Microsoft to demonstrate thought leadership in a critically important emerging technology area. Being first to market with this type of offering, my team and I needed to deliver industry guidance to our customers in a comprehensive yet consumable way," said Jaime Pereña, Director, Microsoft AI.
However, internal communication delays slowed Microsoft's progress and compromised the software giant's standing as an AI leader. The delays also hindered Microsoft's ability to market the impact of ethical AI business implementation, a priority discussed in Nadella's book.
In order to make the software giant's goal a reality, Microsoft needed to design the entire AI Business School curriculum and establish a learning development process, including a creating an instructional design document focused on learning objectives.
The internal team needed to develop all the proposed instruction while coordinating and managing ten different parallel-running workstreams.
In addition, the team needed buy-in from final decision makers and workstream owners, an objective made more challenging by multiple Microsoft teams offering input.
Partnership produces effective communication and content
Spur Reply's teams ultimately provided strategic thought partnership, learning materials, content development, and program management support.
The software giant trusted our teams with this task due to our experience with large-scale initiative project management office (PMO) projects. Furthermore, research has sharpened our expertise on leveraging rhythm of business experience.
Throughout the project's four-month duration, our teams identified and developed effective communication cadence strategies. Action item tracking and workback development allowed us to give Microsoft's teams a visual success plan. We provided program management oversight across ten different work streams including go-to-market strategies, content creation, public relations and influencer campaigns, and subsidiary Microsoft field engagement.
Our launch support included the development and maintenance of an action item tracker and facilitation of meetings with key stakeholders on a consistent cadence. These processes held stakeholders accountable for commitments and deadlines.
Additionally, our teams created learning content and case studies on several topics. Those included guidance on how to define an AI strategy, foster an AI-ready culture, and implement AI responsibly.
Throughout this process, we took complex AI-related concepts, and turned them into informative, engaging, and impactful materials geared toward business leaders. Those materials included executive Q&A videos, presentation decks, case studies across industries and business functions, and practical guides.
Presence and leadership established
Within the first three days of the AI Business School launch, Microsoft reported 67 million Twitter impressions, 32,000 unique visitors to the business school's website, and 46 published articles with more than 3,900 shares.
Not only did the tech company meet its target launch date, but it also delivered on a publicly promised commitment by the company's CEO.
Microsoft reinforced its position as an AI industry thought leader, as well as established itself as a known presence in AI for targeted business customers.
I couldn't have asked for a better business partner and appreciate the strength and expertise they provided us at Microsoft. We had a very successful outcome in large part to Spur Reply's support and services.
Thought Leadership
Related Content