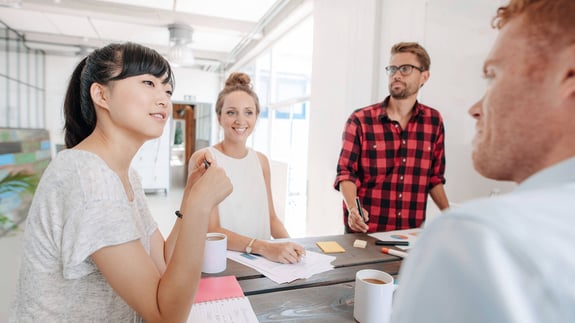 NetApp Uses Scoring Model to Strengthen Partner Performance and Value
Success Story
At a glance
A collaboration with NetApp — one of the industry's most advanced storage providers — produced a robust partner scoring model that enabled multiple analyses from product, capability, and geographic perspectives. Our teams collected data, developed infrastructure, and improved capacity planning. Our expertise helped NetApp gain a powerful advantage with a data-driven analysis of its partner ecosystem performance.
Refined management structure for partner ecosystem
Improved return on contra programs
Designed new process to measure partner performance
Built stronger alignment between teams
Distribution and partner strategy
Data strategy, engineering, and analytics
Governance process and review cadence
Performance management and scoring
Partner recruitment and activation
SCHEDULE A MEETING WITH AN EXPERT
Importance of partner performance measurement
Thanks to rapid innovations in cloud computing, social software and other technologies, partner ecosystems have greater potential for growth than ever before. At a time when partners are increasingly important to tech businesses, it's critical to systematically measure performance to ensure that 1) you're getting maximum value across the board and 2) you can intervene when a partnership underperforms. Companies that keep tabs on partners while managing the complexity of a diverse set of alliances will maximize their returns — the partners will prosper as well.
Originally a seller of network storage hardware, NetApp reinvented itself as a cloud computing software business with an intense focus on innovation. Today the company creates best-in-class storage and data management solutions, catering to the needs of businesses undergoing digital transformation. NetApp's core business strategy is focused on the growth and success of its channel partners.
Channel management optimization
NetApp sought Spur Reply's expertise to align limited resources with the right partners and activities to ensure the company hit its revenue goals.
Our client's goal was to fully leverage existing data to gain insights and causality for partner behavior.
Furthermore, NetApp wanted to catalyze partner adoption of its strategic products designed to increase business reach and profitability. Helping our client create a channel health measure would boost the future impact of channel management on business outcomes.
Streamlining partner management
Ultimately, the Spur Reply team helped streamline partner management while growing overall partner revenues through a new performance and scoring engine. Our teams created a robust model that enabled more data-driven decision making. The model increased transparency into channel ecosystem health, helped NetApp implement data driven investment decision making, and supported alignment between investments and potential impact. Our deliverables included:
Management structure.

Using a rigorous model for reviewing, analyzing, and benchmarking team and channel performance, Spur Reply worked closely with partner managers to develop a governance plan and structure for measuring partner and program execution.
Governance plan.

We implemented structured partner scoring using existing transaction and partner profile data, along with an end-to-end assessment of channel management execution.
Information warehouse.

To make a balanced assessment of performance across the ecosystem, we created a normalized, transaction-level data warehouse for partner data.
Capacity planning.

Together with NetApp managers, we established an infrastructure for data-driven capacity planning and management.
Dashboard.

To understand which partners market, sell, configure, and support customers successfully, we collaborated to develop a unified dashboard with an integrated implementation roadmap across all partners and partner programs.
Throughout this process, our teams were faced with obstacles such as information collection from disparate data sets, partner value determination, and scalable tool development. However, NetApp trusted us to meet its expectations based on our understanding of its business, capacity experience, and familiarity with partner data.
New partner ecosystem gives clarity
An objective, data-driven evaluation of partner effectiveness overcame blind spots to underperformance, which are often an unintended consequence of close working relationships with partners. A successful collaboration allowed us to create a refined, comprehensive management structure for NetApp's partner ecosystem.
The new model gave insight and clarity into which programs and investments impact partner results. It additionally improved return on contra programs by providing greater transparency into the connection between business results and partner plans. The modified structure also strengthened the adoption of strategic products within the partner base, including value-added resale offerings, broader integration expertise, and hosting cloud services.
The new partner ecosystem proficiently measures partner performance with improved ability to identify growth partners. The ecosystem ultimately created a stronger alignment between headquarters and field execution, in order to better meet business goals and effectively influence partners.
Over the course of a difficult project, I have enjoyed their candor, humor, and collaboration. For me, it has been a great and very successful experience.
Thought Leadership
Related Content