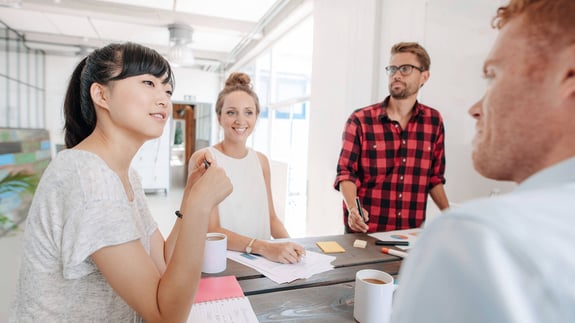 New Planning Process Enhances Product Group's Go-to-Market Approach
Success Story
At a glance
A large technology firm wanted to streamline its rhythm of business and overhaul its go-to-market planning process. We helped the team successfully land and adopt a new project governance with an emphasis on efficiency, visibility, and collaboration. As a result of the new process, the client was able to successfully launch several products, gaining executive satisfaction.
12
Products launched on time
50
Products and applications managed
Gained executive satisfaction of new governance process
Improved visibility into products in development
Increased product team efficiency
Stakeholder communication engine
Project, process, and program management
Governance process and review cadence
SCHEDULE A MEETING WITH AN EXPERT
Streamlining the rhythm of business model
Projects with tight deadlines have no room for ambiguity. Especially helpful in large projects, a robust system enables transparency across teams, eliminates tedious tasks, and supports collaboration within and outside an organization.
Streamlining the rhythm of the business leaves room to focus on what really matters and helps avoid crippling delays. Ultimately, both internal and external customers will benefit, as well as the bottom line.
Optimizing the planning process
As part of the product launch roadmap, the tech company needed to organize the data and information of more than 50 products and sought our expertise to optimize its product portfolio planning process.
This process required a uniform decision-making framework with distinct decision gates to drive efficient executive reviews. Our client additionally needed a cross-group tracking mechanism to enable a single view of every application's status on the product roadmap.
Our teams were responsible for transforming our client's complex cadence — with numerous stakeholders and several contributors — into a productive rhythm.
A new governance approach
With our guidance, the tech giant adopted a consistent project management approach that defined workstreams, milestones, workback schedules, and review cadence. The approach leveraged a focus on rapid adoption by building strong stakeholder alignment on review process, clarifying and communicating each team's role and responsibilities, and mapping process management flows to key product milestones.
Our teams provided operational support and built a single, cross-group tracking system to manage hundreds of open actions at any given time. We tracked more than 50 products and applications to ensure timely executive decisions for go-to-market approval.
Previous templates and intellectual property (IP) allowed our teams to streamline the process in a timely manner. We leveraged teaming to distribute a significant workload, making the new governance approach more efficient.
Successful product launches and executive satisfaction
The rapid adoption of a new process led to the successful launch of 12 planned products by their required deadlines.
Creating a best-practice for managing the cross-group governance process also gained executive satisfaction. Product division leadership benefited from improved visibility into products in development.
Finally, a defined, simplified review process increased product team efficiency, optimizing productivity.
Thought Leadership
Related Content