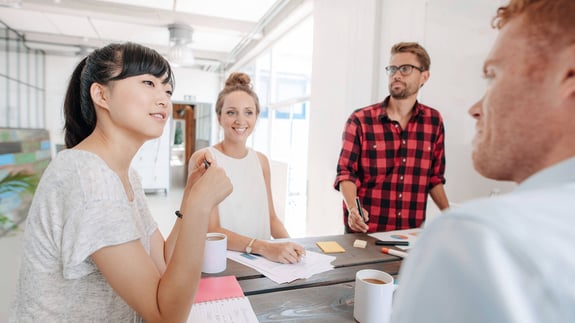 PRM System Optimization Revives Software Company's Partner Program
Success Story
At a glance
A leading data platform company engaged our channel experts to upgrade its partner relationship management (PRM) system. Working to fulfill a commitment to its partners, our client needed to launch the new flagship program by a publicly announced date. To meet the MVP launch deadline, we led end-to-end project management across all phases of the project. Our deliverables included an assessment of the existing partner portal experience, recommendations for a smooth transition of programs within the PRM system, updating the partner experience (PX) to align with the new program, integration of the customer relationship management (CRM) system with our client's infrastructure, and supporting the new partner program experience post launch. Our efforts enabled a successful MVP launch that met our client's target deadline and helped them cultivate a powerful PX.
Launched a leading software company's new partner program on the targeted deadline
Leveraged design thinking from collaborative workshops to form actionable next steps
Integrated a PRM system that helped drive a modernized user experience across thousands of partners
Managed a high number of workstreams and stakeholders to cultivate a successful MVP launch
Prioritized additional functionality requirements for the second iteration of the partner portal
Optimized partner experience with a dashboard on the portal home page
PRM platform optimization and configuration
SCHEDULE A MEETING WITH AN EXPERT
The evolution of the channel partner experience
Over the past decade, factors such as increased market competition, the expanded role partners play throughout the entire customer lifecycle, and a renewed focus on customer satisfaction through the ease of doing business have all prompted company leaders to re-think their channel management strategies.
Previously, gathering data from channel partners was a much greater challenge, and information about a partner's customers was in short supply. Technology advancements have changed the game, and now it is essential to create a business-friendly corporate infrastructure that efficiently manages and supports partners. An effective channel partner program is built on a foundation comprised of a solid strategy, tools, and processes that work together to create an individualized PX.
One of the best ways to provide a customized and high-functioning experience for partners is through implementing automation and building scale within your systems and tools. Offering individualized KPI (key performance indicator) tracking and incentives are a few traits that can differentiate a successful partner program from an inefficient one.
Modernizing a leading software company's partner program through automation
A provider for a leading data platform that assists with searching, analyzing, and visualizing machine-generated data from components that make up IT infrastructures sought our guidance to help implement their modernized partner program into their PRM platform.
Specifically, the software company was looking to optimize their PX within their PRM system. Aligning with the program, our client wanted to provide a more tailored experience by catering to the needs of partners on an individual basis. Upgrading our client's existing PX required differentiating partner competencies, enhancing offerings, and launching a system in which partners earned badges through completing training and certifications along the partner program path. The software company previously made a commitment to its partners about when the partner program would be ready for use, so it was imperative to meet the launch deadline.
In response, our team of experts performed a full partner platform assessment, gave recommendations on how to effectively integrate our client's new partner program into their tools, built the PRM system's architecture design (i.e., created page designs that emphasized a dynamic look and feel), implemented the system, and continued to support it post-launch.
Automation and project management expertise drives successful PRM implementation
Optimizing the software company's PX within its PRM system required our team of experts to take the following steps:
Partner automation platform assessment: First, we assessed our client's existing partner automation platform and processes to determine the new program's requirements and areas for optimization. Our consultants used a scorecard to rank the existing platform's key functional areas against best practices related to PX.


Optimization recommendations: We used the assessment findings to formulate recommendations on how to best align the new partner program within our client's existing infrastructure.


MVP workshop: Taking the initial step of assessing our client's existing partner automation processes and the PX, along with forming recommendations for optimization, gave us the needed context to facilitate a workshop for the partner program's minimum viable product (MVP) launch. In the workshop, we collaborated with our client's team to define the project requirements for enhancing the PX and updating the PRM system. We also determined functional project owners and deliverables for the MVP launch.


Project plan: The next phase of the project revolved around the new partner program's system design. We built out a detailed project plan with specific tasks, owners, and dates for each element of the partner program's configuration leading up to the MVP launch. Owners spanned across our client's operations, IT, and partner program teams to ensure all systems were successfully integrated.


Program implementation: After that, we implemented the new partner program elements within the systems and supported the new processes post-MVP launch. Configuring the new PRM system required us to create and update supporting content for the new partner program that formed a personalized customer experience and met the needs of individual partners. For example, we created a custom home page for new and existing partners with a dashboard to help visualize their status within the program and the actions needed to reach completion. Additionally, our client's IT team integrated the new partner processes into the company's infrastructure.


Testing and training: Lastly, we facilitated end-to-end testing to ensure the program launched smoothly. Our team also hosted user acceptance training (UAT) workshops in which we led our client's internal teams through the new system processes.


Design thinking workshops: After the MVP launch, we led design thinking workshops that instilled a collaborative working environment for our team and client. The workshops allowed us to form actionable next steps for Phase 2 priorities.
Ultimately, our efforts led to a successful MVP launch of the modernized partner program. Our consultants provided continuous support post-launch to ensure continuity and to plan future improvements and optimizations.
From start to finish, we project managed every stage of the engagement, providing support by:
Offering daily input, insight, and governance on the PRM system's implementation plan and work streams related to the launch
Working with individual stakeholders to manage functional areas including the PRM system integration, partner account and contact mapping, partner opportunity and lead mapping, partner segmentation, and workflows
Tracking and driving the high-level progress across the project's functional areas
Hosting regular status meetings with each functional area and ensuring all participants understood their role
Communicating any issues that arose and bringing them to the attention of major stakeholders and management when necessary
Ensuring tracking documents remained up-to-date and accurate in the project collaboration site
We were well suited to navigate project needs and drive a successful outcome because our team was comprised of channel experts with 30+ years of combined experience working for the creators of the partner automation platform chosen to drive our client's new partner program. Our consultants' extensive knowledge of the platform allowed our team to identify and quickly resolve potential blockers, enter the project with a firm grasp on the actions needed to complete deliverables, and work in lock step with the platform vendor.
Leading a successful platform and program launch across thousands of partners
Our collaboration with the software company gave our client the needed resources to cultivate a PX that prioritizes individual partner needs. We continue to offer support to our client post-launch and make enhancements to program functionality.
Thought Leadership
Related Content