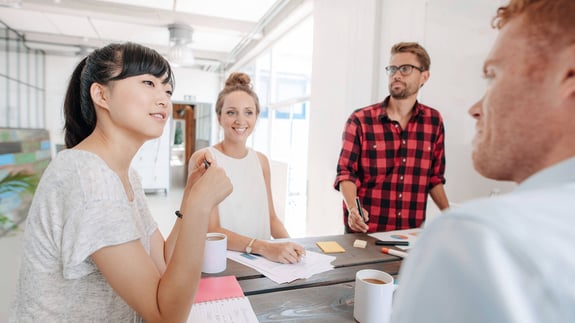 Product Transition Plan Minimizes Disruption And Increases Adoption
Success Story
At a glance
We helped our client's team adapt its marketing approach for a portfolio of intelligent business applications. Our client needed to adapt to customer needs, integrate important features, and manage communication changes to those affected. Through detailed project management, Landing and Adoption Readiness, and strong storytelling, we successfully aligned stakeholders, got executive approval on approach, and created a positive experience for the technology company's internal sellers, external partners, and customers.
Positive product transition
Improved number and quality of sales resources
Produced yearly revenue targets for products
Increased visibility for executives and other teams
Project, process, and program management
Governance process and review cadence
Customer and market planning
Landing and Adoption Readiness
SCHEDULE A MEETING WITH AN EXPERT
Rewriting your story
Every day, companies are challenged to innovate. To stay ahead of emerging trends, they must take advantage of new opportunities that meet customer demand. With every new challenge, businesses get the chance to learn, change, and grow. Thriving in an era of digital transformation requires technology companies to go beyond siloed reactions when addressing issues and reimagining processes.
Rewriting your marketing story and giving people the right tools can potentially turn a challenging situation into a positive, revenue-growing experience for internal sellers, external partners, and affected customers.
CRM (customer relationship management) and ERP (enterprise resource planning) can help increase revenue growth and profitability for a business. CRM systems manage customer interactions, whereas ERP systems improve a business' efficiency within its processes. Our client offers both solutions to help bring customers and businesses together. Using AI (artificial intelligence) driven insights, the technology leader uses intelligent business applications to help companies effectively manage and deliver results.
Strategizing a mixed reality product launch
Our client's team was determining how to best market an emerging technology. This group's goal was to transition the technology's features and functionality into a new product with minimized customer disruption.
The technology giant wanted to launch mixed reality products into the portfolio of an interdependently operated entity within its family of companies. Mixed reality is a blend of physical and digital worlds, with links between human, computer, and environment interaction. Our client prioritized earning mindshare by co-marketing and co-selling the product with the broader portfolio. Earned mindshare would keep our client on track to hit yearly revenue targets for mixed reality apps. Landing key customer accounts was crucial to meeting revenue targets as well.
The technology company also wanted to keep customer escalations close to zero during application transition. Furthermore, the company looked to enhance its end-of-life management for earlier product versions. Minimized customer disruption would enable a successful transition to the new product, raise market awareness, and prevent sales and marketing challenges.
Updated content and strengthened governance processes
A team of experts from Spur Reply conducted a thorough analysis of the task at hand. We set the vision with leadership for a marketing transformation that redefined the internal organization's role. Working collaboratively with numerous stakeholders across the company to secure executive approval, we:
Adapted the organization's story to address the product transition
Updated core content to focus on market leadership and key customer scenarios
Kept content and story consistent across products while adapting to team changes
Consolidated featured content to rapidly build awareness with target audiences
Documented actions/risks for stakeholders

that were key to successfully landing this change

,

developed engagement approaches for each stakeholder group,

and aligned

with

them on key actions ahead of executive review

Established workflows to keep various teams on track for effective decision-making
Prepped team for executive business reviews to break silos and close open items across the organization
Created resources to leverage in conversations with field, partners, and customers
Throughout the collaborative process, our teams worked through multiple challenges, including establishing mixed reality as an enhancement across our client's solutions as one app was phased out.
Another obstacle we successfully worked through involved stakeholder alignment across teams in marketing, engineering, and business planning. Utilizing a change management assessment of stakeholder risk and readiness, we identified an approach for landing this change with these key stakeholder teams to ensure successful adoption. Alignment allowed our client to obtain executive-level approval for the application transition and customer communications.
Our client trusted us to effectively work through challenges after observing a fellow consultant from Spur Reply successfully deliver in their organization. This client wanted similar support for their team. Our consultants entered the project with a broad range of experience and expertise, allowing them to adapt to frequent changes in project priorities and client pain points.
Positive partner feedback and zero customer escalations
Updated mixed reality content and a smooth application transition resulted in zero customer escalations and positive feedback from sellers and partners. Through our efforts to execute tactical and strategic activities for a marketing transformation, the organization's internal sellers, external partners, and affected customers experienced a positive transition.
By collaborating to foster a strong team, we allowed internal sellers and external partners to coordinate their efforts. The project's outcome improved the number and quality of field and partner resources for selling products to key customers.
The collaboration enabled our client to produce yearly revenue targets for products and increase visibility for executives and various teams. We helped establish the new product as an enhancement across the organization's solutions while producing customer satisfaction and achieving a positive product transition with zero customer escalations.
Thought Leadership
Related Content