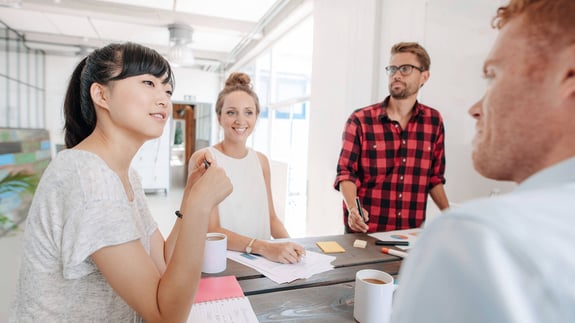 Sales Plays Accelerate Revenue and Bridge Siloed Teams
Success Story
At a glance
Spur Reply helped bridge siloed sales and product teams by organizing and creating a portfolio of go-to-market (GTM) sales plays for our client's partner enablement portal. We worked with the leader in cloud computing to successfully build out 11 plays. Our efforts helped our client successfully launch the portal and introduce it to its global partners at a leading international business conference. The collaboration ultimately provided our client with critical tools and resources that could help strengthen their partner relationships and grow revenue.
11
fully supported sales plays created over a 14-week period that are now in market
Bridged siloed sales teams and product groups
Built core sales plays that contributed to the successful launch of our client's partner enablement portal at a global business conference
Provided our client's partners with sales plays they used to build their own solutions
Designed re-usable templates to efficiently build and execute sales plays in the future
Sales enablement collateral
Stakeholder communications
SCHEDULE A MEETING WITH AN EXPERT
Prioritizing the partner experience
Strong partner relationships are crucial to most technology companies' long-term success in the marketplace. One important way that industry leaders equip channel partners is by providing resources and tools that reduce friction in the sales process. Two of the most valuable assets vendors can provide their partners' sales teams with are use-case driven solutions and sales plays.
Use-case driven solutions outline the ways a product or service can solve a specific set of challenges regularly faced by customers. The solutions provide a clear way for partners to understand how to position the vendor and its products in sales conversations with customers. Similarly, sales plays are repeatable tactics and strategies used by sales teams to help turn leads into customers. They outline scenarios and give guidance on what to pitch and how to pitch in those scenarios. When used effectively, both sales plays and use cases help channel partners increase their revenue, profitability, and conversion rates.
A better approach to equipping channel sales organizations
A leading technology company partnered with us to strategize its channel partner sales play collection, publication, and distribution process. To enable channel partners to effectively sell their products, multiple teams had developed numerous sales plays over time. However, there was no unified process for collecting, rationalizing, and publishing the materials. A high number of fragmented GTM sales plays were eventually built by numerous internal orgs, contributing to the need for a streamlined approach.
To address this challenge, our client built a centralized location for resources that would enable partners to communicate with customers.
Unifying fragmented GTM sales plays, the partner enablement portal functions as a streamlined engine that supplies partner audiences with defined solutions they can sell and build services around to address specific customer challenges.
The tech leader asked our team to help curate and introduce the portal by building out a specific set of sales plays, then clearly define where partners could access critical enablement resources — including use cases — aligned to each play. Specifically, our client's team wanted to create a streamlined approach to publishing resources for a variety of strategic sales motions.
Functional sales plays and use cases for products across multiple groups
Our niche industry knowledge of the tech leader's products and understanding of the sales and product group stakeholders helped our team to hit the ground running. Additionally, our extensive experience working with the tech company enabled us to bring an expert-level comprehension of their target audiences. With this background knowledge, as well as a deep understanding of our client's goals and pain points, we were able to start delivering quickly.
To design and publish sales plays and use cases for products spanning multiple groups, we interviewed multiple subject matter experts (SMEs) for every product. Conducting discovery with different groups ensured individual products and their capabilities would be holistically reflected in our content design and development.
We used our discovery findings to build a series of internal and external assets that sellers could use to execute each sales play. As we built the first plays, we also built repeatable templates that product groups and sales teams could use to build future plays quickly and efficiently.
Under a tight deadline, we created partner sales and enablement guides for 11 plays. Each guide included:
A customer-focused overview of the relevant market and how the play's technology solutions solve the target audience's specific challenges
A video-on-demand overview of the sales play
A customizable customer pitch presentation for partner sellers
A quick reference cheat sheet for sellers
An email template for customer outreach
Using an agile and cross-functional approach, we quickly built the 6 supporting assets for each of the 11 plays over a 14-week period. Once the product groups approved the content, we facilitated the final review process and sign-off from multiple executive owners.
Sales plays grow portal adoption
Together with our client, we successfully launched the partner enablement portal and introduced it to its global partners at an international business conference.
As a result of our quick turnaround and positive partner feedback, our client's channel enablement team asked us to continue our working relationship by helping them build more prescriptive training and enablement pathways for partners. After the launch, we also collaborated with our client's partner account managers to supply internal training and partner engagement materials that could help onboard partners to the portal.
Our joint effort with the tech leader not only helped 'level up' their sales plays, but also provided their channel partners with invaluable tools and resources to help grow their revenue and profitability. The project helped unify our client's product and sales teams, bring together a variety of differing insights to meet shared goals, and grow the overall adoption of the partner enablement portal.
Thought Leadership
Related Content