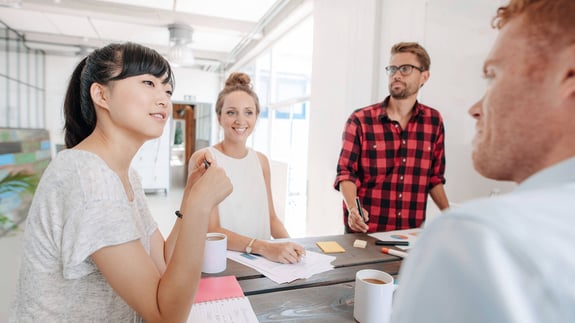 Tech Giant Increases Market Share Via Go-to-Market Strategy
Success Story
At a glance
Our expertise helped turn around a product team's go-to-market strategy at a large technology vendor. We helped our client recover lost ground to an aggressive competitor by creating a comprehensive plan that improved the company's commerce platform and direct selling.
Increased market share within target audience
Improved standings with senior management and stakeholders
Aligned marketing and product engineering stakeholders
Produced a clear go-to-market strategy for commerce and direct selling
Customer and market planning
Content strategy and development
Stakeholder communications
Project, process, and program management
SCHEDULE A MEETING WITH AN EXPERT
Prioritizing customer and market planning
Businesses that want to succeed in a rapidly shifting economic landscape must prioritize customer and market planning, as well as streamline internal processes, empower employees with updated tools, and quickly deploy strategic infrastructure to emerging opportunities. Businesses that find new ways to adapt will accelerate their revenue growth.
These principles inspired a technology leader's vision to enhance its suite of products through a partner-led add-on selling method. To make that vision a reality, our client needed a clear strategy and coordinated efforts across more than 15 teams.
Increased market share and productivity optimization
Our client faced challenges both internally and in the broader marketplace. The technology giant was losing market share to key competitors and struggling to reach its target customers through its existing go-to-market approach. The company needed a strategic plan for building out a new direct-sales model.
Internally, different agendas at the group-level slowed efforts and led to poor alignment. The team's approach was not consistent with the company's strategic platform, resulting in diminished confidence and productivity. A sense of urgency pushed teams to make immediate changes.
A new strategy
In response, Spur Reply defined a three-year strategy for the tech company's commerce platform and direct selling. Having worked with the client previously, we leveraged our previous support knowledge of stakeholders and industry knowledge to drive completion of a strategy whitepaper to inform future execution. In addition, we established a rigorous cross-team Rhythm of Business (RoB) to drive key decisions and meet milestones for investments and events.
Throughout the project, we managed stakeholder communication and encouraged buy-in through reviews and feedback prior to the plan's launch.
Our deliverables included a 32-page whitepaper that outlined our client's vision and strategy for its commercial marketplace. Developing the whitepaper included focused content planning, development, and review by client leadership.
Cross-team stakeholders shared opinions on the whitepaper, and teams worked under tight deadlines. However, strategy, thought leadership, and project management kept the content creation process on track. Our teams also helped create supportive content for internal distribution.
Finally, we also helped determine a list of messaging and collateral needed to drive stakeholder engagement and public disclosures around the motion.
Strengthened relationships increase market share
This project's outcome ultimately improved standings with senior management and our client's previously strained stakeholder relationships.
Marketing and product engineering stakeholders became aligned to execute a shared strategic vision. Producing a clear plan for the remainder of the fiscal year also contributed to an increased market share within the tech company's relevant target audience.
Thought Leadership
Related Content