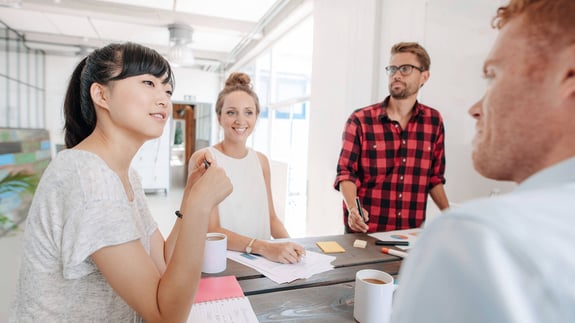 Tech Leader Grows Client Base With Information Sharing and AI
Success Story
At a glance
A tech company's sales force needed a structured process for information sharing with marketing teams, in order to be fully aware of the latest product and market updates. Spur Reply used a variety of strategies to tackle this challenge —including Artificial Intelligence (AI) — to create new processes, cadences, and infrastructure that ultimately streamlined internal communication and improved employee satisfaction.
4
sales and marketing deliverables
Created new automated communication structure for internal teams
Strengthened communication between field sales and marketing teams
Helped client serve customers and grow client base
Project, process, and program management
Artificial intelligence/machine learning
Content strategy and development
Sales enablement and playbooks
SCHEDULE A MEETING WITH AN EXPERT
Team communication channels vital for success
Our client's sales force and marketing teams play a critical role in maintaining the company's position as an industry leader. Effective collaboration between these groups allows the tech leader to grow and serve its customer base.

Within the sales force lies the field, a large group of salespeople with varying roles throughout a given sales cycle. Some field sellers are technical, and others are not. Regardless of their role, all field sellers need to receive consistently updated sales materials and product news from the marketing and engineering teams.

The tech leader needed Spur Reply's help with facilitating this transfer of information. We were tasked with helping the tech giant build communication channels that allow our client's corporate marketing teams to better connect with those out in the field.
Unstructured information delivery
Salespeople in the field and within the company's marketing organizations needed a more efficient way to receive important information from marketing teams. While everyone involved tried to communicate effectively with ad-hoc email updates, miscommunication and inconsistent information still occurred without a clear, structured process in place.

When corporate teams provide streamlined information, they alert field sellers to the latest products, features, and sales collateral. Creating a strong communication process would help sales teams adequately prepare to serve customers.
Newsletters, distribution lists, email alerts, and power apps
Spur Reply responded to this challenge by creating processes and infrastructure for field and marketing teams to easily target specific roles with critical information. The new communication structure for sales and marketing teams allowed them to develop a cadence for developing and receiving critical messages. Our final deliverables included the following:
Information alerts.

We helped the tech giant configure email alerts and power apps to deliver news and product updates to teams. Our teams also helped condense news updates to a shorter, mobile-friendly format. News delivered via power apps became limited to one paragraph in length and included a link to more detailed information, should a reader want to dive deeper. Spur Reply also helped facilitate the development of field alerts, one of the largest impacts on our client's communication structure. A field alert is a high priority mail that is sent directly to the inboxes of all field salespeople. Making this happen required the creation of a shared alias and working with the various field email distribution group owners to grant permission to send to each group.
Newsletter automation.

We implemented AI and machine learning to develop a bot that automated the newsletter creation process. This saved time and reduced stress on our client's communications teams from manual newsletter tasks.
Distribution lists.

We built an approach to create, develop, and track nested distribution lists in Outlook to target role-specific groups. Spur Reply also developed partnerships and interviewed individual group owners to give them transparency into the right communication channels and content.
Partnership development.

The most challenging aspect of this project was identifying all the field stakeholders who needed to be included in the emails. This process required months of interviewing subject matter experts and building a spreadsheet that tracked ownership, purpose, and reach of various email distribution groups.
However, our knowledge of marketing and sales strategy allowed us to quickly visualize the desired end state. We knew how to formulate a plan with early-stage usability, preventing us from waiting for a finished process before beginning the field alert execution.
Streamlined and up-to-date communication
The collaboration between the tech giant and Spur Reply featured outside-of-the-box thinking as we automated content development and simplified communication processes.

Ultimately, our client's communication structure between sales and marketing teams strengthened immensely. Consistent communication between the teams has allowed them to remain on the same message to external audiences, which allows the tech leader to continue serving its customers and grow its client base.
Thought Leadership
Related Content