Company culture runs deep.
If you had to pick between archery tag, curling, an urban scavenger hunt, or karaoke which would you pick?
This is exactly the kind of problem our company really digs into and...
Ok, let's not get carried away, planning internal events isn't the same as developing a multi-billion dollar channel strategy but it is important.
Now back to the question at hand. This was a real question that my team, Spur After Hours, posed to the firm as part of a new initiative to encourage more engagement between our employees.
We offered the opportunity for the entire office to submit ideas for ANY event they wanted. The kicker? We gave them a few constraints to help blossom their creativity. The winner would get $500 to throw their event. Note that we didn't set a limit on the cost of the event, but we would help fund a certain amount. Any additional funds could be gathered as creatively as they wanted.
This wasn't always the way we did things.
When Spur After Hours first started, The Spur Group had roughly 20 employees. Everyone worked in the same small room and knew each other very well. Our events were relatively easy to plan: happy hours, get-togethers at people's houses, maybe a trip to a baseball game.
We've grown to over 175 people in ~3 years and are continuing to add people at an incredible rate. That changes the dynamic of how we throw events.
It is still very important to us to maintain the close-knit culture that The Spur Group was founded on.
Over my tenure the last few years, we've made it our goal to inspire relationships amongst disparate parts of the office, grow bonds that already exist, and nurture our welcoming environment.
To do this, we've assembled a team of motivated volunteers to throw events that everyone can be involved in.
We operate autonomously from management since we are "for the people, by the people." However, we work closely with them to get their commitment of support and attendance. In part because we love hanging out with them (seriously!) but also to create a platform for newbies to casually socialize with their bosses on a more personal level.
We feel that everyone can relate to the sentiment that so much of our lives are spent at work, it's important to like the people you spend so much time with. One way we try to encourage that is by bringing people together in new and interesting situations. Through working on project together, people tend to form natural groups with the people they work with, and this extracurricular format helps catalyze those groups mixing.
Some easy additions to company culture were daily crosswords (seriously a hit in the kitchen!), happy hours, providing drinks on Fridays, along with a holiday and summer parties.
Thanks to our freedom, we've been able to get more creative.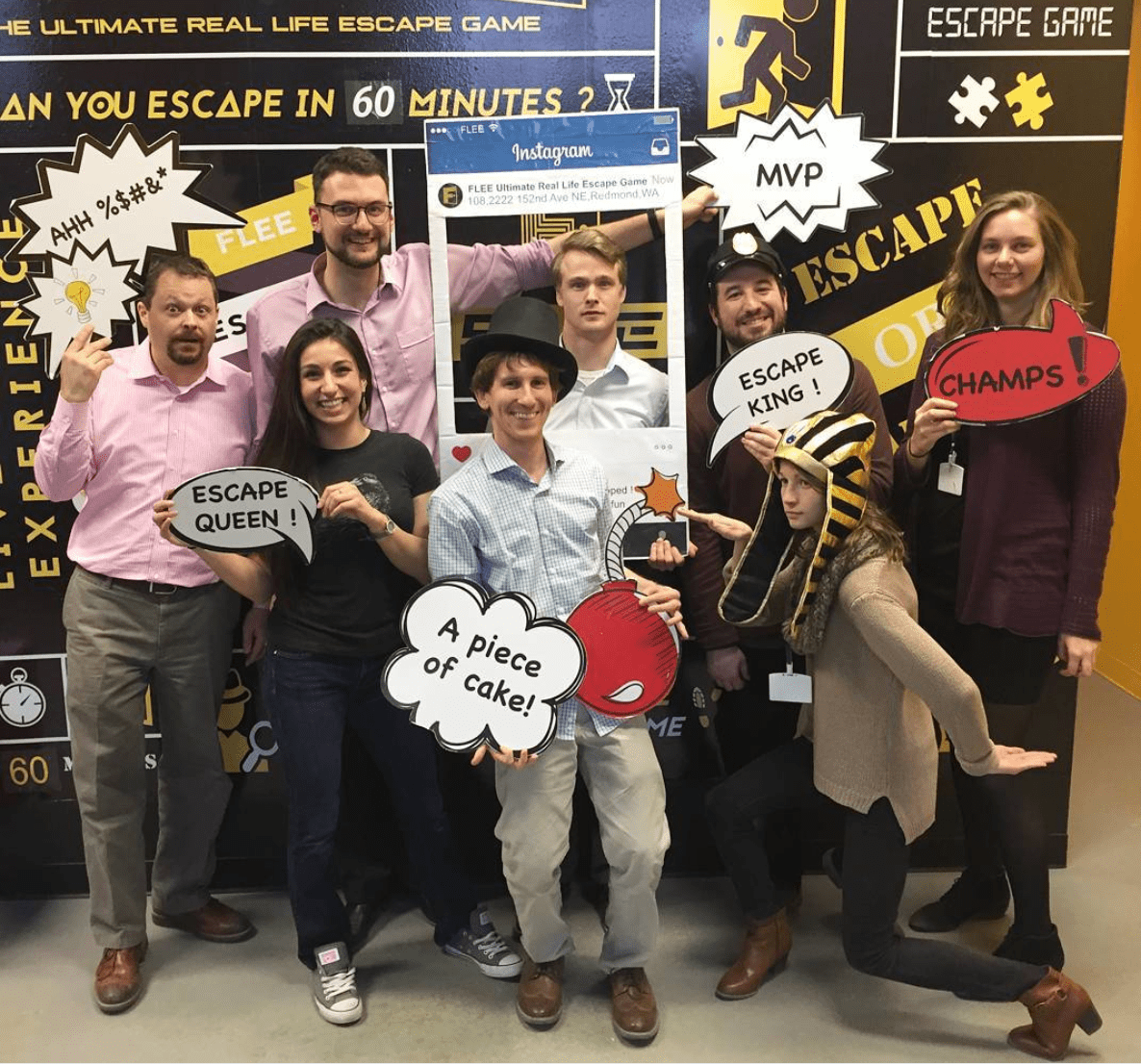 We've developed a new forum for people to make their event ideas a reality. Together we have organized our own: Laser Tag, night-skiing, and even built a mini golf course in the office!
In 2018 we're shooting to do 3 things:
1. Help the office – As we continue to grow, we want to make sure we facilitate the sharing of ideas, feedback, support, and friendship, regardless of position or tenure.
2. Help the community – We recently spun off a community service team that we maintain a very close relationship with. Together we promote community events to rally participation, as well as host events like fundraisers at our summer party.
3. Grow and demonstrate our culture – There are countless stories of referrals becoming fantastic, enthusiastic employees. We continue to inspire our people to talk about our company culture and to extend our events to our family and friends. This continues to build our network and allows us to source great talent who help us grow and remain a seriously great place to work.
If you're interested in learning how to build stronger relationships and grow company culture, or want to learn more about the culture here at The Spur Group, we'd love to hear from you. Visit us at thespurgroup.com/contact-us and drop us a line.
Oh, and in case you were curious, archery tag and curling won. Keep an eye on our Instagram feed to see how those turn out.