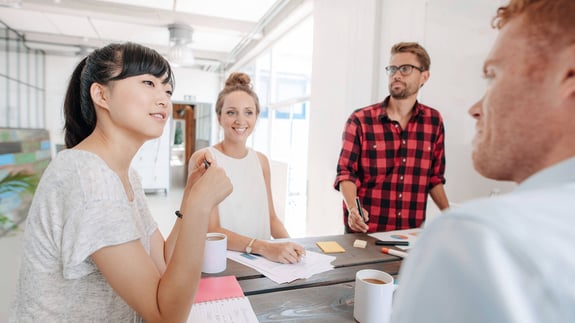 Channel Sales Enablement Strategy Accelerates Revenue
Success Story
At a glance
In less than 12 weeks, our teams created a new set of partner readiness materials for our client, a leader in security technology. Partners and the field embraced the customer-focused materials, which maximized sales engagement and increased sales dramatically.
5
partner sales deliverables
12
weeks from kickoff to delivery
Delivered crucial sales enablement content on short deadline
Prepared our client for future product portfolio expansion
Improved partner recruitment and sales
Sales enablement and playbooks
Process, program, and project management
SCHEDULE A MEETING WITH AN EXPERT
A single source of truth
A unified communications strategy is necessary to capture the attention of customers and partners. A compelling story that operates as a single source of truth for a product portfolio can help build confidence and trust with company partners who are selling the products.
Our client owns a wide-ranging portfolio of security services and products. The security technology group actively partners with more than 170 key security vendors, and to achieve better security outcomes, our client integrates its products with vendor products.
Communicating a product portfolio's value
Within 12 weeks, our client wanted to strengthen its channel sales enablement strategy through messaging and content. Specifically, our client was looking for enablement materials that would allow partners to articulate a meaningful sales message to customers.
The security technology company also sought our expertise to unify talking points for partner communications. We knew that successfully communicating the value of our client's product portfolio would lead to increased competitive partner recruitment and ultimately grow company revenue.
Strengthening a partner enablement strategy
Through collaboration with our client, we used rigorous project management to drive scale and adoption of new processes. Our team's project deliverables included:
A unified messaging framework across all partner sales enablement materials
Customer-facing content that aligned with the new framework
A strong partner business proposition for new and existing partners
Sales playbooks for internal and external sellers
A channel engagement framework for our client's field sellers
Increased partner sales and recruitment
We delivered crucial sales enablement content on deadline and exceeded our client's expectations.
Our collaboration left the security technology leader with a complete set of customer-facing sales tools and detailed 'how-to-sell' guidance materials. The sales enablement framework supported new products as the portfolio expanded, preparing our client for the future. Partners and stakeholders embraced the messaging and content, contributing to improved partner recruitment and sales.
Thought Leadership
Related Content