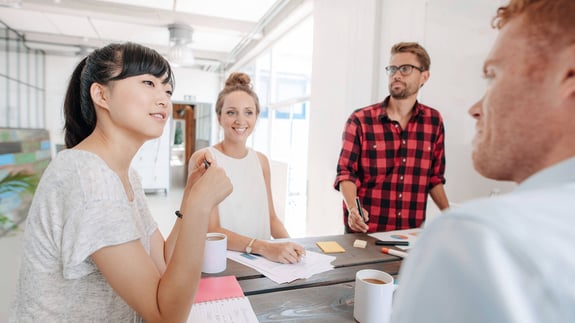 Robust channel strategy modernizes Qlik's partner program
Success Story
At a glance
Business analytics and data integration software provider Qlik wanted to upgrade its partner program to move the partner channel beyond a traditional reseller approach. In an extensive collaboration, Spur Reply assessed Qlik's current partner strategy and provided recommendations to successfully launch and build adoption of the company's modernized program. As this is an ongoing effort, we continue to help manage and drive the evolution of the software company's program post-launch and build a best-in-class partner experience. Our efforts helped the software company refresh its partner approach, which has led to positive partner experience, revenue, and partner engagement outcomes.
4 month
Timeline implemented to assess our client's partner channel, form recommendations for optimization, and manage the launch of its new partner program
2
Assessments delivered to evaluate our client's current program and create recommendations for improvement using multiple frameworks
82
Total project initiatives, of which 34 needed to be completed by program launch
27
Work streams that we helped manage
Transformed Qlik's partner experience through the design, management, and execution of a modernized partner revenue model
Partner programs and strategy
Partner co-selling models
Content strategy and development
Value and business propositions
Landing and Adoption Readiness
SCHEDULE A MEETING WITH AN EXPERT
The advantage of a co-sell motion
Cloud computing capabilities continue to rapidly evolve, translating to greater potential for growth in partner ecosystems than ever before. Moreover, partners play a crucial role in the distribution and services strategy of technology companies, which is why business leaders need to consider the best ways to influence and empower their channel partners.
As companies adapt to shifts in business buying behaviors, some are transitioning from using a traditional reseller model to a co-selling motion, which allows them to extend customer reach, streamline sales processes, and maximize the value of products and offerings. The transition to a co-selling motion is also a reflection of the growing number of companies adopting SaaS and subscription-based business models over traditional perpetual license models.
One company evolving its selling structure is Qlik, which provides a SaaS data integration and data analytics platform to help organizations create the insights needed to sharpen decision-making and solve complex problems. Through its end-to-end real-time platform, Qlik allows companies to increase revenue and form optimal relationships with their customers.
Completing the shift to a recurring revenue model
Qlik asked for Spur Reply's go-to-market expertise to help design, manage, and execute a new and improved go-to-market model. Specifically, our consultants were tasked with helping modernize the Qlik Partner Program and complete the shift to a recurring revenue model through the sale of software subscriptions.
Our client wanted to implement a cloud services track, which is a way for its partners to provide services through a cloud-based platform. The goal of a cloud services track is to move from prioritizing transaction-based relationships through resellers to customer-first relationships.
To assist Qlik in transforming its partner experience, our client asked that we help adjust its partner program to meet industry best practices and standards. We achieved this through:
Assessing Qlik's the program from strategic and competitive standpoints
Forming recommendations based on our initial assessments and expertise
Weaving our recommendations into Qlik's overarching partner plan, strategy, and program
Developing and managing Qlik's rollout of its new upgraded, modernized program
Conceptualizing, executing, and launching the Qlik partner program
The first phase of the project required Spur Reply to perform both a strategic gap and competitive assessment for Qlik's current partner strategy. To help guide the assessments, we weaved together our Spur frameworks and best practices for developing a program across profitability, enablement, adoption readiness, and the digital experience. The assessments included a:
Competitive assessment. We conducted an analysis of Qlik's top competing vendors to identify program strategies and best practices in use across the industry that could be implemented to achieve our client's goals.


Strategic gap assessment. Our consultants reviewed the key strategic elements and gaps within the current partner plan against our program design and execution frameworks. The program design framework helped us analyze and benchmark Qlik's key program elements across the five stages of the partner lifecycle. Using the execution framework, our team evaluated Qlik's overall execution readiness, specifically its change and program management tactics.
We then compared the key components of Qlik's program with best practices and created a set of recommendations. The recommendations helped our client adjust its program design plans to meet industry standards and validated key design elements.
Once the program's design plans were finalized, Qlik needed help organizing the entire rollout of its new program and managing the various work streams due to internal changes. Our team of consultants quickly jumped into action to help execute the launch of the software company's updated program. We led the creation of program collateral, content, and a new partner business proposition.
Qlik was aiming to launch its new program within a short period of time. We had four months to identify design opportunities and pilot the engagement model before the rollout of our client's brand-new cloud services track. Spur Reply took point on directing the project's execution, managing the workstreams, and facilitating communication between stakeholders.
Our team of consultants also created deliverables for both the program's execution and launch. The execution deliverables included an execution model and extensive project plan that demonstrated how our client was going to deliver all the project deliverables by the launch date. The project plan included creating a high-level change management plan to ensure successful adoption by internal and partner stakeholders, in addition to the rollout and workstream slides, deadlines for deliverables, and milestones.
Our launch and readiness deliverables were internal and external-facing tactical assets that Qlik needed as part of its program debut. Launch deliverables included a walking deck, the QlikWorld presentation — which was created for Qlik's global virtual conference — updated program collateral and content, and a partner business proposition. Our consultants also helped develop a recruitment plan with internal teams. We helped launch Qlik's new program within the required timeframe due to our ability to quickly execute and create the assets our client needed.
Turning Qlik's partner vision into a reality
Overall, the project required the execution of 82 project initiatives, 34 of which needed to be completed by the program launch. Our team facilitated 27 workstreams throughout the collaboration. From this project's early conception stages to post-launch, we made sure we were aligned with our client contact to make their vision of modernizing Qlik's partner channel a reality.
Moving from a traditional re-sell model, our team helped Qlik expand its partner channel by incentivizing the co-selling of Qlik's SaaS products, which allowed the software company to drive customer experience, revenue, and partner engagement outcomes. Our collaboration allowed Qlik to move beyond a transaction-based relationship via resellers to a customer-first relationship via influencers and co-sellers.
Under the new model, partners will be able to influence and engage potential customers throughout the entire lifecycle. Additionally, partners can share sales opportunities, provide technical support, and earn incentives based on a deal's value, according to a press release from channel news outlet Computer Reseller News (CRN). Further, co-sellers can earn incentives for "being the partner of record in deals, for customer renewals, and for upsell and expansion sales."
CRN further reports that the new cloud services track will benefit influencer and co-sell partners as both the end-to-end customer lifecycle and partner-led support becomes a larger priority.
"Spur Reply's end-to-end strategy and support was essential to evolving our partner program," said Peter Leddy, Vice President for Qlik's Global Partner Organization. "From evaluating and planning to developing and managing, their team helped us turn our vision of delivering a top-notch partner experience into a reality."
Through our tailored partner experience strategy and robust project management, we helped Qlik create and launch an updated, effective program within four months. Our team of consultants continues to collaborate with Qlik on future program enhancements, helping the team deliver a best-in-class partner experience.
Spur Reply's end-to-end strategy and support was essential to evolving our partner program. From evaluating and planning to developing and managing, their team helped us turn our vision of delivering a top-notch partner experience into a reality.
Thought Leadership
Related Content