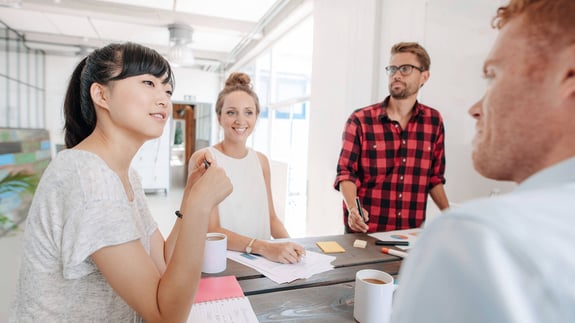 Interactive Walkthrough Increases Sales Opportunities and Reduces Costs
Success Story
At a glance
We helped our client, a leader in the technology industry, create a guided experience that demonstrated the benefits of its selected apps and products. Throughout our project, we incorporated project mapping, copy editing, and strong project management efforts to successfully create one of seven example scenarios on our client's website. Our collaboration resulted in a renewed partnership to continue making scenarios, a reduction of our client's overhead costs, and increased opportunities within the sales funnel.
7
test drive scenarios successfully launched on our client's website
Gave business decision-makers (BDMs) an increased understanding of capabilities
Increased opportunities within the sales funnel
Reduced client's overhead costs
Process, program, and project management
Content strategy and development
SCHEDULE A MEETING WITH AN EXPERT
Converting prospects to buyers through interactive walkthroughs
CRM (customer relationship management) and ERP (enterprise resource planning) can help increase revenue growth and profitability for a business. CRM systems manage customer interactions, whereas ERP systems improve a business' efficiency within its processes. Our client offers both solutions to help bring customers and businesses together. Using AI (artificial intelligence) insights, the technology leader uses intelligent business applications to help companies effectively manage and deliver results.
Every day, companies must create new ways to convert prospects into buyers. The way they showcase their applications plays a huge role in making those conversions happen. Going beyond the traditional ways of marketing a company's offerings, guided walkthroughs can offer prospects a more well-rounded experience as they consider whether to purchase the software.
A new way to showcase products
Our client sought Spur Reply's expertise to create the first of seven guided experiences that demonstrated the benefits of its selected apps and products. We were later asked to create additional scenarios each quarter and maintain their updates with each wave release.
Our services were requested because the technology company wanted to offer business decision-makers (BDMs) more functionality and detail when previewing its applications. Compared to traditional product overview videos, interactive walkthroughs go into more detail for BDMs to test out the variety of solutions and products a company has to offer.
An interactive walkthrough, also referred to as a test drive scenario offers prospects a guided experience within which they can better grasp the capabilities of the powerful solutions. Further, a walkthrough lowers costs related to free trial offerings as trials are expensive and not typically closely managed at end of the trial duration.
Building interactive scenarios
To achieve our shared goal, we needed to work closely with our client's technical and core product managers to create scripts and screenshots for the test drive scenario, as well as the client's web engineering team to help prioritize it on the company website.
With thorough and organized project management efforts, we worked with stakeholders to:
Create a detailed project mapping of key deliverables and met key milestones
Lead content creation with stakeholders
Copy edit scripts from TPMs and CPMs
Manage the relationship with the vendor responsible for user interface development
Drive the implementation of guided walkthroughs on the technology company's website application overview pages
We later repeated this process to complete seven total guided experiences.
A prior project relationship with our client had shown the value we could bring to this collaboration. Our team leveraged prior experience to deliver quality content and incorporated rigorous project management experience to ensure goals and milestones were met on time.
Lowered costs and increased sales funnel opportunities
The joint effort resulted in the successful launch of the first of seven test drive scenarios on our client's website. The guided walkthrough gave BDMs an immersive experience in which they could better grasp the capabilities of our client's applications and products in a tangible way.
Our collaboration resulted in an extension of our engagement with the technology giant to build additional scenarios. Our work also helped our client reduce the costs originally allocated to free trials. Finally, the test drive scenario increased opportunities within the sales funnel.
Thought Leadership
Related Content