All organizations, regardless of industry, size, or maturity, have a set of foundational activities required to run the business — often called business operations.
Successfully managing your business' operations strategy requires juggling many moving parts across multiple groups — with limited time and resources. You need diligent maintenance, well-informed strategic planning, and disciplined execution to succeed.
Success is achieved by defining great strategies and implementing them relentlessly. Whereas, failure is almost always caused by one of two things: bad strategy or ineffective implementation.
Execution without strategy is chaos, so you want to start with setting your strategy and establishing targets at regular intervals, as well as developing and maintaining effective operations. Finally, it means ensuring you have the right team in place to prioritize, support, and execute strategic initiatives. Those initiatives will help drive your strategy and overall success.
When executed well, these practices allow your teams to focus on more important initiatives. In other words, as we at Spur Reply are fond of saying: "effective operations make the small things easy, so the big things become possible."
This is the first in a 5-part blog series defining Spur Reply's unique perspective on the often overlooked, but incredibly valuable world of operations.
Part 1: This blog will focus on an overview of each part of business operations
Spur Reply believes your operations must be approached within a proven framework. And only when all elements are addressed can an organization fully reach its potential. Our framework demonstrates how strategic planning, operations design, initiative execution, and business intelligence relate to, influence, and depend on each other.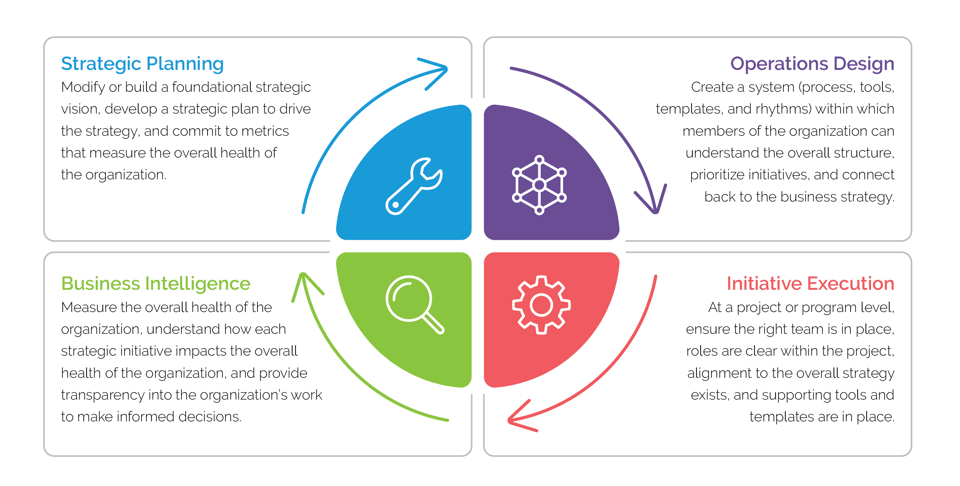 Strategic planning
The biggest challenge we see within business operations is a lack of alignment between initiatives and strategy. Often, setting a strategic plan can be overwhelming or a lower priority for leaders focused on deadlines. However, overlooking your strategic plan can be costly and cause serious issues downstream because it's the foundation of your organization's future efforts.
A strong strategic plan is key to positioning the organization for success with the right investments, uniting the team under a single purpose, measuring performance, and ensuring alignment across the company.
Strategic planning starts with identifying an organizational vision, mission, and set of objectives. Then, you define your approach and tactics to drive success. Your strategy does not exist within a vacuum and should align to any existing corporate strategies.
Another key element is to ensure your strategy has an initiative selection and prioritization process that ensures you use resources in a meaningful way. You will then need to commit to a set of metrics to determine success and the overall health of your organization.
Operations design
Operations design establishes the systems, processes, rhythms, and templates an organization uses to run their business on a day-to-day basis. An operations ecosystem ensures your team has the right set of tools for completing work and that those tools produce useful information for leadership without overburdening your team.

You're creating the environment for your team — so getting it right is important.

A well-designed operations environment can streamline your team's workload, which allows you to focus on important things — like enacting your strategy. A poorly designed environment can have huge negative impacts on team morale and ultimately your business. Research has shown that 42 percent of surveyed employees have searched for a new job due to poor operations management, and 15 percent of those workers eventually quit.

Spur Reply's experience shows many leaders deprioritize operations so they can execute plans faster. This is a mistake — cutting corners will always catch up with you. A thoughtful design will inevitably lead to better execution and poor design to significant inefficiencies.
Initiative execution
Initiative execution is vital because it is where the rubber meets the road. You are bringing your strategy to life, and it's imperative that you have the right teams and plans in place to execute each one.

Without the right team — either size or expertise — strategic initiatives can fail to meet their objectives. Without the right tools in place, your teams can get lost in disorganization or bogged down by simple tasks.

A key part of initiative execution is understanding how each task relates to others within the larger strategy, which requires effective project management. This ensures strategic initiatives stay on track, are well organized, and deliver the best results.

Spur Reply's approach is to optimize within an initiative's plan of record. By ensuring strategic initiatives are well organized and within the design parameters, we can identify gaps to improve the next project. Strong initiative execution is only possible through effective strategic planning and operational design.
Business intelligence
When considering business intelligence as a part of business operations strategy, Spur Reply's focus is creating necessary tools to measure each project's impact on the organization's overall health. The metrics and views you develop should be able to effectively inform business decisions. To pull in new data, the reports also need to be easy to use.
Each initiative should be measurable and benchmarked against other initiatives. Further, the impact of the collective initiatives should be measured against metrics created during strategic planning. The measures should then inform updates, modifications, or redesigns of your organization's strategy. Business intelligence completes the business operations cycle, from execution to strategy.
By measuring how each element of your operations is performing, you identify opportunities for improvement. Business intelligence also helps an organization predict how future projects might impact their business. Modeling and forecasting allow for future looking business intelligence, which is equally valuable as looking back at performance.

There is an almost infinite amount of data that modern businesses can collect and understanding that information is invaluable. Good business intelligence uses data analysis to measure the impact of initiatives, the health of your organization, and demystifies key decisions.
---
Effective operations is a symphony of strategy, systems, execution, and intelligence that makes your organization run. Ensuring that each element is in place will bring harmony to your organization and allow it to perform optimally. Stay tuned for the next blog that will dive deeper into the strategic planning element of Spur Reply's business operations framework.
Stay tuned for the next blogs in the series: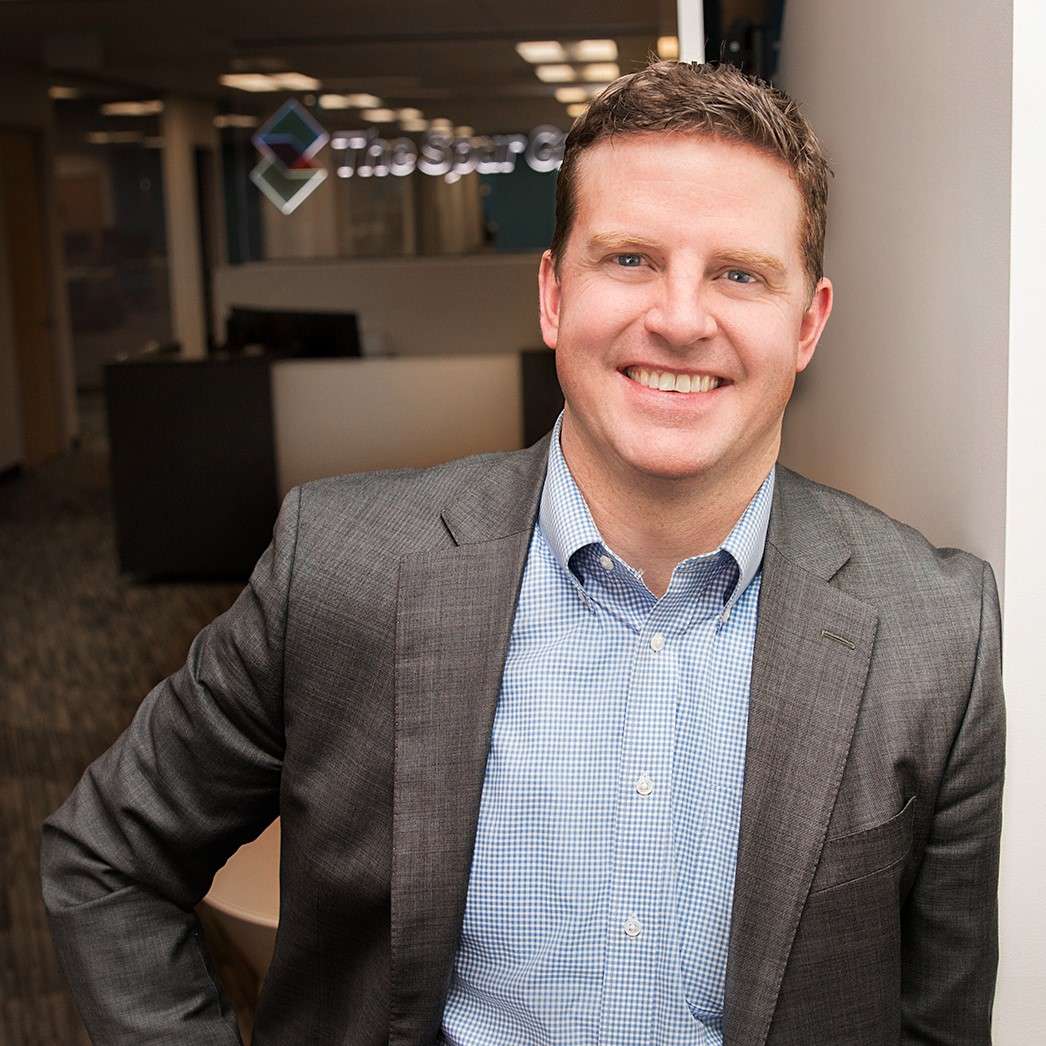 Dan Overgaag
Dan leads Spur Reply's channel management, sales transformation and business operations practices with over 11 years of industry experience. Dan has led countless projects and strategic initiatives across channel management and channel incentives programs within technology companies such as Microsoft, Cisco and Google.