Execution of strategic initiatives goes beyond project management.
The three tenets of successful initiative execution are discipline, transparency, and efficiency.
Our experts at Spur Reply, have identified the tenets of successful initiative execution. At the highest level, strong strategic initiatives are executed with discipline, transparency, and efficiency. In this blog, we will explore how these attributes make an initiative successful.
This is the fourth in a 5-part blog series defining Spur Reply's unique perspective on the often overlooked, but incredibly valuable world of business operations.
Part 4: This blog focuses on initiative execution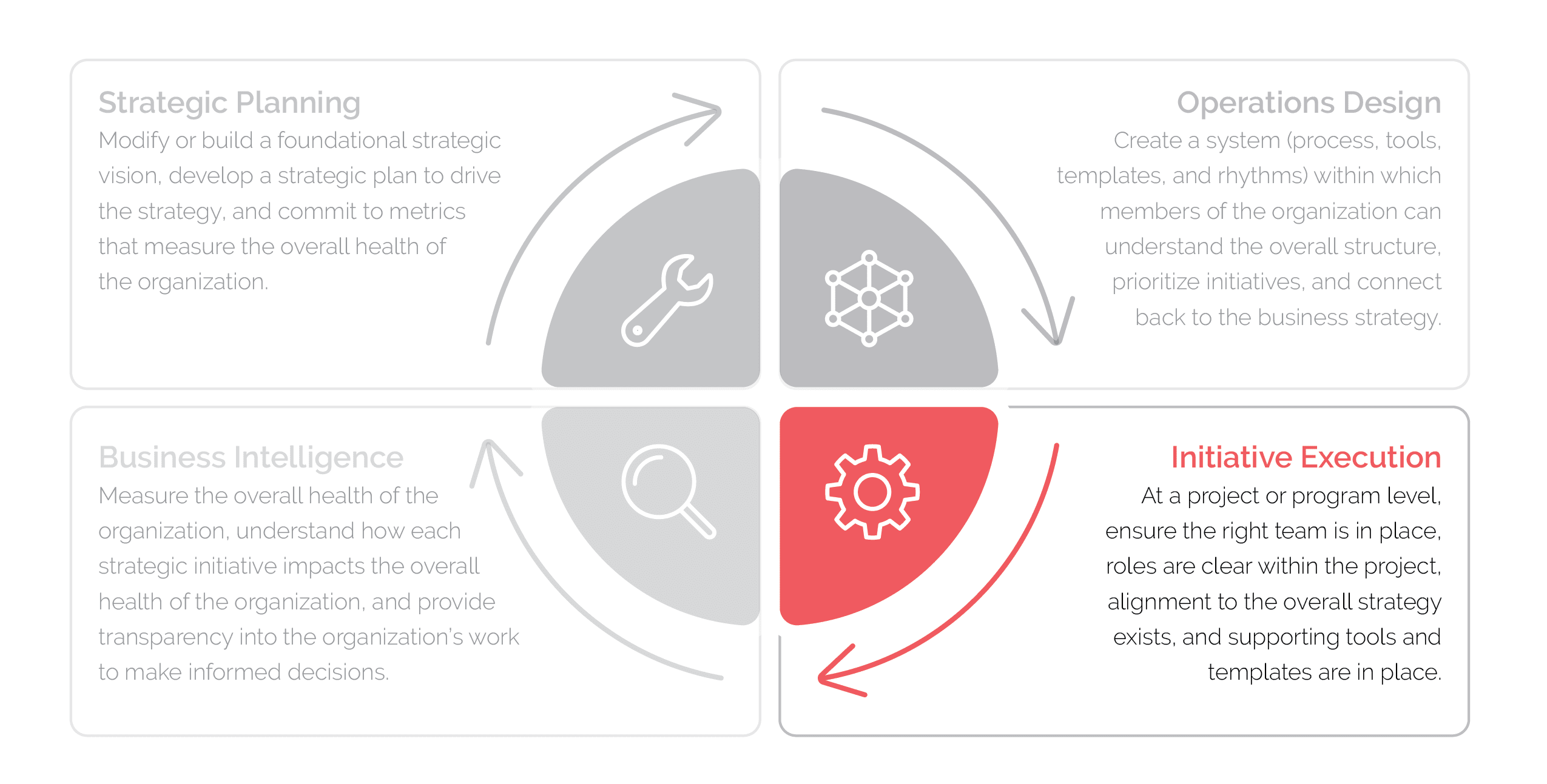 1. Discipline
Discipline is the art of creating a consistent code of behavior within your initiative team. Disciplined strategic initiatives share the following common attributes: outcome-focused, on-time and on-budget, and quality-focused.
Outcome-focused
Projects can be long, overwhelming, and riddled with challenges. The team needs to maintain a focus on the desired outcome, like a North Star for guidance. A lack of focus on the outcome puts your team at risk of spending time, energy, and budget focused on the wrong goal, which can lead to cancelled project after months of work.
Teams that lead successful initiatives ensure all actions lead to the desired outcome, even when leaders aren't present. Implementing outcome-focused discipline ensures that even if other roadblocks appear, your team is still marching toward a common goal.
On-time and on-budget
Keeping control of your timeline and budget is key to driving discipline within your team. The smoothest, most successful initiatives include transparency into upcoming meetings, team member vacations, key deliverables, and milestones. Like timelines, you should be reviewing budget regularly to account for previous and upcoming expenses.
Without effective timelines and budget management, your project can quickly get away from you. In one project, we witnessed a disconnect between our client's pace and their expected delivery of the project. They did not create, nor review, a timeline and budget regularly. As a result, time snuck up on them, they scrambled and delivered less than expected.
High-quality focused
Disciplined initiatives produce high-quality work products. Successful initiatives have a system and standards in place to ensure every piece of work is well informed, aligned to other projects or initiatives, reviewed with stakeholders, and approved by leadership. It is worth the effort to adhere to the system and standards.
When a team does not have a system in place to produce high-quality work, it runs the risk of not meeting initiative objectives. While a team may be able to achieve success through luck or a big push, strong work products make the goal much easier.
2. Transparency
Transparency means creating an environment where information is open, available, and shared appropriately with key initiative participants.
Three groups within the organization most require transparency: the project team, leadership, and stakeholders.
Project team
Transparency means your project team has easy access to the project plan, working materials, and a list of decisions and open action items. Project teams need specific information — such as urgent tasks and project priorities — as they approach their work on individual and team levels.
Transparency helps the project team approach its work in the most informed way possible. When initiatives are not transparent, it can create confusion and disorganization. For example, if leadership does not quickly share important project decisions with the entire team, it can lead to insufficient work that must be redone.
Leadership
Leadership, sponsorship, and support are imperative to any initiative's success. When leaders sponsor strategic initiatives, they need their team to provide regular progress updates so they can help remove roadblocks.
Failing to provide adequate information to leadership can leave an initiative hamstrung. During one client engagement, we worked with a vice president who had a team that didn't report on risks or issues throughout a project.
Every time she asked members for the status, they told her everything was going great, despite actual significant delays. We've found that often people believe that to show leadership, they must be able to do every task themselves and not ask for help. However, as a leader your job is to deliver results, and part of that is being honest with your superiors and colleagues about the real status of projects. In this situation, if the team members had asked for help early on, the VP could have coordinated with the necessary stakeholders and fixed the issues. The team could then have hit the deadline that they ended up missing by a year.
One way to encourage a culture of transparency is to frame roadblocks as a chance to adjust tactics and fix issues, rather than assigning blame.
Stakeholders
Stakeholder alignment to your initiative can drive much needed support. Stakeholders are often subject matter experts (SMEs) or are involved in tangentially related initiatives. By offering transparency to your initiative, you give them the opportunity to support your project with expertise, time, or even advocacy.
On the other hand, withholding information from stakeholders can challenge the success of your initiative AND your future working relationship. They may view you as secretive or assume you are plotting against their work efforts. Ultimately, your initiative will lack the important expertise or alignment it needs to be successful.
3. Efficiency
An efficient initiative or project is methodical, ordered and avoids redundant work —and is often successful as a result. The following qualities make up an efficient initiative: positioned for success and creativity to drive efficiency.
Positioned for success
Leaders of successful initiatives push team members to be as successful as possible by taking the time to understand the bandwidth, relevant skillsets, and talent needed for success. The best leaders work to grow the depth of skills on their team.


However, when a team is not well aligned to the project, its goals can become unattainable, no matter how well-designed the plan. Project teams struggle to create quality deliverables and manage deadlines when they're not positioned correctly. When a team member doesn't have the time to complete their tasks, it can slow down the initiative, or even put it at risk.
Creativity to drive efficiency
Chaotic situations can happen at any time. Business landscapes can and will change abruptly. Leadership changes their mind frequently. Meeting these challenges requires creativity to scale, adapt, and start over. Every initiative will be different. It is on you, as a leader, to creatively address these unique challenges.
We've found successful initiatives don't just attempt the traditional solutions (e.g. daily team meetings, a structured project plan, etc.). Teams think outside the box (e.g. bringing in snacks, approaching decision makers informally, or even modifying the project objectives to better meet changing business needs). There is a creative aspect of project management and it is critical to create space for achievement.

Check out our other blogs in the series: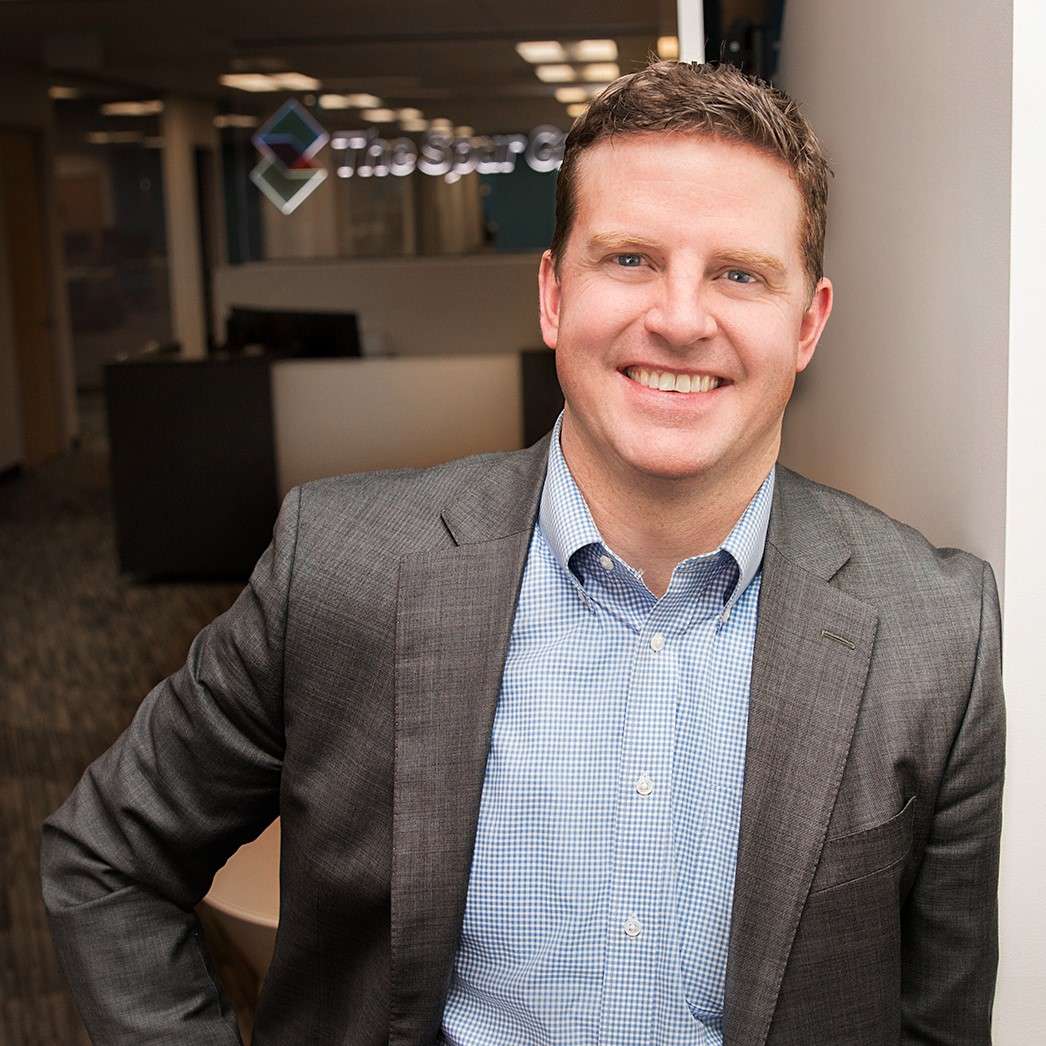 Dan Overgaag
Dan leads Spur Reply's channel management, sales transformation and business operations practices with over 11 years of industry experience. Dan has led countless projects and strategic initiatives across channel management and channel incentives programs within technology companies such as Microsoft, Cisco and Google.