6 keys for building an effective partner journey
Investing in your partner journey is essential to growing your business. Similar to a customer journey, a partner journey is a set of phases a partner moves through as they build their relationship with a vendor. We believe every good partner journey has five phases, that each phase plays a specific role and that they all depend on one another. Ultimately, the journey should cultivate a positive partner experience that ends with your partner becoming dedicated to building their business around you.
Creating a partner journey can be complicated and can take a long time to perfect. A strong partner journey motivates partners to continue building themselves around vendor solutions. To be effective, your partner journey should treat your partners as individuals and contribute to their success.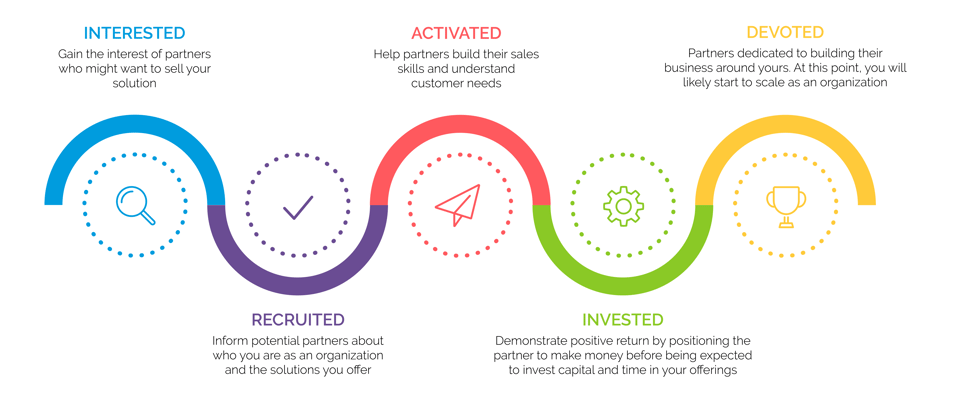 The partner journey begins with gaining the interest of partners who might want to sell your solution. Partner recruitment efforts should work to inform potential partners about your organization and the solutions you offer. Explain your strengths and weaknesses to potential partners and inform them how the strengths would benefit their business if they joined your ecosystem. You should then onboard and position your partners for success.
The third phase is partner activation. Activation helps partners build their sales skills and how they can meet customer needs. Keep in mind a partner's value multiplies when they can be counted on to do repeat business with your solutions.
The fourth phase is keeping partners invested. Partner investment tends to be a stumbling point for vendors. Many vendors believe this comes before activation. However, Spur Reply has a slightly different point of view. Partners won't invest their time and money with a vendor until they see a positive return. Demonstrate that ability by positioning the partner to make money first, then encourage them to make capital and time investments in your offerings.
The final phase is partner devotion. In other words, partners will begin to build their business around yours. At this point, you will start to see significant scale as an organization. Ideally, this is where you want most of your partners to matriculate.
Six keys to an effective partner journey
A partner journey is only as good as the program elements that support it. Components that make up your partner ecosystem and surround your partner journey include partner programs, enablement, relationships you have built over time, management, incentives, and marketing. These core elements are the tools that you have to influence and motivate a partner through their journey.
Spur Reply has found through thousands of engagements that these six keys are necessary to create an effective partner journey. 1. Interest: Share your content
The first way to create an effective partner journey is to go against your instincts and broadly share your content with partner prospects. You're trying to build interest, not remain mysterious or keep your program elements secret.
You will feel an immediate need to protect your content; but remember, partners don't do anything blindly. Before entering any relationship, especially one with a vendor whose solution they want to make part of their portfolio, a partner will perform extensive research.
Here are three ideas around the type of content to make available:
Describe your program details to partners and illustrate what success looks like for them. How does a partner move through the program? What are the benefits of the different tiers and participating in a particular program? How will they ultimately be successful within your program?
Explain your partner business proposition, an important asset for you as a vendor to articulate your unique value. Share it to clarify your partnership value without marketing it.
Lastly, share success stories. It is important that partners see success from other partners.
Opening your content is essential to ensuring partners generate positive return on your offerings. Your potential partners will be disappointed if you force them to earn a certification or generate significant sales too soon.
2. Recruit: Focus early on partner success
First impressions matter because they are the first step to building strong relationships. In this phase, focus on early momentum after you recruit your partners. One of the most significant vendor changes over the last several years is the role of customer success teams, which work to ensure a customer's initial experience is positive and set the tone for a long-term relationship. Now is the time to replicate that focus for partners.
Spur Reply's best practices for early success include:
Developing a strong onboarding process and materials. Define the roles so everyone who engages in the process is productive, supportive, and contributing to the positive partner experience.
Creating a partner success team. Many companies implement them, but they often aren't engaged early with partners. Hold your partner success team accountable for driving successful partner onboarding.

Focusing on that first sale for new partners, which is an essential component of helping partners transition to the next phase.
Partners will hopefully be excited to join and participate in your program. Don't let the momentum go to waste.
3. Activate: Help partners find the value of your partnership
We often see vendors walk away after exceptional onboarding and initial wins; however, you need to stay involved to cultivate healthy partners for the long term.
Your goal in this phase is to help partners find the value of partnership and show them the sustainable path to revenue. To enable that process, consider these three actions:
First, create a value model. Discuss with the partner what's needed to succeed and the various value models. Highlight the potential financial return from selling your solution, both in the short and long term, including incentives, investments, development funds, etc.
Second, support your partner's financial health by helping them build a repetitive selling process. Getting the first sale out of the way is important, but the ones that follow will further connect your partner with your business. If you want to help them build a strong selling process, continue to show them the sustainable way forward.
Finally, frequently engage with them. In this phase, you could potentially lose partners or sour the relationship with them. Check in to ensure they have the necessary tools to become successful.
You can reflect the type of partner you are in case studies. In addition to standard case study topics, you can also cover your ability to support partners and help them succeed.
4. Invest: Build a joint business plan
Once activated and part of your ecosystem, your partners can become further invested with a joint business plan.
A joint business plan helps guide your partner and creates a mutual understanding of the expected contributions of each organization, helping your partner teams grow their skillsets not only in depth, but also breadth.
Companies typically won't build breadth in a partner program until they see financial return on their initial investment. While keeping the importance of your partnership value in mind, your partner will want to plan their sustainable path. Then, they'll start considering greater investments on their end. Build a business plan together to become a part of their solution.
To help motivate their investment into you:
Write your joint business plan to establish a commitment. Your partner should focus on revenue and the pipeline, and most importantly, where to focus their business growth.
Second, relay information on what the next logical step is for them and their customers. Where stage are their customers currently? What will their customers likely buy?
Next, focus on your partner's business practice. As partners become invested, they're likely growing quickly.
Business growth comes with challenges. Help your partners get through this and focus practice development items in the joint business plan.
5. Encourage devotion: Use common sense
Use common sense.
Enjoy the scale you created without taking partners for granted. Once you're in this phase, simply stay out of your own way.
By now, you watched your partners go through different phases, and you know their focus areas and business direction. At this point, your partners have likely built a practice around your solution set and are devoted to you as a vendor.
However, there are some scenarios you should watch out for:
First, don't break the trust you've built by taking a partner's deals direct. You should have clear rules of engagement and ensure everyone in your organization abides by them.
Second, watch for competitor poaching. Be careful you're not breaking your partner's trust and giving them a reason to look for relationships elsewhere.
Lastly, truly treat them as partners. Consider including them in road map or private preview activities. Continue with the partner advisory councils and other partner engagement opportunities. Make sure they feel part of your solution. For example, some of the best companies in the industry now pay representatives for selling their partner's solutions into their clients. Vendors recognize that third-party solutions help make their product stick and likely increase the consumption of their offerings.
Manage these scenarios well and you will end up with a set of devoted partners who give you incredible scale.
6. Bring it all together: Ensure your partner ecosystem elements support the partner journey
For good measure, the sixth way to build an effective partner journey is ensuring all elements of your partner ecosystem provide support. Although this may seem self-evident, we often see mistakes that stem from this issue.
As you build supportive partner ecosystem elements, remember the following:
Partner programs, enablement, cultivated relationships, marketing, incentives, management structures, and other components should be structured to allow movement down the partner journey.
Within each element, you should focus your efforts on pushing partners from one phase to the next. For instance, early in the recruitment and activation stage your incentives may focus on transactions. Whereas in the investment phase, those incentives might focus on growth or solution expansion. Similarly, early enablement might focus on solution selling techniques and customer profiles, whereas more mature partners may need enablement on industry specific scenarios.
Coordinate elements through strong partner relationship management and partner marketing tools, such as Impartner.
Program elements working together should create a positive and consistent partner experience. You may be tempted to push partners through the phases faster, but you can't turn partners from recruited to devoted overnight. Instead, focus on customizing your programs, incentives, and marketing for every partner, no matter where they may be in their journey. Move them purposefully and sequentially to the next phase.
Properly focused program elements that methodically support partners along their journey are the key to creating a successful and balanced partner ecosystem.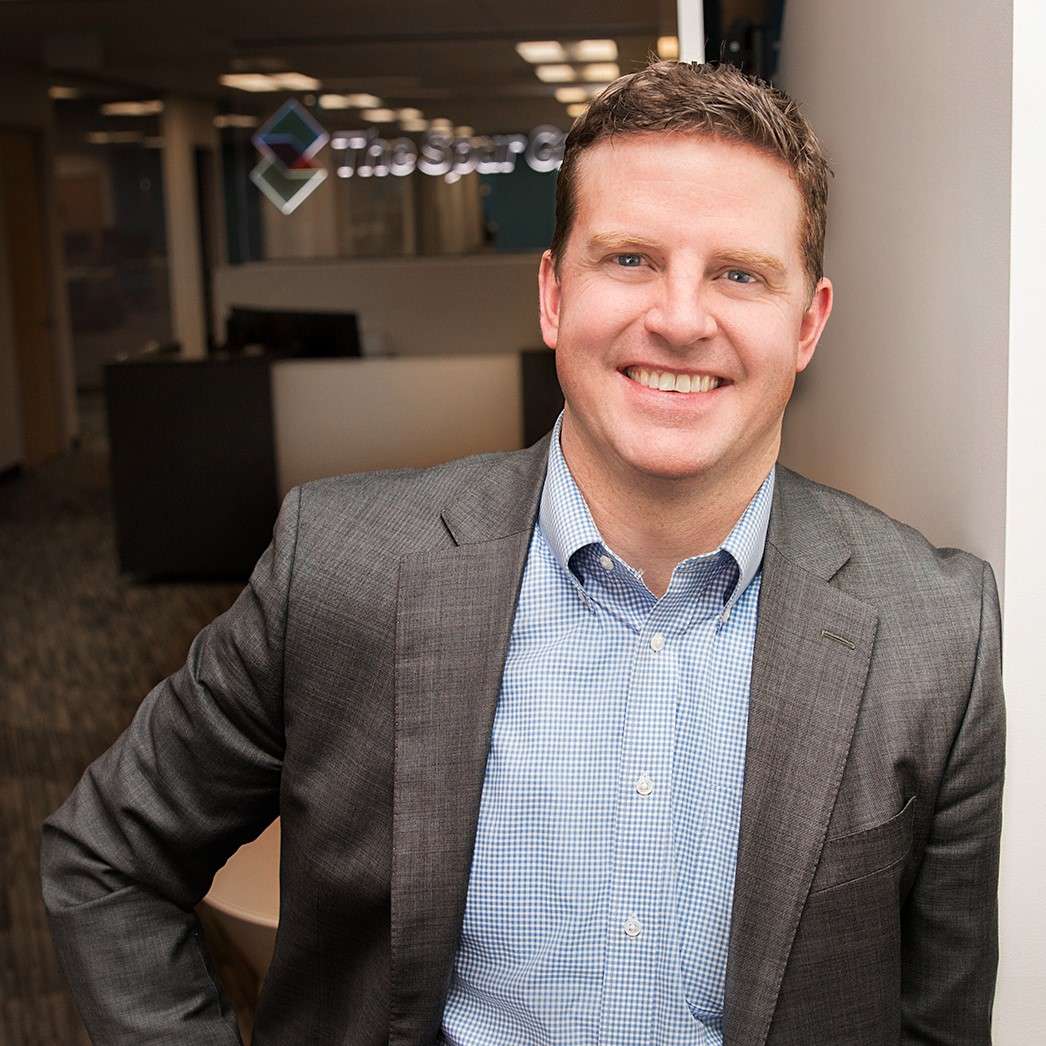 Dan Overgaag
Dan leads Spur Reply's channel management, sales transformation and business operations practices with over 11 years of industry experience. Dan has led countless projects and strategic initiatives across channel management and channel incentives programs within technology companies such as Microsoft, Cisco and Google.