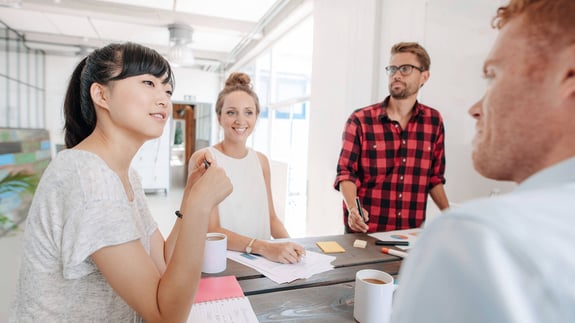 Streamlined NPS Survey Boosts Poly's Customer and Partner Performance
Success Story
At a glance
You can't solve a problem you don't know about. It's important for a company to hear partner and customer concerns as soon as possible so you understand them, keep committed ones happy, and can quickly address any issues that may result in negative feedback. For global communications firm Poly, our team provided a road map to not only improve partner satisfaction, but also improve their Net Promoter Score (NPS) surveying process. Poly hoped to increase its partner NPS to 50 points. We successfully helped Poly exceed that target, as well as increase their survey response rate by 2.5 times. Our team of consultants replicated the optimization process for its customer NPS survey as well.
2.5x
increase in NPS survey response rate
50+
point NPS target met and exceeded
Formed actionable insights to improve partner and increase client response rate and loyalty
Project, process, and program management
Performance management and scoring
SCHEDULE A MEETING WITH AN EXPERT
Better data collection and stronger brand loyalty
Poly creates intricately designed and engineered audio and video products that allow users to be seen and heard with optimal clarity wherever they work. As COVID-19 catalyzed change to working habits, Poly sought to help businesses and individuals accelerate their digital transformation. Poly believes creating exceptional tech experiences motivates companies to perform their best work and retain the best talent–so they care very deeply about their partners and customers.
One way Poly works to understand partner and customer motion and motivation is through conducting NPS surveys at different cadences. Created by Bain & Company, a company's NPS is a numerical measurement of customer loyalty and acts as a proxy for whether the company is meeting customer and partner needs. Widely used across many industries, NPS surveys are a great way to collect feedback about your organization. An NPS can also help a business identify trends, learn why customers feel the way they do, boost sales enablement and explore ways to improve engagement and satisfaction.
NPS surveys put customers into one of three categories, which Qualtrics quantifies as:

● Detractors (score 0-6) are unhappy customers who can damage a brand and impede growth through negative word-of-mouth
● Passives (score 7-8) are satisfied but unenthusiastic customers who are vulnerable to competitive offerings
● Promoters (score 9-10) are loyal enthusiasts who will keep buying and can fuel growth by referring others
The NPS is calculated by subtracting the total percentage of detractors from the percentage of promoters and has a -100 to +100 value. The higher the score, the higher the partner or customer's commitment is to the brand.
An ambitious NPS goal
Poly partnered with Spur Reply to optimize its partner NPS survey data collection process and grow a deeper understanding of how it was currently meeting its partners' needs. Additionally, Poly wanted to increase its existing NPS for partners to 50 points, as well as boost its survey response rate. Successful initial results on optimizing Poly's partner NPS survey led our team to repeat the same process for Poly's customer NPS survey.
Streamlining, analysis, and gathering actionable insights
There were four phases to this project:
Examine Poly's NPS collection method end-to-end to identify and resolve inefficiencies so partners can have a better survey experience.
Conduct an in-depth analysis of Poly's current partner survey results to address insights that had not yet resulted in responsive actions where needed.
Establish specific follow-up activities and a quarterly timeline for Poly to more consistently and efficiently respond to customer concerns that arise.
Create a roadmap for guidance on future repetition of this process after the project concluded.
In the first phase, we examined and made recommendations for Poly's existing questionnaire. We helped our client consider the significance and importance of each question, allowing us to alter, change completely, or remove them when necessary. We also took a deeper look into Poly's collection process to improve our client's ability to analyze results. Our team additionally suggested specific systems or process changes that were needed within the parameters of Poly's NPS collection guidelines.

In the second phase, we thoroughly analyzed Poly's previously collected NPS results to glean unaddressed actionable insights. Our specific goal with this deliverable was to map known partner behavior and business success with Poly to the NPS results to discover patterns that drive higher NPS scores.
Our third phase explored how Poly's internal teams deployed resources and channeled information within the company to resolve any issues raised by survey respondents. First, we identified "at-risk" partners that were on the edges of the NPS categories. We created a process for collecting more detailed information about what shifted their results either up or down to drive focus themes for future action. Second, we formed a communication and feedback process to improve the partner survey's engagement and increase the likelihood of promoting Poly during the NPS collection process.
Identifying and keeping in mind the underlying reasons why some partners may not be responding, we also optimized the survey cadence. We were able to get very granular on the best times for Poly to send NPS surveys, which served as a primary factor that helped improve the response rate.
The final project phase required our team to create a solid plan for growing Poly's future partner relationships and boosting its ability to quickly act on customer concerns whenever necessary. The plan took the form of a roadmap, a detailed guide for internalizing the survey optimization process that internal teams could execute quarter after quarter. It included field execution guidelines, a stakeholder governance process, and an internal assessment process to determine possible areas of improvement and enhancement.
After conducting this process as it related to our client's partner NPS survey, we then repeated it for the customer survey.
Survey success and commitment to the brand
With our guidance, Poly met and exceeded their ambitious goal of increasing its partner NPS score to over 50 points and increased its survey response rate by 2.5x. Moreover, we helped our client optimize and set up its partner and customer NPS survey process for long-term success.
"With Spur Reply's niche expertise, we didn't just meet our target NPS goal. We exceeded it. Our survey response rate also more than doubled," said Nick Tidd, Vice President of Global Channel Sales at Poly. "I attribute this to Spur's ability to recommend an actionable plan based on thorough, well-rounded insights gathered from deep analysis of our existing survey processes. We greatly enjoyed working with them."
Ultimately, our efforts helped Poly improve its partner and customer experience as we gave them the tools and resources needed to 1) boost partner and customer satisfaction and 2) analyze and act on feedback in a robust, functional manner.
With Spur Reply's niche expertise, we didn't just meet our target NPS goal. We exceeded it. Our survey response rate also more than doubled. I attribute this to Spur's ability to recommend an actionable plan based on thorough, well-rounded insights gathered from deep analysis of our existing survey processes. We greatly enjoyed working with them.
Thought Leadership
Related Content