A case for sales force transformation. The existing sales model is broken because of seismic shifts in who potential customers are and how they behave. The traditional approach — relying on personal knowledge and gut instinct —can't fix it.
A couple of big changes have caused this massive shift. The cost of entry has dropped dramatically, and new companies enter the market every day. Customers self-educate before you ever get to talk to them — so they expect you to start the conversation with a much deeper understanding of them and your solutions. During this period of rapid change, you are expected to sell more with less money, fewer resources, or both.
To succeed, you need a data-driven approach to planning market coverage, a methodical and cost-effective way to ready your sales force on a changing customer while getting more from social media.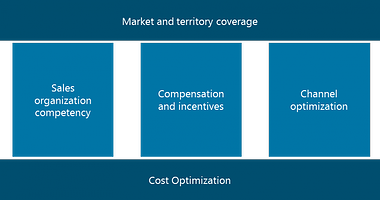 There are five steps to achieve this goal:
Companies that embrace contemporary concepts for building high performance sales forces and routes to market will be the winners in this new age of competition.
Improve your market and territory coverage
All markets are not created equal, with limited resources it is more important than ever to make sure that you are investing in the right geographies, industries and customer segments.
"Forrester predicts that the strong dollar will drop global tech markets by 3.1% in 2015 (as measured in US dollars)… US tech vendors with big overseas revenues may suffer because of changing exchange rates."
The outcome of these trends is a greater need than ever before to be smart about how you spend your money and where you invest.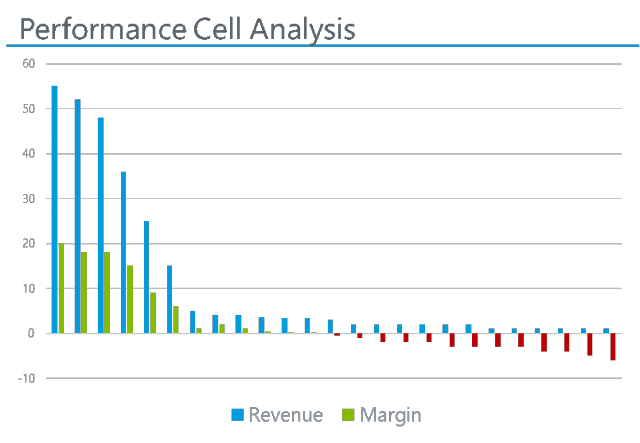 Beyond just having territory coverage, you need to balance your sales motions differently across direct field, inside, and partner sales teams. The decision depends on anticipated market growth, size, location, as well as solution complexity.
The key is being able to track performance at the individual, district, and regional level. With this level of detail you can then compare your investment cost-per-order dollar to your target cost of sales and industry benchmarks.
Once you have a firm grasp on where you are at, you can focus your investments around expanding margins in low growth and shrinking markets, as well as push for top-line revenue in high growth territories.
Ask yourself:
Are you certain your selling resources are focused on the highest growth and largest opportunity markets?
Are your direct field force, inside sales, and partner resources aligned by market, customer segment, and value/volume products in a manner that can balance revenue yield, cost and speed?
Drive sales organization competency
Sales training and enablement
The internet and social media have changed seller and customer dynamics. Customers self-educate, connect with their peers, and form preconceived opinions before talking to a salesperson.
A "B2B customer has completed 57% of their buying process before they ever contact vendors." -- Sales Executive Council, Hank Barnes
Two data storage companies, Nimble and Pure, are examples of new start-ups that have successfully attacked the install bases of industry stalwarts like EMC, Hitachi, HP and NetApp. Fueled by instantaneous access to information on the internet and through social media, buyers of IT products and services are able to educate themselves quickly on new technologies and compare opinions with their connected network of colleagues.
Today's salesperson needs a strong understanding of these three types of information to be successful:
Broad industry and unique customer pain points
Customer business models
Proven use cases and value drivers around the products and services they are selling
A solid understanding of these 3 things allows a sales person to tailor the message to the customer in a way that directly ties your company's value to solving their pain.
On top of that, they need to sell outcome-based value within the context of any preconceived customer biases. This means that they have to clearly understand what the customer has heard, why it matters to them and how to frame it in order to get ahead of the conversation.
Social media is an under-utilized tool in understanding that conversation. While the information is available, you need to offer your salesforce a repeatable and efficient approach to find it.
Sales process and organization
Most companies are relying on GTM operating models, processes, systems and technologies that were designed decades ago for a different generation.
In today's hyper-competitive market, it is more important than ever to have discipline in your sales processes if you want to consistently meet and exceed goals.
Driving that discipline means a clear operational framework that achieves consistency and standardization across areas.
These areas include:
Lead generation
Opportunity management
Pipeline forecasting
Account management
Sales force management
The best way to ensure consistency and standardization is through a metric based and data driven approach. Objective measures that cascade through your regions and districts give you a clearer view of performance across individuals, districts and regions. This allows you to identify blockers, target new opportunities and actually measure the success of the initiatives you put in place.
Ask yourself:
Do you have the right sales force talent to position your products and services?
Does your sales force understand their customers' business models, pain points and priorities?
Are you providing your sales force high impact sales collateral, training and communications strategies?
Are pipeline and forecasting processes understood, measured and inspected?
Do your sales professionals exploit social media and the internet to win new customers and maintain existing ones?
Target your incentive compensation
Outlining a sales coverage model is the foundation to success, but without the right incentives it doesn't matter how good your model is. To get the results you want, you have to align compensation, incentives, promotions and SPIFs to your broader company strategy.
Your incentive model should support both short term behaviors that drive to quarterly and annual quotas, as well as long term behaviors strategic to the company. For example, even if chopping down the orchard is the fastest way to get apples, it doesn't make it the best way to farm.
Simply increasing a quota and tying it to a sales person's compensation may convince your salesforce to apply drift net sales, reaching as many customers as possible without regard to their strategic value. Equally important is encouraging long-term behavior that can grow wallet share within certain key accounts or establish a foothold for your next innovative product.
Effective sales incentives include:
Acquisition of new customers
Share of Wallet (SOW) growth in key accounts
Intelligent investment for driving low and high margin products
At the same time, you need an incentive structure that is clear and easy to communicate. Regardless of what your salesperson is incented to do, it only matters if they understand the game they are playing.
Having a high performing sales force means delivering the right incentives and communicating them effectively.
Ask yourself:
Do your incentives, promotions and rebates drive the right behaviors in your direct and indirect routes to market?
Do they drive market share growth faster than market while increasing customer share of wallet?
Are you achieving industry benchmarks in sales costs incurred per order dollar?
Be smarter about your partners and re-sellers
Partners and re-sellers are crucial to extending your market reach, providing high-touch support and innovating high value solutions that take advantage of your existing products or services.
A strong sales approach requires a comprehensive look and alignment between your channel, inside sales and direct field sales.
Understanding your ideal partner's business and how you would fit into it is critical to a strong partner channel.
If you do, it becomes much easier to:
Determine what types and how many partners you need
Recruit partners that are a good fit for your business
Incent partners so you both win
Ask yourself:
Do you manage, segment and invest in your partners to provide value added services that drive mutual growth?
Optimize costs
Today's market requires you to get more value for every dollar you spend, since often your target increases but your budget stays the same.
Taking advantage of a zero-based budget approach allows you to adapt to changing markets without carrying excess baggage from previous years. Customary expenses like real estate and T&E don't need to be assumed, at times it is better to invest the money in targeted marketing or quota bearing reps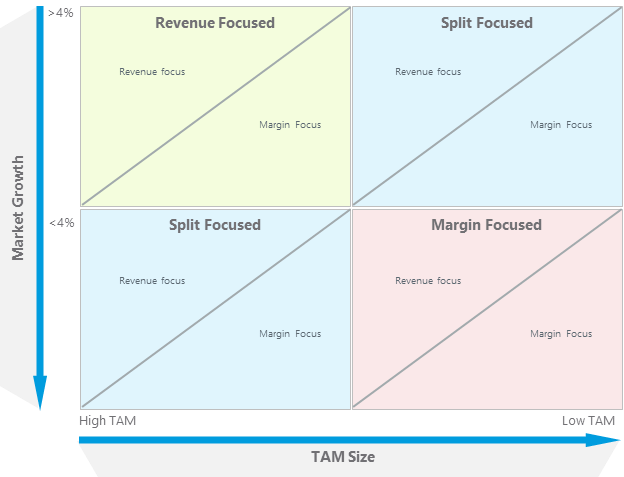 In addition, improve margin in areas of constrained growth so you can do more with less using the right mix of:
Programmatic channel
Digital sales
Direct field sales
This requires a clear understanding of cost priority in a given area. An office in Manhattan has different characteristics and should manage cost differently than an office in Bismarck.
Ask yourself:
Have you critically assessed OPEX allocation?
Have multi-year programs been evaluated against original expectations?
Are your labor salary bands tested against market?
Are your ratios for spans and layers of sales management conforming to industry standards?
Are travel and entertainment expenses managed against targets?