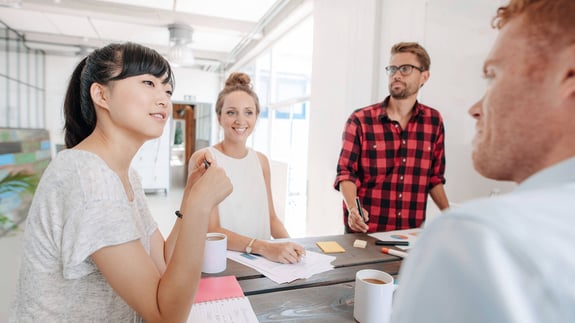 Partner Program Optimization Builds Competitive Advantage
Success Story
At a glance
We helped a technology company upgrade its channel management approach to gain a competitive advantage in the marketplace. We collaborated to create a roadmap, an analytics engine, and partner business proposition content and messaging. As a result, our client optimized their partner recruitment, activation, and retention.
Upgraded channel management approach
Optimized partner recruitment, activation, and retention
Clarified competitive positioning for both partners and end-users
Performance management and scoring
Partner business propositions
Sales enablement and playbooks
SCHEDULE A MEETING WITH AN EXPERT
A roadmap's impact
Well-engineered partner programs provide a stable and predictable operational framework for channel management activities, while allowing agility and responsiveness to changing market conditions. Companies are often able to grow partner revenue with a strategic roadmap that identifies areas of investment within a partner program.
Strategizing the channel management approach
A technology company wanted to enhance its channel management approach and programs to adapt to the realities of a new marketplace. Our client was looking to strengthen its return on partner investments and build a clear understanding of the motivators of partner behavior. Strengthening the two components would, in turn, grow partner revenue for the company.
An engine, content, and roadmap
Our teams built a quantifiable, analytics engine for assessing partner strengths. We identified key success drivers and defined a specific compete program for each major competitor.
Our teams additionally aligned messaging for compelling partner business propositions and developed sales enablement content for partner-facing salespeople.
Finally, we created a next-generation roadmap for future partner program changes, to reinforce key areas of differentiation. Throughout our collaboration, our teams developed change management processes to drive adoption across geographies and partner segment teams.
Competitive advantage and partner revenue growth
As a result of the project, the client was able to better determine its success drivers in each partner segment, relative to its strongest competitors. A clear competitive positioning for both partners and end-users produced greater awareness within key partners and leaders at those companies shifted more of their business away from our client's competitors.
We also set up our technology client for success with comprehensive enablement resources that the field could leverage for partner recruitment, activation, and retention.
Thought Leadership
Related Content