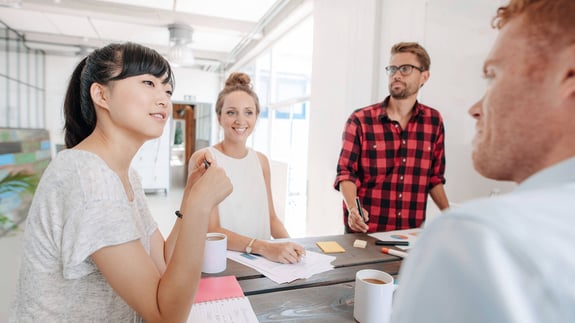 Streamlined Project Management Drives Operational Efficiency
Success Story
At a glance
A billion-dollar product team at a major software company collaborated with us to create a stronger governance and review cadence to increase transparency into budget accuracy. Through fostering stakeholder communication, implementing new governance processes, and adopting new objectives and key results (OKRs), our client established a consistent flow of information throughout the organization.
5
operations deliverables
Created a consistent flow of information across organization
Improved budget management through clear expectations
Boosted team morale via new OKR and goal-setting process
Joint planning, KPI, and OKR management
Governance process and review cadence
Stakeholder communication engine
Project, process, and program management
SCHEDULE A MEETING WITH AN EXPERT
Proactively driving results
Prioritization, communication, and on-time execution serve as perennial challenges to any business. Part of our expertise lies in implementing strong governance structures and review cadences to address those obstacles with efficiency. Optimizing governance structure and review cadence can also improve budgeting and unify accountability. We strongly believe that setting clear expectations, emphasizing regular dialogue, establishing ownership, and ensuring accountability will help companies avoid common pitfalls and drive desired results.
Strengthening budget accuracy through communication
A business unit within a leading technology company wanted to increase transparency into budget accuracy and forecasting. The client sought our guidance to strengthen coordination and communication among teams, allowing the company to proficiently deliver business results.
Producing operational success
To determine the best way to address our client's needs, we assigned senior resources from our teams to each general manager, senior director, and the chief of staff. Our consultants were then tasked with helping their executives through strategic planning, operational efficiency, program management, Landing and Adoption Readiness, budget management, communications, and cross-organizational collaboration.
Our team created five deliverables geared toward operational success. Specifically, we were responsible for:
Implementing and ensuring the adoption of a new budget management workflow across a multi-team organization
Fostering stakeholder communication between internal teams and other business groups through a defined process involving transparency and collaboration
Supporting the adoption of new objectives and key results (OKRs) and a performance metric process across the team

by leveraging stakeholder alignment, change communications, and readiness efforts

Developing rigorous monthly and quarterly governance processes and meeting cadences
Identifying best practices for acting on opportunities for collaboration and efficiency

to ensure

the new processes

were integrated into ongoing operations
Achieving organization alignment
Our collaboration led to greater efficiency across our client's diverse team. Furthermore, the project strengthened team communication and created new processes that produced a consistent flow of information throughout the organization. The clear and unified expectations for key processes vastly improved our client's budget management and optimized workflow efficiency.
Ultimately, the smooth adoption of the new OKR and the goal-setting process boosted team morale, relieved stress, and increased engagement across the organization.
Thought Leadership
Related Content