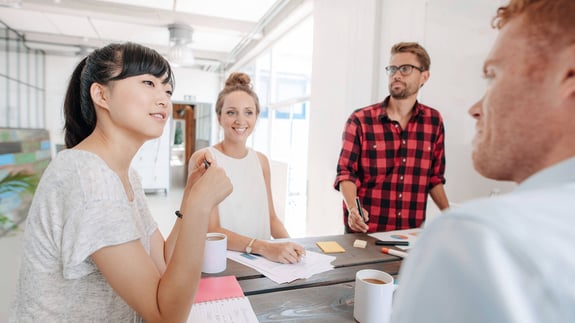 Sales Enablement Boosts Revenue And Strengthens Customer Relationships
Success Story
At a glance
A team within a leading real estate information technology company wanted to strategize its launch for a new service offering. To help the team increase market awareness, win customers, and improve satisfaction, we helped develop a sales enablement strategy, including content and a customer-facing messaging framework. The collaboration produced an effective internal readiness program for the sales team, resulting in exceptional customer experience, and increased revenue growth.
3
sales enablement assets
Delivered an exceptional customer experience
Strengthened the team's credibility with customers
Established critical cross-functional relationships
Brand and product messaging
Customer and market planning
Content strategy and development
Sales enablement and playbooks
SCHEDULE A MEETING WITH AN EXPERT
Setting your sales team up for success
Building an effective go-to-market strategy is essential to increasing revenue growth through a line-of-business (LOB) expansion. An important aspect of a go-to-market strategy is creating and positively managing human relationships. When your success is heavily focused on optimizing your salesforce, you increase your chances of success.
Furthermore, creating the best human experience for your customers, partners, and employees requires using valuable resources for your team. From powerful messaging to readiness training, these resources should be easily available throughout the entire sales lifecycle.
As a leader in the U.S. real estate and rental marketplace, our client empowers consumers with data and knowledge to navigate the home buying, selling, or renting process. To innovate the home-buying process, the real estate marketplace leader created a new service offering. The service allows customers to request a cash offer for their home without having to list it — avoiding tedious showings, house prep, and open houses. If a customer accepts the offer, an advisor will give the support and guidance needed to make the process seamless and convenient.
Establishing a sales enablement strategy
With its expansion into home buying through the new service offering, our client needed to establish an enablement strategy in support of their new marketing campaign.
As enablement was a fairly new discipline for this LOB, our client sought our expertise to:
Help build a content strategy with enablement materials to reference
Strengthen their relationship with the new LOB and its customers
Increase seller conversion in the sales funnel by creating powerful messaging and sales enablement material
Gain buy-in from key stakeholders across cross-functional teams
Content assessment, planning, and creation
Throughout the entire collaborative process, our teams provided our client with three main assets:
Strategic thinking for an enablement strategy with three clearly defined program objectives and an execution plan
Sales enablement content — including a persona guidebook, competitive battle card, sales manifesto, conversation guides, persona posters, and FAQs
Recommendations for content roll-out, including onboarding and training, champion program, and feedback loop
To ensure we gave our client the quality of support they deserved, we first conducted a content assessment to establish a baseline and identify any gaps in enablement content. Then, working collaboratively with our client's marketing team, we established objectives and requirements for the enablement strategy that aligned with the seller's journey, sales processes, and marketing campaign plans. This step allowed us to develop a content development plan with an overview of each theme/topic to address, supporting assets, relevant source material, key stakeholders, timing, channels, and metrics.
Next, our teams built an initial set of sales enablement assets by drafting and vetting content with stakeholders. We additionally created roll-out recommendations for the new content to gather feedback, measure, and report results, make improvements based on learnings, and manage portfolio and drive refreshes. Throughout the entire process, we ensured consistency in messaging and brand across all enablement assets.
Strong project management skills allowed us to keep our client organized and meet deadlines. Our experience in sales enablement strategy and building deliverables for a variety of clients supplied us with the insight needed to successfully work through this project.
Through previous experience with our client, including support for our client's rental and home loan teams, we established working relationships and credibility among its teams. Past engagements with the real estate information technology leader provided insight into its business and the real estate industry.
Successful launch increases revenue
Our efforts allowed our client's customer-facing teams to reinforce campaign messaging and deliver a fantastic customer experience that contributed to increased sales conversions. The resulting strategy produced a compelling customer-facing messaging framework for our client's launch and strengthened the team's credibility with customers. Aligning customer-facing teams through structured training and programs, the new internal readiness process was designed as a repeatable framework.
Finally, the strategy established critical cross-functional relationships across product, sales, data analytics, design, and other internal teams.
Thought Leadership
Related Content