When you're leading an important business strategy, innovation, or change initiative, you may often find yourself at the edge of a cliff without a bridge to cross. In other words, you may feel like there isn't a clear path forward when your efforts seem to be stalled or stuck in "neutral."

We've found that the root cause of a stalled transformation usually always relates back to the same thing: people readiness.
Symptoms your transformation is stuck in neutral
What are some of the symptoms that show you're dealing with a people readiness challenge?
One sign is that people don't actively engage in the effort.
Another sign is feeling like you're pushing the change efforts up a cliff. People at all levels are putting up visible or subtle forms of resistance. They are not able to embrace the change and lack confidence in the leap ahead.
Other symptoms include low proficiency with the new processes or systems and minimal adoption and utilization of the new ways of working.
Signs That Indicate a People Readiness Roadblock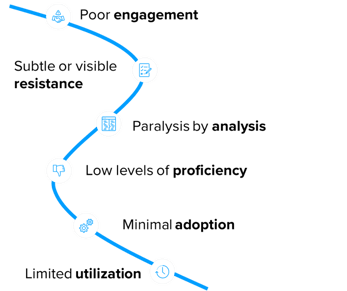 Once a transformation loses momentum, it reinforces people's attachment to the current ways of working and their fear of the new. It's easy to assume people will just figure it out with time. When a transformation loses momentum — which manifests in stalled results and outcomes — support wanes, funding gets cut, and excitement is lost.
Why people get stuck in neutral
When a transformation stalls, it's helpful to first zoom out and take a look at what's happening below the surface.
From a human nature perspective, everyone processes change in a similar way. However, as illustrated by a depiction of the Kubler-Ross Change Curve, your journey to accepting and embracing change is unique depending on your personality type and previous experience with it.
How People Adopt Change*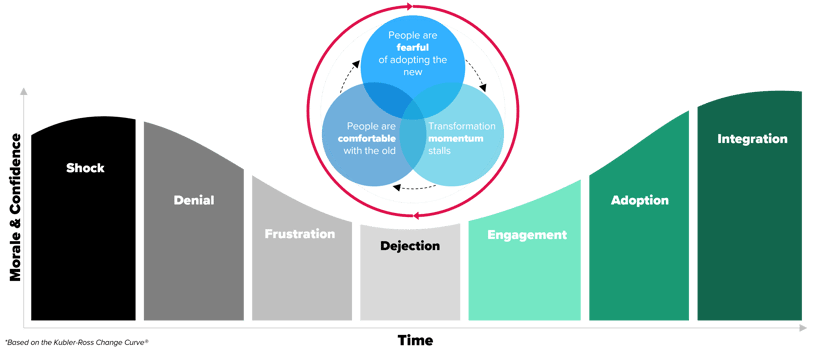 When a transformation is stuck in neutral, your organization's people are stalled on the change curve. Rather than moving forward, they continue to cycle on the curve and can't gain the traction to start engaging with, adopting, and integrating the new, future way of working. They haven't yet let go of things they like or are attached to in their existing systems and processes – their comfort zone. Your people are likely fearful of the new ways which they see as full of risk, loss of power, prestige, relationships, and even identity.
We've seen situations where many organizational leaders are on the right-hand side of the curve but because their teams are just learning about the change, they haven't started along their journey to embrace it. We've also seen situations where leaders themselves get caught in the cycle and are not able to fully buy in, thereby impacting the way they lead and engage with their teams.
It's natural for influencers of change to want teams to quickly adopt the new strategy or systems so better results can be achieved as soon as possible. However, adoption stalls if people lack the agency and resources to fulfill change.
Take a step back to move forward
When your car is stalled, sometimes you have to stop and listen in order to go forward. While it may not feel natural to slow down so you can speed up, experience tells us that this is often the way to accelerate out of neutral.
Strategies to Accelerate Through the Neutral Zone*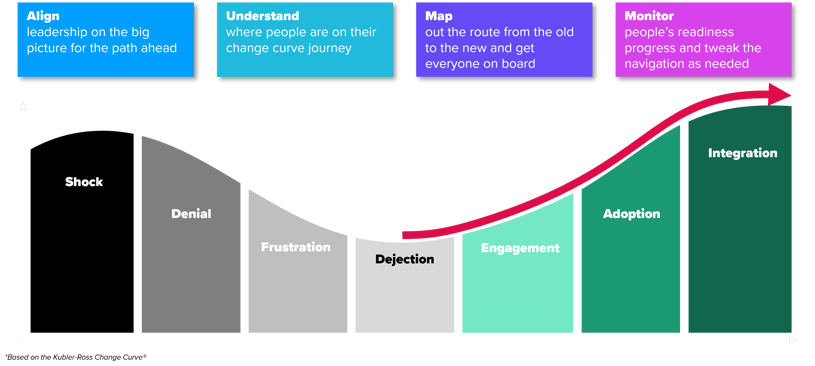 At Spur Reply, we've found there are four important strategies to consider when your transformation stalls:
Find and communicate the "big picture" vision and understanding of the "why" to motivate change.
Consider where key teams or individuals are on the change curve and pinpoint what's holding them back. Identify what different teams need for the change to land.
Build a clear map so people have a path to lead them from the old ways of working to the new ways. It's critical to share the map, create constructive dialog around it, and make sure people have all the necessary training to navigate the journey.
Use data to monitor the pulse of your organization and determine how ready your people are for change. You can also use data to identify where adjustments need to be made along the route outlined in the previous strategy.
Our pragmatic, agile approach to change acceleration
At Spur Reply, we've created a methodology to activate these strategies. We've merged the best practices across many of the different methodologies we've used into a very pragmatic and agile approach that makes sense to our clients.
We call our methodology, "LAND-IT," because the goal is to successfully land a transformation.
Spur Reply's Methodology for Accelerating Change



While undergoing change is never as simple and linear as the chart suggests, it's helpful to know all the key phases to consider when trying to navigate your organization from an old way of working to a new one that transforms the way your teams work together.
When focusing on how to accelerate out of neutral, we recommend honing in on the first four phases: leadership alignment, understanding stakeholders, navigation through communication, training, and engagement, and finally, using data to measure people readiness.
Let's get practical and look at specific best practices for each of these phases.
Leadership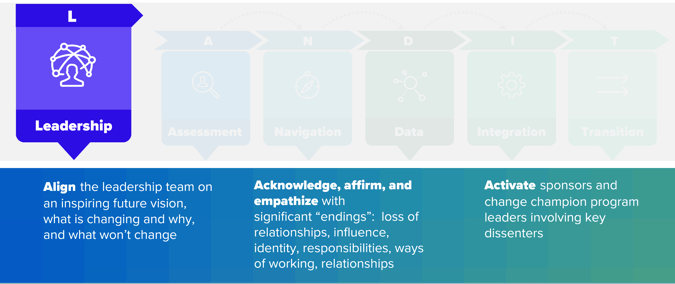 The first phase — leadership — focuses on alignment. To unify your organization's leaders, you should first discuss, develop, and align on a vision and the "why" for the new way of working. Finding the "why" is like finding the north star. This vision will help keep everyone on the same page and motivate them to fully embrace the change.
In addition, don't shy away from facilitating difficult discussions about the areas of resistance. Giving individuals the space to safely communicate their concerns will help you develop a deeper understanding of how you can better meet your organization's needs and identify areas for improvement along your transformation roadmap. Develop an appreciation for your peoples' areas of concern and be sure to acknowledge how the existing ways of working have impacted their daily workflows and sense of purpose within the organization.
Another best practice is to empower and activate the leaders who will be at the forefront of driving change. When we partner with clients to help lead a transformation, we always look to create change leader roles, both at the sponsorship level and embedded in the organization through change champions.
Assessment
The next phase — assessment — focuses on understanding why critical groups are stuck, what they are challenged with letting go of, and what concerns they may have about the new way of working.
We've found that a primary cause of resistance is typically a change in decision-making power within the organization. Understanding whether that is a root cause of the stall is critical so the right engagement forums are developed to navigate teams through the change.
We've also found that taking the time to communicate with teams about the impacts they believe the change will make helps them begin to move forward. It's important for change leaders to visualize the stakeholders' perspective on the change and build plans that resonate for needed communications, support, and coaching. By validating your teams' concerns, stakeholders will feel understood and empowered to start moving along the change curve.
Navigation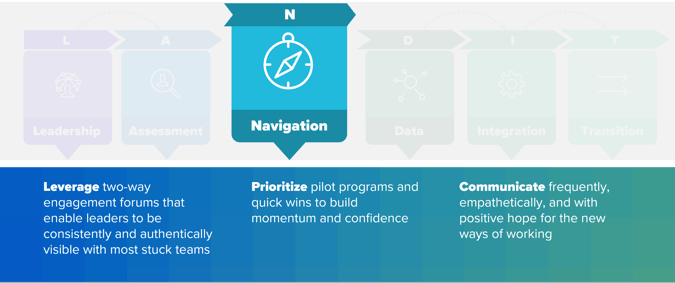 The third phase of our LAND-IT methodology — navigation — activates the change communications, engagement, and training.
While this phase is often conducted in parallel with the other LAND-IT stages, its best practices are most effective when developed through the lens of the leadership vision and the understanding of where and why critical stakeholder teams are stuck.
When a transformation is stuck in neutral, a pilot can help navigate stalled teams. Frequent communication that includes time for dialog with both teams and individuals in an authentically hopeful and optimistic way can help win over hearts as well as minds. If people feel heard, they can start to buy in.
In this stage, don't forget to communicate the "WIIFM" – what's in it for me. The WIIFM should also consider perspectives from both the company and the customer. In this LAND-IT stage, small quick wins can yield a great deal of creativity and innovation. Thus, this is where we start to see the acceleration become visible and resistance decline.
Data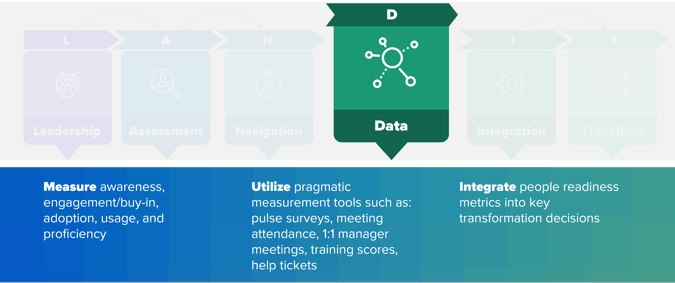 The fourth LAND-IT phase is data. Despite common misconceptions, it's possible to monitor, measure and track people's readiness for change adoption. Sure, people are more emotional than dashboards can report, but it is possible and necessary to measure people's attachment to old ways of working and buy-in to new ones.
Being resourceful is key to measuring people readiness. For example, you can use simple pulse surveys to ask people if they are aware of the new vision and why the transformation is happening. Additionally, you can gauge the level of positive sentiment they have for the change and how they believe it will affect the company and themselves.
You can also track the symptoms we covered earlier that indicate a stalled transformation such as training attendance, proficiency scores, and question submissions, to determine how engaged people are in the transition process.
What to do next
So where do you go from here? We offer four key next steps:
If you think your transformation is stuck in neutral, take a step back and look at the symptoms objectively. What are you seeing that's causing your effort to stall?
Ask a few key teams about where they are on their change journey – how do they feel about letting go of the old and jumping forward toward the new?
Prioritize a few of the best practices we covered to earn a quick win.
Find the right coach and resources to support you. Everyone needs an objective and experienced coalition of support.
As C.S. Lewis said, "There are far, far better things ahead than any we leave behind." As a leader, you are responsible for carrying the flag and instilling enthusiasm and a positive outlook in your organization. Having confidence in the outcome of your change efforts will help you lead with assurance and optimism.
Spur Reply has the skills and expertise to work alongside your teams to successfully land your transformations and innovations across your ecosystem. To discover how we've partnered with leading companies to successfully land their transformations and innovations, assess the business risks of your own people readiness, and learn how to integrate a progressive approach to change management into your ways of working, check out our guide on leading organizational change.
If you want to find out more about how we can partner with you to execute your next business transformation or organizational change, reach out here.
Mimi Wehner
Mimi Wehner is a director at Spur Reply with over 25 years of management consulting and industry marketing experience in sectors including technology, retail, media, wireless and manufacturing. Mimi specializes in leading complex transformations through strategic planning and change management. She is passionate about bringing multiple solutions together to address her clients' business challenges and achieve sustainable, long-term results.