In a recent blog article, we discussed the importance of forecast predictability from internal sales resources and the importance of disciplined sales processes coupled with talent to achieve superior performance.
Today we want to cover the importance of forecast predictability from your external partner channel as well. You will certainly find a lot of similarities between the two, but you will also notice some differences as you rely on influence when working with partners rather than direct control.
Partners need predictability to build a business around you
A common complaint about partners is inconsistency in hitting planned targets or a lack of clarity about when revenue will actually come in.
If you want predictability from your channel ecosystem, you need to offer the same to them. Constantly changing programs and inconsistently applying processes make it impossible to for your partners to build long term plans with you at the center.
When evaluating channel ecosystems, partners look at 3 things:
Momentum that your company drives in the marketplace
Relationship and ease of doing business
Economic Fit between your company and theirs
Combining these 3 things creates the "influence" that you have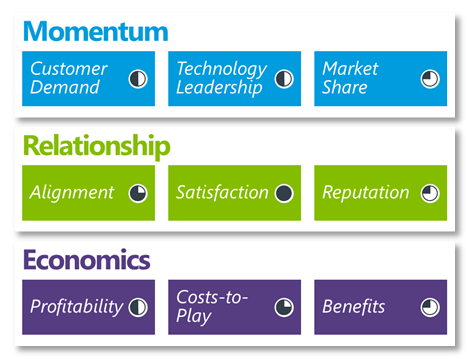 over a partner in encouraging them to change direction and plan around your business.
Poor process discipline on your side can damage all three of these areas and reduce your political influence. The more you can prepare partners for what to expect from working with you, the better they can build long term planning around your business.
Surprises, good or bad, are the bane to your partner's confidence in your execution and strategic direction. Since they are also operating on annual planning processes, they don't necessarily have the ability to quickly react to a change in your incentive structure. Most often, predictability problems come from 4 areas:
Inconsistently applied rules of engagements
Rapidly changing incentives and late disbursements
Unpredictable sales processes and systems (such as deal registration)
Cursory partner business planning with no accountability for results
In response to these issues, channel chiefs resort to instinct based on anecdotal past performance and quiz their team on a daily, weekly, monthly and quarterly cadence about their perception of quarterly revenue. Although they are the farthest from the actual deals, they "bet their job" on each revenue forecast they communicate to the CEO. The anecdotal quizzing trickles down to the first line channel manager who in many cases start the forecast rollup conversation with their channel reps as follows:
Update me on the deals your partner's have in pipe, what's new and when do you think they will close?
What are the odds for each one?
Unfortunately, this practice drives subjective and unreliable reporting of potential revenue for the reporting period. Partner account managers, channel managers and channel chief's hedge their forecasts to account for uncertainty manifested from undocumented and inconsistent plans, a lack of accountability tied to targets, unclear definition of sales stages, multiple CRM systems, and individual decisions to inflate or reduce forecasts to match expectations of supervisors. At the end of the day, the final forecast can be described as at best "experienced speculation."
Solving this problem comes down to 2 areas:
Apply disciplined processes to drive predictability
Recruit top talent across your channel team and partner ecosystem
Apply disciplined processes to drive predictability
In today's hypercompetitive market, it is more important than ever to have discipline in your sales processes if you want to consistently meet and exceed goals, especially for forecast predictability. Discipline is the act of verifying that actions have been completed as committed, individuals are held accountable for performance, and that actions are quantified for measurement. Edward Deming, the father of Total Quality Management, said to only "expect what you inspect".
To drive discipline, a company needs a framework of unified processes that achieves consistency, standardization and data integrity across functions such as lead generation, opportunity management, pipeline forecasting, account management and direct/indirect channel management. This is especially important in organizations and companies that span continents and include layers of management. Inconsistent partner business planning, rules of engagement and incentive structures are the main offenders in reducing partner forecast predictability.
A good litmus test for determining the efficacy of your processes is to compare how channel managers create a forecast, and build and document partner plans. If you find significant differences in how these partners are managed, then it is likely that you have information distortion as it is cascaded up to top management.
The best way to drive consistency is to design and enforce operational processes that can be measured and inspected. Simplicity is a requirement to attain
Quality of information
Data integrity
Speed of execution
Metric-based measures that cascade through your regions and districts give you a clearer view of management expectations and resulting performance across individuals, districts and regions. In addition, they give transparency around execution so when problems occur, you know where to target.
High performing sales forces drive precision into their revenue forecasts by relying on processes that build reliable data about customers, opportunities and deal status in their CRM systems. They do this for both the direct and indirect sales channel. With reliable data, sales leaders are able to use analytical models to augment management forecast rollups of expected revenue. Common analytics include size and shape of pipeline, conversion rates by sales stage, revenue linearity of previous quarters, YOY revenue linearity, among others.
Successful CRO's insist on using a single CRM system where opportunities are defined consistently, clear definitions of deal stages are known, sales calls and events are recorded, customer buyers are profiled, and close plans are formalized and reviewed with rigor. Shadow CRM systems are forbidden. It is not uncommon for high performing sales leaders to retort that if a deal is not in the CRM system then it does not exist and will not be eligible for commissions. These CRO's demand that sales and management training be conducted regularly to reinforce the importance of discipline around the fundamentals of selling. They regularly inspect compliance to processes and standards for ensuring data integrity; and, use incentives to reward behavior that results in better process execution.
Recruit top talent across your channel team and partner ecosystem
Now let's turn to the most important decisions that affect the success of a sales force. A company's success is directly related to the hiring decisions made on key sales leaders, managers, and sales reps. Although everyone will agree that this observation is obvious, many companies fail to set themselves up for success in attracting and hiring top talent. We previously outlined in Part 1 of this series the changing market environment and resulting impact on buyer behavior.
Customers self-educate and connect using social media before talking to vendors
Customers want to buy business outcomes, not products
Cloud computing is changing what customers want to buy
Lead-to-sales time is being compressed
These market forces place a new demand on the skills and capabilities needed by today's sales professional and their leaders. No longer can core sales capabilities only focus on relationship building and describing product functions and features. Sales professionals, including sales leadership, need to understand the business model of their customer, be aware of industry pain points, have up-to-date knowledge of a customer's financial performance and its GTM strategy, and be able to translate into the customer's business language how the products and services they are selling drive value-added solutions. The ability to describe solutions and approach a customer from a consultative selling perspective is the "price of admission" to start a conversation with a prospect or existing customer. Additionally, they need to understand how to influence all the buying centers in a customer. Using collaboration and social media platforms, internal constituencies inform themselves on competing solutions and share their preferences on prospective solutions. Internal influencers must be included in the selling efforts for a sales rep to be successful.
Faced with customers who are self-educated about competing solutions, CRO's must demand smarter sales enablement from their marketing and product organizations. Sales playbooks, battle cards, value propositions and training need to be authored from the customer side in. Clearly articulated benefits, ROI and referenced use cases are required proof points in the quest to win new business. A sales force that is not armed with solid sales enablement collateral will not dominate its market.
These dynamics change the profile of the talent needed in today's environment. Traditional job definitions used by many internal recruiting organizations miss the mark on getting the right sales talent. They focus on characteristics like high energy, relationship building, prior experience, track record, and ability to operate at a fast pace. They fail to connect sales success to the need for professionals with additional skills like:
Business acumen
Critical thinking
Technical foundation skills
Social media selling techniques using Twitter, Facebook and Linked-in
Data analytics skills to identify the highest potential prospects, and
Consultative selling skills in complex environments focused on solution value.
The shift in capabilities of direct sales reps and your partners adds additional criticality to the types of sales/channel managers and executives that are needed to manage the sales organization. Leaders need to have the same baseline capabilities but also inspire their teams to compete in this new era, keep the sales force informed and motivated, push innovative sales plays, inspect performance regularly, and always be ready to improvise in the face of new competitors and sales tactics.
Keeping a critical eye on the types of professionals hired by your team is essential in today's race for revenue. Sales hiring is a costly and time consuming process. High performing sales organizations make this investment wisely and avoid mistakes in hiring that degrade performance and fuel attrition.
Top performing channel management doesn't happen by chance.