Rapid advancements in technology, the Coronavirus pandemic, and post-pandemic economic instability are all factors that continue to play a role in changing the way businesses operate. As a result, constant market changes prompt marketing, sales, and channel leaders to rethink the paths that will help them meet their organizational goals. The reality is that change will happen no matter what. The question is: will change happen in the ways that leaders want and result in the outcomes they desire?
Without proactive and planful change management, the complete answer is uncertain—though certainly part of the answer will be no.
Our time-tested, proven change management principles serve as a basis for our efforts in cultivating transformation success for leading companies across a wide range of industries. We're sharing our insights and methodology in a two-part blog series. In our first post, we'll cover why it's essential to place an emphasis on your organization's people in transformation and change initiatives.
In our second post, we will overview our methodology for effectively leading organizational change.
A pragmatic approach is essential to landing change
Change management is the practice of preparing and equipping people across an organization to successfully adopt transformation, innovation, and change. Traditional change management yields many best practices that can be applied in dynamic, change-constant businesses. Spur Reply believes that applying these best practices in an even more flexible, nimble, and pragmatic approach is possible—we call it Landing and Adoption Readiness (L&AR).
While typical change management approaches may only equip one or more areas across a business for an organizational change, L&AR prioritizes addressing change from end to end. Our many years of working with large and small companies have shown us most, if not all, transformations impact every area of a business including the entire ecosystem of partners, distributors, vendors, and end customers. Our unique approach to change management works to produce a holistic solution with an emphasis on preparing people across the ecosystem to not only address, but also embrace change.
Left to their own "devices," people immersed in change will not consistently, continuously, or completely understand, embrace, and adopt it as desired or anticipated. Human biology is wired to fight or flee change. Proactive and planful change management eliminates the guesswork and ensures the highest probability of realizing intended return on investment (ROI) on transformation and change. Now—when literally every industry and business type, let alone business function, is going through transformative change—proactive change management, specifically focusing on L&AR, is more important than ever.
Transformation and people readiness
Spur Reply sees business transformation as a step-function in any company's journey, no matter the size or industry. Transformation is key to staying ahead of your competition as well as meeting the needs of partners and customers. You are most likely investing significantly in digital, software as a service (SaaS), and customer experience innovations that are anything but sure bets.

We believe all business transformations are effectively carried out end to end by focusing on four components: strategy, technology, business process, and people readiness.
The elements of innovation and transformation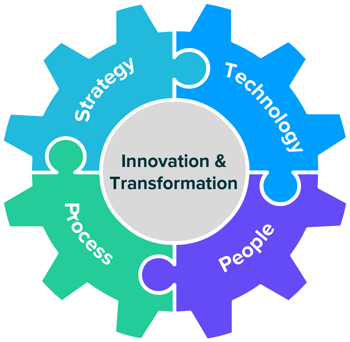 According to Gartner, just 33% of business change initiatives succeed. What could cause such a low success rate? Prosci conducted research on thousands of initiatives and found "a direct correlation between how well the people side of change is managed and how successful the effort is." Additionally, Prosci found that 94% of projects with excellent change management practices met their business objectives, and finished on time and on budget.

Gartner found that the implementation of change management best practices which emphasize a grass-roots type philosophy dramatically increases the success of change initiatives.
Just 33% of business changes succeed.
Change management best practices can improve success by 70%.*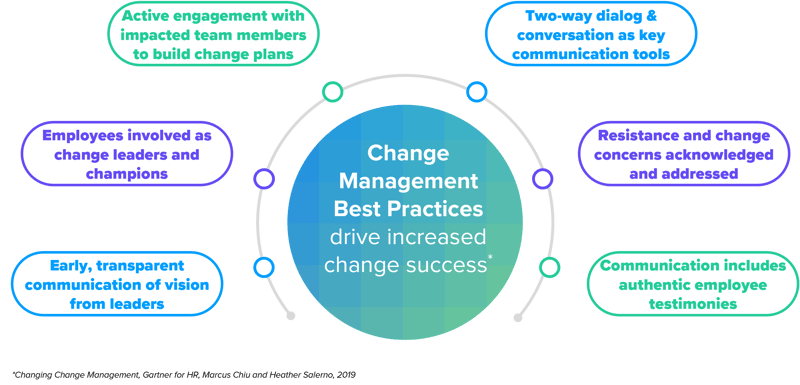 All too often, companies in fast-paced businesses assume that their own teams, partners, and customers can adopt and utilize transformations successfully without intentional and sustained readiness efforts. Although elements such as your strategy, technology, and processes are still important, we believe your organization's people is the most significant element of your approach to successful innovation and transformation.
Why a people-focused approach strengthens organizations
Spur Reply's L&AR approach to change management focuses on the key outcomes that ensure people are ready to maximize the benefits of your innovation and transformation investments. Your organization will only be positioned to realize your planned ROI if your people fully utilize the new technology, processes, and/or business models.
For example, we put our L&AR framework into action when we collaborated with a large technology software client to implement a new partner incentive model. Our client asked us to ensure the change landed successfully without disrupting the business. Partnering with our client's leadership team, we kicked off the project by defining the vision and case for change with corporate and field executives.
Then, we assessed the change impact for internal teams, key partners, and distributors, allowing us to form a holistic communications and engagement plan. Using the assessment findings, our team developed audience-focused communications such as FAQs, objection-handling guides, and interactive training office hours.
We also built an impact planning tool for our client's internal partner managers. Our client's internal teams used the tool as a resource for guiding discussions with partners related to transitioning to the new incentive model. The resources we created, along with our tailored guidance and expertise, led to a successful and smooth transition internally and with partners. The model has since become the foundation for additional partner program transformations within our client's channel ecosystem.
Implementing our people-centric methodology allowed us to prioritize every group of stakeholders that would be impacted by the new incentive model both internally and externally. We incorporated careful planning and organizational resources to fully equip the technology software provider with everything they needed to embrace and implement the transformation end to end. Additionally, our methodology allowed the client to gain a deep understanding of the cost savings and revenue gains that depended on fully readying the organization's stakeholders.
People readiness outcomes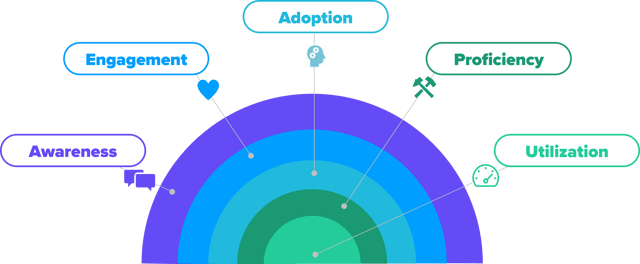 The example above shows how Spur Reply takes a holistic go-to-market view of the people that need to be prepared for a change that will impact their ways of working. We don't focus solely on the readiness of internal teams. We understand that your ROI most likely depends on an ecosystem of internal, partner, distributor, vendor, and end-customer adoption and utilization.
Spur Reply's holistic view of stakeholders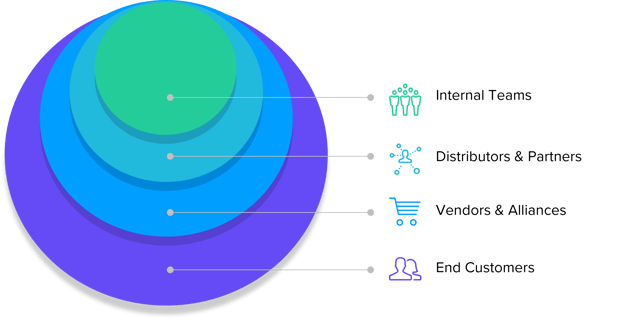 How to enable the transformation of your organization
Your ecosystem's internal and external stakeholders all play a critical role in landing business transformations, innovations, and operational changes. Our approach to maximizing the landing and adoption of these efforts is integrated into our holistic business operations framework for success.
This framework outlines the key business operations steps for planning, executing, and landing critical initiatives: setting a strategy, establishing targets at regular intervals, incorporating the right tools to meet planned performance metrics, developing and maintaining effective operations, ensuring people are ready for key transformations, and finally, conducting sound project management. You can examine our business operations framework in our detailed guide on change management.
Ensuring that the people in your ecosystem – your internal and external stakeholders – are ready to adopt key business changes is arguably the most important factor determining your transformation's success. Weaving humanistic best practices into your change management methodology while also focusing on your processes, technology, and strategies will secure your organization's growth at any scale.
---
This blog is the first in a two-part series on best practices in change management. Check out the second blog to learn about our own change management methodology and how you can apply the framework to your organization.
Mimi Wehner
Mimi Wehner is a director at Spur Reply with over 25 years of management consulting and industry marketing experience in sectors including technology, retail, media, wireless and manufacturing. Mimi specializes in leading complex transformations through strategic planning and change management. She is passionate about bringing multiple solutions together to address her clients' business challenges and achieve sustainable, long-term results.