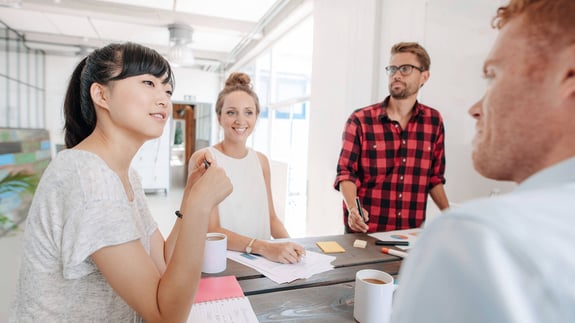 Compensation Model Aligns Channel and Sales Teams
Success Story
At a glance
We helped a software firm streamline the way it leverages its partners. By redefining roles and governance structure, we built a robust partner planning and compensation model. Under a tight deadline, our collaboration successfully achieved high-level buy-in, strengthened communication among channel and sales teams, and grew company revenue.
Built robust partner planning and compensation model under quick deadline
Achieved stakeholder buy-in and strengthened communication among teams
Introduced new governance processes
Partner business propositions
Partner co-selling models
Role and compensation planning
Governance process and review cadence
SCHEDULE A MEETING WITH AN EXPERT
The importance of a compensation plan
An effective compensation plan can encourage positive behaviors across a team, set expectations and standards for sales compensation, and drive results to achieve overall team goals.
As a multinational software firm, our client relies on its sales force to introduce customers to networking, software, and cloud computing technologies.
Optimizing partner recruitment and management
Our client wanted to strengthen its sales team structure and incentive model. Enhancing these components would allow the software firm to improve the way it recruits, manages, and optimizes partners.
Our teams were tasked with:
Helping our client align internal compensation and channel incentives with desired business outcomes
Redefining internal field roles
Creating proficient field resources for channel partners
We needed to work with urgency to make the changes in time for the next fiscal year.
Redefining roles and governance structure
Our teams first redefined internal roles and compensation to catalyze cooperation between joint selling teams. Furthermore, we redefined the channel manager role to focus on pipeline management rather than enablement. Our teams additionally created new rules of engagement for sales teams and partners.
To secure executive agreement, our teams then introduced a new governance process and unified our client's management team. We introduced a new partner incentives framework to encourage net new deals. Finally, to help our client adapt to the new structure and processes, our teams conducted a training boot camp for the new role and compensation plan.
High-level buy-in, strengthened communication, and revenue growth
We successfully re-engineered and launched our client's new partner sales management structure prior to the start of a new fiscal year — and with a short timeline. Our collaboration achieved buy-in for the proposed changes across the firm's leadership and partners.
Our teams also helped give the technology firm's channel and sales teams clear rules of engagement, which renewed our client's commitment to its channel. The new partner strategy and execution model strengthened team communication and continued to grow company revenue.
Thought Leadership
Related Content