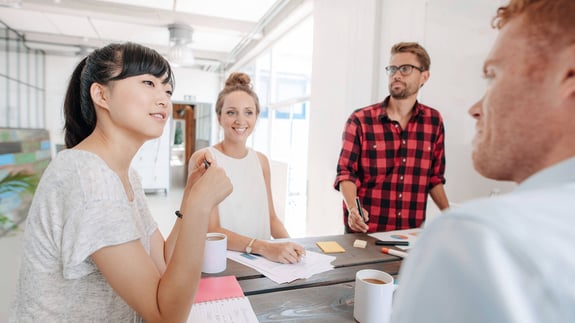 Updated Joint Selling Strategy Increases Revenue
Success Story
At a glance
A leading technology giant and an independently operated entity within its family of companies increased their revenue growth after Spur Reply unified their sales strategies and strengthened centralized resources. Based on feedback from cross-company stakeholders, our experts built a new joint-selling process and account planning playbook to give sales teams the resources they needed to excel.
Aligned client strengths and selling strategies
Optimized sales skills and enhanced customer conversations
Created product specific content for customer needs
Sales enablement and playbooks
Sales strategy and model development
Distribution and partner strategy
Partner co-selling models
Project, process, and program management
SCHEDULE A MEETING WITH AN EXPERT
The power of a playbook
Companies are more dependent than ever on their partners for extended sales — and sometimes even interdependent. For two related, but separate, organizations conducting joint sales, it can sometimes be challenging to establish a coherent process that maximizes competitive advantages. A joint go-to-market playbook can serve as a blueprint for the alignment of sales strategies, the customization of content, and the utilization of combined resources. An efficient playbook will guide behaviors, create value, and grow revenue for both companies.
Unifying the needs of two related companies
A technology company and its majority-owned subsidiary, an enterprise-software firm, deliver value to customers through a unique synergy. The technology company co-engineers systems with the firm to help organizations streamline their journeys to becoming digital businesses.
Our clients sought our expertise to build a new joint-selling process. Balancing the desires and needs from two distinct companies and seller audiences required specialized focus. Specifically, our clients needed our help with strengthening the selling process to increase customer satisfaction. We wanted to supply core sellers at both companies with the resources to have sophisticated customer conversations.
A new joint-selling process and account planning playbook
Both sales teams needed help with alignment and refining strategies in order to:
Build a joint account planning process between the two organizations
Centralize disparate seller resources so reps could easily find relevant information needed to complete a sale
Unify seller strategies with touchpoints to strengthen account relationships
Edit available content into a condensed and navigable seller resource that can be tailored to different use cases
Working closely with our client sales teams, our experts unified company perspectives after gathering and distilling an overview of the joint-selling process at that time. We then developed an account planning playbook with process changes based on feedback from cross-company stakeholders.
Our experts built a new end-to-end selling process to ensure all reps apply the same selling strategy. We built additional product-specific content including overviews, glossaries of existing material, and target persona information. Finally, we provided all sales reps with quick access to critical content via an easy-to-use interface.
Throughout the project, one challenge our teams successfully worked through was balancing the desires and needs of two distinct entities and their seller audiences. Other challenges included trimming available content into a condensed resource and creating materials that can be tailored to different use cases.
Increased revenue growth from optimized sales resources
At a time when organizations need to rapidly drive real results to achieve and sustain a competitive advantage, we helped our clients align their strengths and selling strategies. Upon project completion, they successfully adopted and implemented the playbook.
In addition to a condensed and effective joint-selling process, our efforts produced a comprehensive, centralized resource that optimizes salesperson skills and enhances the quality of customer conversations. We also helped produce a vast amount of product/solution specific content that can be tailored to customer needs.
The playbook helped our clients grow revenues faster with their respective customers and prospects. Additionally, the new joint account planning process offers an invaluable opportunity for our clients' teams to coordinate over desired seller outcomes.
Thought Leadership
Related Content