The way you plan a project before it's launched is just as important as the way you manage it going forward. If a team kicks off a project without the right amount of preparation, key stakeholders can find themselves working past the target completion date and spending over their budget.
Spur Reply's years of experience with project management and operations expertise have allowed us to develop a set of best practices that help ensure a project is finished on time and under budget. We're sharing our tips with you in a three-part blog series. In our first post, we'll cover project feasibility, how to get executive buy-in, and planning a project from start to finish.
In our second post, we tackle the top project management methods and where to use each one.
In our third and final post in the series, we examine how to ensure projects run smoothly.

Determining project feasibility
Have an idea for a project but aren't sure what to do next? The first step is determining whether your project idea is worth the investment. The idea may seem interesting, and your executives could be excited about it, but that doesn't mean you should dive in headfirst. If you start a project without first taking the time to determine its feasibility, you could easily find yourself in a chaotic situation.
We recommend using this set of questions to help determine whether your project idea is worth pursuing.
Strategic direction: How will the project achieve overall corporate goals?
Oversight: Who would be the project sponsor? Does this person have the bandwidth to fully support the project?
Key success factors: Does everyone involved understand the challenges within the project? How will we measure the desired outcomes?
Involvement: Who are the stakeholders? Specifically, who is responsible for achieving project success?
Bandwidth: Does the team have enough time and resources to dedicate to the project?
Operational Alignment: If team members build out the project, can they effectively run it? What are the potential long-term operational issues or roadblocks?
Dependencies: Are there any actions that need to be taken before the team kicks off the project?
Financial return: Will the project achieve returns consistent with the risks taken?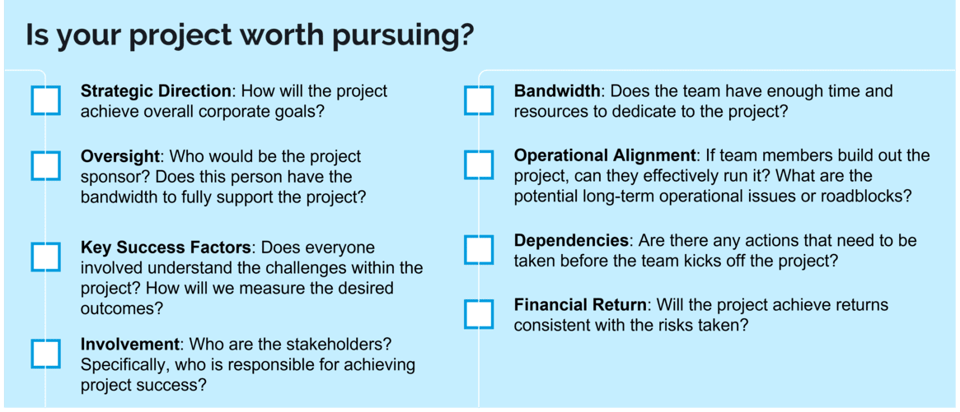 Knowing the answers to these questions will ultimately help drive overall goals and objectives. Additionally, having at least one person who owns each of these seven areas is essential for the team's overall success.
Once you determine your project is feasible, you can start to strategize how you will get executive buy-in.
Getting executive buy-in
Getting executive buy-in and funding is one of the biggest obstacles in implementing a new business initiative. Top executives constantly weigh a variety of requests for project funding and resources. An executive team can't commit to every idea with limited time and resources.
So how do you get commitment for your initiative, especially if you don't yet have a long track record of success in your current role? The answer lies in three steps:
Outline a clear strategy that ties to the organization's broader vision
Build a foundation of smaller wins to prove your value
Offer clear, quantifiable metrics that can show your success
Let's break each of them down.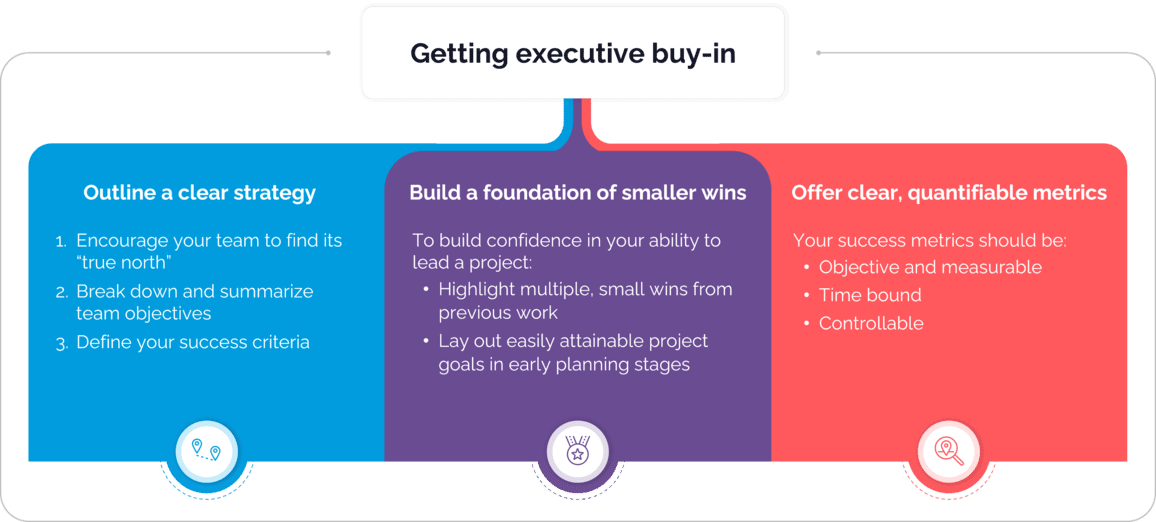 Outline a clear strategy
A clear strategy helps you build credibility. Make your strategy concise and clearly show how your plan supports organizational goals. One method your team could use to help create your strategy is design thinking, a creative approach that encompasses a variety of interactive and hands-on methods for problem-solving. Design thinking gives people a methodical way to think outside the box and generate innovative solutions.
No matter which method you choose to outline your strategy, you should first start by thinking critically about the problem you want to solve. Your solution to the problem from a strategic level will serve as a "true north" against which to pressure test your goal, execution plan, and results. Once you identify your true north, you can clearly articulate how your solution solves the underlying problem and what tactical steps are required to execute it.
We offer three steps as a planning exercise that can keep your team aligned on the project objectives from the start:
Encourage your team to find its "true north." In other words, narrow down the essence of what you want your team to accomplish and express the goal in clear, unfaltering language. Rather than a mission statement or vision, state the reason the team has been put in place.
Then, break down and summarize the objectives your team wants to achieve. Ask your team to lay out the objectives in three to five concise bullet points. Boiling objectives down to a few bullet points is a challenge, especially for large and complex projects.

Spend some time bringing everyone's answers together and refine all the ideas until your team comes up with a brief list of bullet points that summarizes it. Avoid using jargon and instead use clear, easy-to-understand language. You can then repeat this process for each of the supporting work-streams.
Define your success criteria. Once your team is clear on the objectives, ask them to consider what a successful project result looks like as well as define quantitative and qualitative outcomes. Continue to use simple language and clear ideas to define your success criteria for the project and each workstream.
Ensuring early strategic alignment is important because it ties together your goals to those of the executive team, which will help you make your case. A unified team knows what they need to achieve and how they will achieve it. Taking a strategic, outcome-based approach to project planning will improve your team's decision-making, accelerate progress and keep everyone on the same page.
Build a foundation of smaller wins
Your track record is the best way to build trust. You don't need to show big wins. Multiple small wins can just as effectively build your credibility and give momentum to a long-term plan. As you build your plan, lay out attainable, goals early in the process to help solidify buy-in as the project moves into more intensive later stages. If you have previous successes on a similar project, make sure you take the time to highlight them.
For example, maybe you have an idea about how to adjust sales coverage to better target a specific demographic. A smaller win that showcases your critical thinking could be working with a solution engineer to close a complex deal, which shows you understand the resources needed to progress the sale pipeline.
You can still consider a past win even if it doesn't fully align with your current proposal. For example, if you are working on a large-scale partner recruitment plan, you might point to an experience in which you used data to target a specific audience or successfully drove other types of partner activity.
Small wins and previous successes build confidence in your ability to lead future projects.
Offer clear, quantifiable metrics
Finally, define success. Executives value results, so defining success means controlling the results of the project.
Your success metrics should be:
Objective and measurable: Your performance indicators for success should be as objective as possible, to reduce unfair interpretation by others.
Time-bound: Set absolute dates for your goals or deliverables. Meeting a goal on time and under budget is three successes in one.
Controllable: You can't control every variable in any project, but ultimately you need to be able to substantially impact the outcome.
The bottom line: consider what you are willing to be held accountable for and how your executive team will do so.
Your trust capital grows exponentially every time you plan and execute a successful project. At the end of the day, getting resources and commitment comes down to convincing your executive team or board of directors to make a bet on you. For success, that team must agree with your strategy, trust your ability to execute, and know how to measure your success or failure.
Planning out your project
Once you gain executive buy-in and identify your objectives, it's time to start planning out your project. Strategic project management is imperative to any business, especially when everyone wants to get work done quickly and in a cost-effective manner.
Picture this: after a grueling period of building a strategy full of cross-team alignment and executive reviews, team members are exhausted. As a result, the team doesn't put the same amount of time and effort into the next leg of the project, resulting in a program that fails to run smoothly.
The way you plan your project makes a significant impact and can drastically impact your outcome. Sometimes, project managers fall into the trap of basing their methodology on activities rather than outcomes.
One way to ensure your methodology is outcome-based is to start out considering your project requirements. Follow these steps for a detailed and organized project plan.
Generate scenarios
Break scenarios into steps
Build requirements based on steps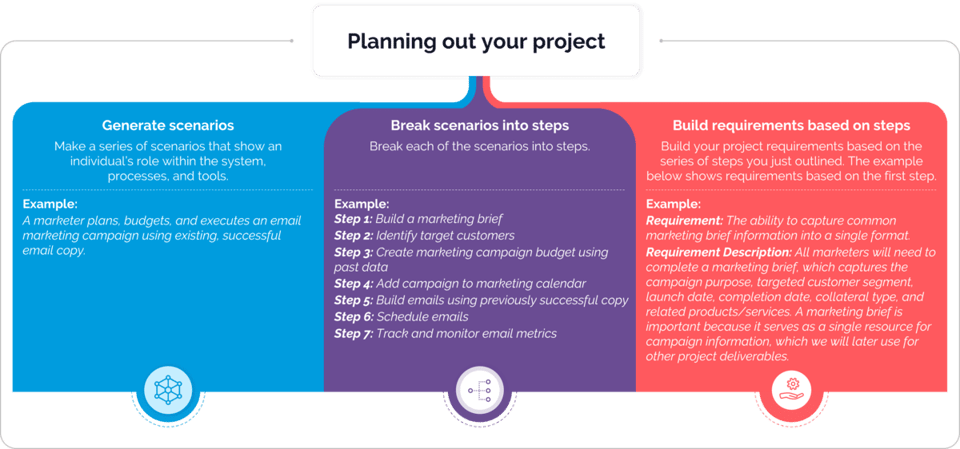 Generate scenarios
First, generate a series of scenarios that demonstrate an individual's role within the system, processes, and tools. Be creative. Highlight and distinguish both common and unlikely scenarios.
For example, say you are building the requirements for an end-to-end marketing program. A great first step is to create scenarios that identify the experiences a marketer would encounter at the beginning, middle, and end of a campaign.
An example scenario might be that a marketer plans, budgets, and executes an email marketing campaign using existing, successful email copy.
Break scenarios into steps
Next, break each of the scenarios into a series of steps. Try not to get stuck thinking about current tools or processes. Instead, think about how the scenario would work in an ideal world.
Using the example above, we can break the scenario into the following steps:
Step 1: Build a marketing brief
Step 2: Identify target customers
Step 3: Create marketing campaign budget by leveraging data from similar, completed campaigns
Step 4: Add campaign to marketing campaign calendar
Step 5: Build email using existing, successful copy
Step 6: Schedule time to send emails
Step 7: Track and monitor customer actions based on email campaign
Build requirements based on the steps
Finally, you are ready to build your project requirements based on the series of steps you just outlined. Each step will have one or more requirements.
By definition, a requirement is the systematic or programmatic ability, capability, service, power, or authority to complete a task. Try to use at least one of the words from that specific definition when creating the project requirements. You should also provide a description that defines how the requirement will be used and why it is important.
Using step one from our example above, you might make the following requirement:
Requirement: The ability to capture common marketing brief information into a single format.
Requirement Description: All marketers will need to complete a marketing brief, which captures the campaign purpose, targeted customer segment, launch date, completion date, collateral type, and related products/services. A marketing brief is important because it serves as a single resource for campaign information, which will later be used to help populate other fields within the system.
By using scenarios to derive system requirements, you will design a thorough plan that takes most, if not, all potential possibilities into account. The result is a well-executed, smoothly run project that leads to a positive outcome.
---
This blog is the first in a series on project management best practices. Check out the second blog in the series on choosing the right project management method and the third blog on keeping projects running smoothly.