No one likes working on a chaotic project. But, ensuring a project runs smoothly is easier said than done.
To effectively execute a project, leaders and stakeholders need to use strong project management processes throughout, starting with a clear path. A clear path will include a specific approach to meet expectations, establishing ownership and accountability, and emphasizing transparency.
Our years of experience with leading successful projects have allowed us to define our own proven, outcome-driven methodology to help meet any project's objective. We're sharing our tips with you in a three-part blog series.
In our first post, we covered project feasibility, how to get executive buy-in, and planning a project from start to finish. In our second post, we tackled the top project management methods and where to use each one.
In our third and final post in the series, we will examine how to ensure your project runs smoothly.
Kicking off your project
Starting a project in the right direction can be a challenge if the team lacks a clear project management strategy or the resources to run the plan effectively. Building transparency into work products, the project plan, risks, and open decisions can motivate team members to do quality work on time. No one enjoys seeing their name attached to an overdue deliverable displayed for the whole team and management.
The first decision you should make when kicking off your project is the type of methodology you will use to meet your objectives. Then, with relative ease, you can motivate your project team to succeed with these steps:
Configure your project within your collaboration tool
Establish periodic check-ins and regular deadlines
Configure your project within your collaboration tool
When you're kicking off your project, you should first set your project up within your preferred collaboration tool or application. The tool should offer secure, flexible tracking, customization, workflows, and automated reminders. Every task and asset related to your project should be visible to your team, managers, stakeholders, and even executives sponsoring the project. Let everyone know that they can check out the site for up-to-date project information.
You should always keep your software up to date. There may be times where you will have to track down team members for information and update items on their behalf — but it is worth the time and effort to do so. Your project management software tool will serve as a central location for everyone involved to easily identify what parts of the project are on track, behind, and at risk. By showing project-wide dependencies and open items, the team, managers, and executive sponsors will have full transparency into the project's progress.
Establish periodic check-ins and regular deadlines
An essential component of keeping an on-track project is the daily prioritization of to-dos and goals.
One way to ensure regular communication about the status of deliverables is establishing a daily meeting (often known as a sync) that can occur at the beginning or end of the day.
Establishing a daily meeting does not guarantee communication, so we recommend an additional strategy called today is over when (TIOW).
Every day, our teams create a list with items written as if they have already been completed, i.e. the work is in past tense. Every team member creates a list that looks something like the example below:
Today is over when (TIOW):
The communication plan is submitted for review and approval
The executive review meeting is scheduled
The project plan is updated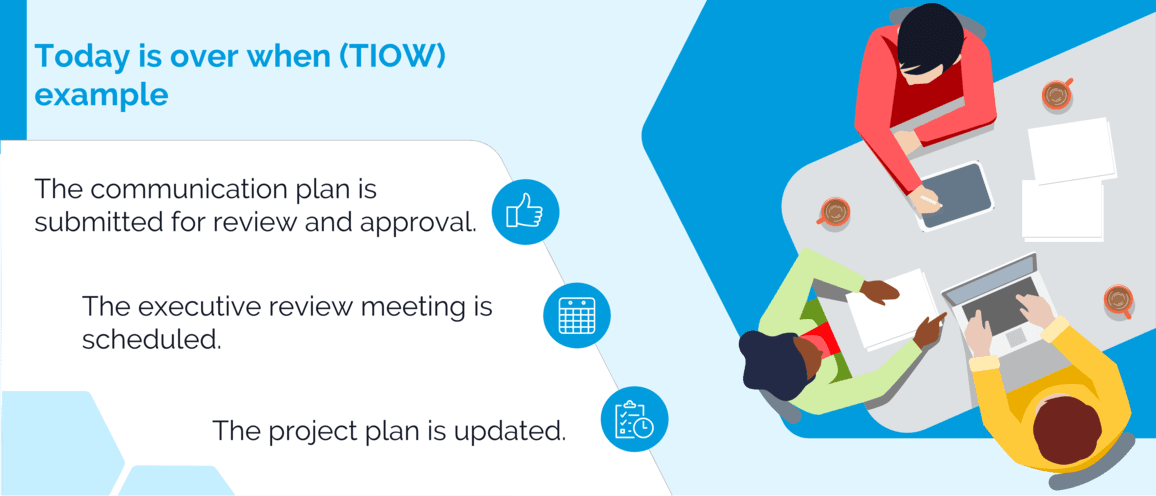 The second component of the technique is the same format but accounts for open items over the course of the week.
The week is over when (TWIOW):
The work-stream plan is built with agreement from work-stream leads
All working sessions are scheduled and accepted
We have a graphics-treated draft of the walking deck
While 'today is over when' (TIOW) establishes a means for enforcing daily deadlines, 'the week is over when' (TWIOW) highlights the week's work to ensure that longer-term goals are met on time.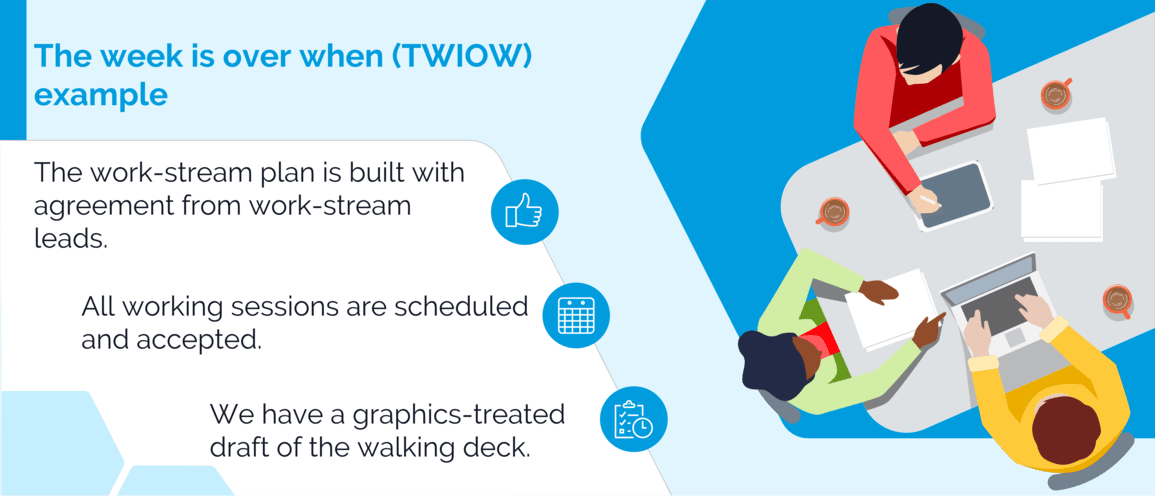 Keeping your project on track
There are times when ambiguity is necessary to inspire creativity and find the right solution to a challenge. For example, leaders may ask an ambiguous question to help form a competitive environment that allows people to consider a variety of possibilities to identify and implement the best solution.
However, when it comes to projects with timeframes and set deadlines, ambiguity is the enemy of progress.
Here are three ways to avoid ambiguity and keep your project on track to meet your objective: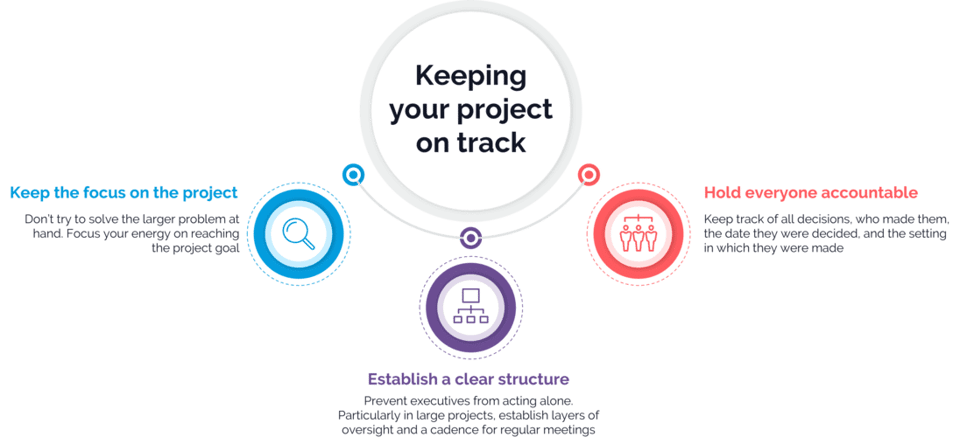 Keep the focus on the project. All organizations may have their own overarching and wide-scale areas for improvement. Don't try to solve the larger problem at hand. The larger challenges likely won't be solved anytime soon. Instead, focus your energy on reaching the project goal. Propose the project's governance as a temporary structure, even if it links to permanent structures.
Establish a clear structure. Prevent executives from acting alone. Particularly in large projects, establish layers of oversight and a cadence for regular meetings. That way, executives will have the opportunity to seek guidance and escalate decisions when necessary and appropriate.
Hold everyone accountable. Once a decision is made, write it down. Keep track of the decisions, who made them, the date they were decided, and the setting in which they were made. It's easy to forget the context surrounding decisions as a project progresses. To make this process easier, we recommend using a collaborative tool with transparency to everyone on the team.
When executing a project, clarity is key. Clear communication, defined responsibilities and structure, documented decisions, and succinct goals will all keep your project on track and contribute to your team's success.
Getting your project over the finish line
Occasionally, projects may struggle to get to the finish line. Throughout an engagement, management may sometimes continue to report that even though the project is almost done, another delay is necessary. As delays continue, credibility starts to diminish. Sometimes the project may even get canceled. Other times, a project may be declared finished, but the outcome is far from what was originally envisioned and the victory, while declared, feels hollow and unsatisfying.
Usually, the root cause of project delays stems from team members or leaders declaring tasks finished when they really aren't. As a result, the weight of unfinished items overwhelms progress and the project flounders.
Done means done — and that's the expectation your team should adhere to when reporting deliverables as finished. A finished deliverable should be approved and loaded to the final deliverables repository. There should be nothing more to complete.
The expectation for completing a task should not only mean there are no loose ends, but also that the task has been completed with excellence, which increases the project's overall quality.
Below are three tips to finish tasks with excellence: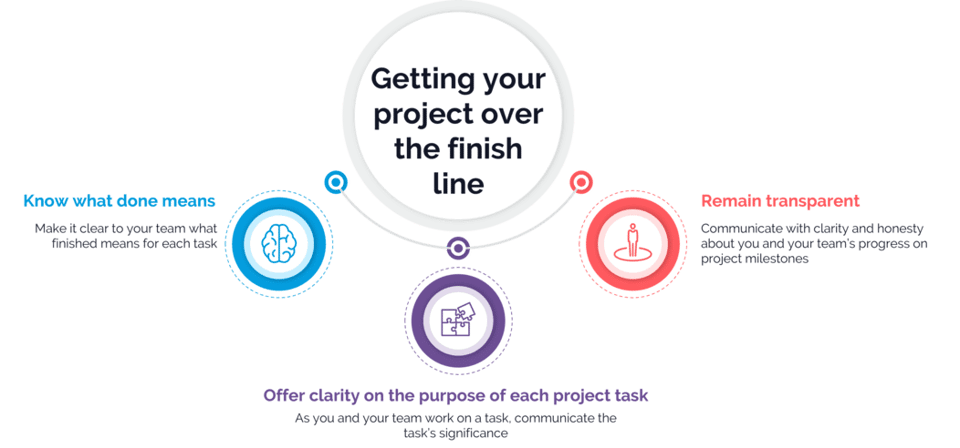 Know what done means. Make it clear to your team what finished means. Do you need to send an approving email? Do you need to give verbal approval at a meeting? Where is the finished product being stored? Use these answers to consider and define your completion criteria, an essential component of keeping your team on the same page.
Offer clarity on the purpose of each project task. As you and your team work on a task, communicate the task's significance. For example, say your team is responsible for creating a training document for a client's new hires. The document's purpose would be to empower employees to process orders faster with fewer errors. Offering clarity on a deliverable's purpose gives your team members the needed context to add intentional value when they create it.
Remain transparent. Communicate with clarity and honesty about you and your team's progress on project milestones. Inevitably, transparency will reveal problems, which will give you the opportunity to help fix them before it's too late.
The bottom line? Complete every step of your project with clear communication and transparency. Don't just finish tasks to check them off the list. Finishing tasks with excellence will bring your project to the finish line on time and on budget.
Consider project management as a service
If your list of to-dos seems too long or overwhelming, consider bringing in a vendor to manage part or all of a crucial project. Outsourced project management may not suit everyone's needs. However, when it makes sense to optimize your operations, hiring project management experts can save you time, money, and stress.
If you're considering a vendor, Spur Reply can provide your team with thought partnership, business insights, and the extra bandwidth you need to be more successful.
---
This blog is the third in a series on project management best practices. Check out the first blog in the series on project prep and kickoff and the second blog on choosing the right project management method.