Revenue operations (RevOps) has quickly become a popular business approach for companies across varying sizes and industries looking to accelerate their revenue. In fact, a 2022 study by Revenue.io reported 48% of companies it surveyed had a RevOps function, which was up 15% over the previous year.
A multitude of definitions exist for the business approach, but we define RevOps as a flexible system that integrates into your business model. It is designed to connect, analyze, and improve the lifecycle of revenue realization across an organization.
So, by definition, every company that recognizes revenue has RevOps. What changes within each company, however, is the quality of that system. Every organization is unique, and therefore each RevOps approach will be slightly different.
Ultimately, the goal of adopting a RevOps-centric business model is to closely align and integrate sales, marketing, channels, and customer success units for repeatable revenue growth and profitability. This can only be achieved by ensuring your strategies, people, processes, technology, and data are all intentionally intertwined to meet common goals.
With RevOps working across so many functions within your organization, it can be overwhelming to determine how to begin implementing it. To help you get started, we are sharing our best practices gleaned from years of working alongside leading companies to optimize their revenue acceleration.
Four tips on getting started with RevOps
RevOps starts with making a plan and establishing your vision. You need to know where you're going if you're ever going to reach your destination. It's easy to jump into action without first communicating and aligning on the overall goal of adopting a RevOps-centric business model. However, establishing a strategic plan is critical so your company is clear on its purpose and objective.
Once you establish your vision for a connected business, keep these four points in mind as you get started with RevOps.
Shift your mindset.
Build your coalition.
Execute in increments.
Embrace the change.
Let's expand on each of these four tips, starting with how to shift your mindset.
Shift your mindset
Before you make your RevOps vision a reality, it's essential to make sure your customers are at the forefront of your business.
Some of the most common issues we see businesses grappling with include:
Siloed business units
Insufficient cross-organizational alignment
Disjointed data
Disrupted customer connection
Fragmented internal organization structures
All of these challenges are typically the root cause of wildly inconsistent customer experiences, leading people to perceive your business as being all over the place.
To address these key issues, you need to shift your mindset to put the customer front and center of your business. Ask yourself how you can start to place the customer and their experience at the root of your company's initiatives. It's critical to form a broad, strategic vision that will allow you to holistically examine the customer journey beyond a marketing or sales lens.
Internal alignment on the importance of the customer experience is also essential, and all the functions that make up your RevOps system should prioritize it. When your organization adopts a more customer-centric mindset, the customer experience will start to influence its approach, not the other way around.
Build your coalition
Next, build your coalition.
Remember: if you want to go fast, go alone. If you want to go far, go together. Your organization's people are arguably the most important component of building your RevOps system. Start to build your coalition by strengthening internal support. You need to align leadership and build sponsors in other teams who will help you secure top-down and bottom-up support. You can't have execs demanding change or front-line employees pushing for improvement; you need both.
It also helps to leverage experts. You can find these individuals internally or hire outside pros. Attending webinars, and workshops, or simply asking questions to experienced RevOps professionals in your network is a great way to set up a foundation for success.
Additionally, there are plenty of informative, useful resources to take advantage of. Some include this content library by Winning By Design, a training course by Hubspot, and communities by the Revenue Operations Alliance and the RevOps Co-op. Remember that knowledge is power. The more information you consume and the more people you bring together to support your RevOps mission, the more comfortable you will become with adopting a new approach to revenue realization.
Execute in increments
The third tip is to execute in increments.
One of the benefits of RevOps is also what makes it sometimes feel overwhelming – its scope. That said, remember to execute in increments. You want to start making an impact on your revenue, but you can't boil the ocean out of the gate. Start small, and then expand. It's okay to take this journey step by step.
Maybe after you initially assess your organization for areas you can optimize through RevOps, you'll find there are some quick wins you can take on before you try to convince your CEO to hire a Chief Revenue Officer. Perhaps you identify a high-impact project that will help demonstrate the value of RevOps to your company. There are a variety of ways to get started because the business approach affects so many interconnected areas of your business—but the point is: just get started.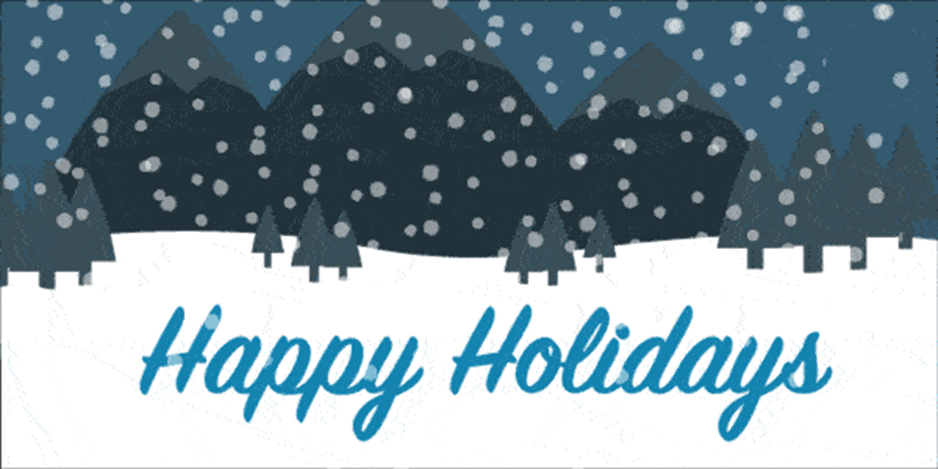 The image above shows a map we created to represent our own view of RevOps. You can learn more about the breakdown of our framework in this article.
Our map demonstrates the way we view RevOps across the business, and the above visual includes potential steps across the framework that someone might take to start to adopt the approach. It's important to note that this visual is just an example and is not comprehensive. But what it shows is that to get started, you need to find spaces in your organization to build all-encompassing, meaningful, and manageable processes for your revenue acceleration.
Embrace the change
And finally, embrace the change.
You're not going to change your revenue realization without changing your business. This may sound scary to some people, but if you show them the vision and path to get there, you'll have an army behind you in no time. Not only do you need to take small steps, but you need to recognize that RevOps may be new to a lot of people, and it will likely bring big changes that will affect your entire organization. It's going to be a journey for you as well as anyone else involved. That said, you will likely encounter resistance, which is a natural human response.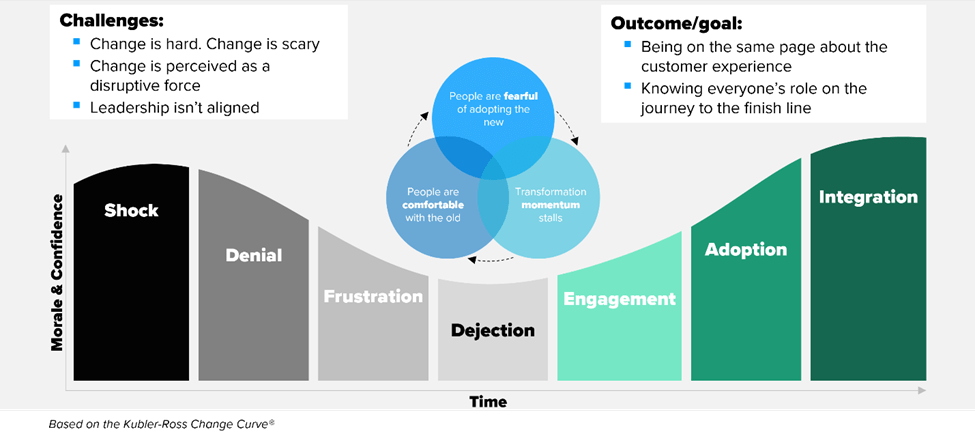 You're probably familiar with the change curve above. Undergoing any change is a process, and everyone starts on a different stage of the curve. As previously mentioned, it's important to execute in increments as you help people along the way and not expect instant adoption.
One action we find helpful is to continue to keep the vision and the 'why' front and center. "What's in it for me?" is often the question people ask (even if they might not say it out loud) and it is important to communicate the answer. Sharing that case for change and regularly communicating progress towards the vision will help align people to the real goal: improving the customer journey and the customer experience.
Looking ahead
Integrating a RevOps-centric business model is no easy feat. The process will require patience, learning by trial and error, and consistent agility. However, the benefits greatly outweigh the costs, and with RevOps, your organization will gain the tools it needs to revolutionize its customer experience.
Want to learn more tips on Revops based on years of experience partnering with clients to drive and optimize their growth? Check out our breakdown of our unique RevOps methodology by Spur Reply's in-house experts. You can also check out our five-part blog series, starting with our first article on how we define the business approach.