The inner workings of most companies are complex no matter the size or industry. With so many different groups working toward their own set of goals by using their own set of systems and processes to meet them, it can be a challenge to continually maximize your company's overall growth. Maximizing revenue, specifically, is often a Herculean task, but it's vital to success.
To improve revenue realization across their organizations, many company leaders are turning to revenue operations (RevOps). When effectively implemented, a RevOps-centric business model can serve as a powerful catalyst to help your company realize its full growth potential. However, because revenue efforts often span across so much of your organization's various units and functions, it can sometimes be overwhelming to know where to start with adopting a RevOps approach.
---
Spur Reply's years of experience partnering with clients to drive and optimize their growth have allowed us to develop a set of best practices to help you accelerate your organization's revenue and grow its profitability. We're sharing our tips with you in a five-part blog series.
In our first article, we covered what we believe traditional definitions of RevOps leave out, how we define it, and the positive outcomes this business approach can deliver for your business.
Our second article tackled the reasons your organization needs RevOps and why you should invest time and resources in it.
In this article, the third in our series, we will break down our unique methodology for RevOps implementation.
Our fourth article will share a real-world example of our RevOps approach.
Finally, our fifth article will give you pointers for securing executive buy-in for implementing RevOps in your organization.
The ABCs framework for RevOps implementation
Our RevOps framework provides a holistic approach to solving common challenges standing in the way of maximizing revenue. Our unique methodology, which we call "The ABCs," emphasizes alignment across all areas of your business by specifically focusing on optimizing your strategy, people, processes, technology, and data. To start to build an understanding of The ABCs, here's an initial breakdown of the meaning and purpose behind each component of the framework: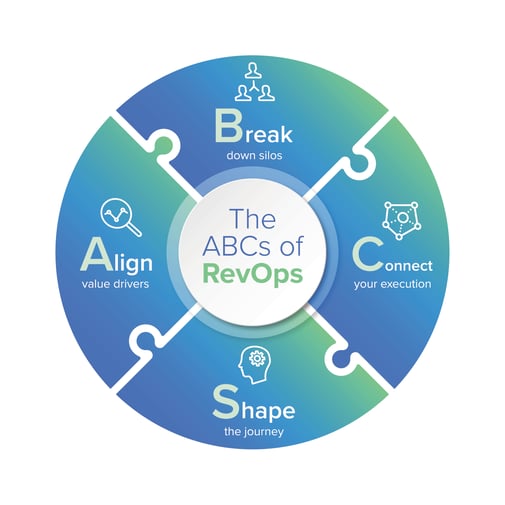 Align value drivers: RevOps implementation always begins with aligning teams, stakeholders, and processes. Alignment is achieved through:
Prioritizing focus on customer interaction points
Optimizing key sales process handoffs
Documenting high-value process connection points
Identifying cross-organizational processes
Break down silos: Next, we break down the silos that cause friction in the revenue realization process by:
Establishing executive and stakeholder alignment to work toward common goals
Instituting a people-first, bi-lateral communications approach
Focusing on the impact of change by audience
Streamlining interaction points that span business units
Connect your execution: We then look to connect your execution across all RevOps efforts through:
Emphasizing simplicity across all tactical business efforts
Designing projects to be flexible, agile, and connected
Creating and strengthening feedback loops across all activities
Driving toward a single source of truth
Shape the journey: Lastly, we focus on expanding our partnerships as well as establishing metrics to track the organization's progress by:
Ensuring stakeholders know how their work impacts organizational objectives
Creating common data points to help measure and share progress
Maintaining focus on the interconnectivity of each business unit
Expanding a wide-reaching RevOps perspective across ongoing business efforts
Now, let's take a deeper dive into each element of the framework.
Align value drivers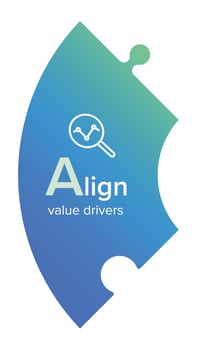 The 'A' in ABCs focuses on the alignment of your organization's value drivers. At a high level, your value drivers include your teams, processes, and systems. Unifying them begins with bringing your disparate teams together to identify a shared set of goals, enabling you to chart a course to meet them.
To start to align your value drivers, it's helpful to prioritize four key areas.
The first is your focus on customer interaction points. Identify the key touchpoints within your customer lifecycle that make the greatest impact on revenue. Examples of key customer interaction points include website visits, marketing campaigns, sales calls, demos, renewals, etc. It can be helpful to put yourself in your customers' shoes and experience the entire customer journey, mapping out key moments to better understand their experience. Placing the key moments on a map is essential to learn areas of strength and improvement across your customer journey.
Second, you should optimize key sales process handoffs. These are the most crucial moments in your customer journey because they mark where a prospect becomes a lead, and a lead becomes a customer. You can identify key sales process handoffs by leveraging your customer journey map and interviewing internal stakeholders. Once you've identified these handoffs, work to remove friction customers may experience as they move along your sales cycle.
The third focus area is to document high-value process connection points. These connection points reflect how your teams work within your organization to achieve goals. A connection point is considered 'high value' if it will create a significant impact when overlooked or missed. There are lots of process steps in a business, but not all are considered equal. RevOps prioritizes the high value—the most impactful points that ensure success. Documenting these critical points will ensure clarity and consistency within your daily operations, aid in knowledge transfer and onboarding, enable scalability and growth, and promote collaboration and alignment.
Lastly, focus on optimizing your cross-organizational processes. Streamlining these processes can eliminate redundancies and friction, reducing operational costs. When different teams and workflows are more closely aligned, it's easier to work together and meet objectives by leveraging each other's strengths and areas of expertise. The smoother you can get your teams running together, the smoother your customer experience will be, thus improving revenue acceleration.
Break down silos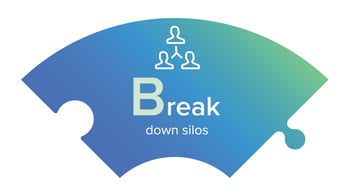 The 'B' in our ABCs framework refers to breaking down silos that cause friction in the revenue realization process. Breaking down silos means eliminating the barriers between your different teams and stakeholders, allowing you to streamline your RevOps processes, strengthen communication, and increase productivity.
To effectively break down silos, we recommend taking four key actions.
First, you should establish executive and stakeholder alignment. Early alignment is essential as you begin to implement RevOps. Involving stakeholders from different teams ensures that everyone is clear on their role and how they will work together to help the organization succeed. Early stakeholder support enables better cross-team collaboration and communication in the long run, and the earlier stakeholders are looped in, the more likely they are to buy into the initiative and offer support.
Second, institute a people-first, bilateral communications approach. A people-first approach focuses on fostering collaboration and teamwork among different departments and teams. It also encourages effective and open communication channels that allow for bilateral conversations, allowing people to proactively exchange ideas, information, and feedback. Open communication is essential for people to build trust, strengthen relationships, and enhance knowledge sharing.
The third action is to focus on the impact of change by audience. Different segments of your business will have different levels of comfort with change. Recognizing the varying sentiments among your teams and focusing on their specific concerns and needs can help increase adoption of the new process and tools you're implementing as part of your broader RevOps efforts. It is also important to understand and communicate relevant changes to customers. Remaining cognizant of how changes will impact your teams and customers will increase their willingness to adapt to the new approach in the long run, allowing you to ensure their experience remains positive.
Lastly, it's helpful to streamline interaction points that span across business units. These interaction points refer to the ways teams communicate, collaborate, and engage with one another. They may include employee communication channels, established meeting cadences and structures, technology solutions, and process flows used to exchange information and work together. Clearly defined structures for communication and engagement provide clarity on cross-organizational roles, processes, and what is needed for the organization to continuously grow and adapt.
Connect your execution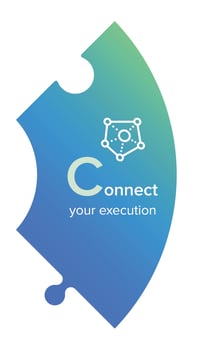 The 'C' in our ABCs framework represents connecting your execution across all RevOps efforts. Effectively driving revenue growth starts by unifying stakeholders, teams, projects, initiatives, and programs across the organization.
You can connect your execution efforts by taking four key steps.
First, emphasize simplicity across all operational elements of your organization. Operational elements include your processes, systems, and communication channels. Identify and streamline these elements with automation, improved organization, or other optimization efforts wherever possible. Simplifying the daily tasks that impact revenue generation is essential for maximizing efficiency and minimizing errors. The more friction you remove, the better collaboration can become within your organization.
Next, design projects to be flexible, agile, and connected. The business landscape is constantly evolving due to changing customer behaviors, market trends, and competitive pressures. RevOps projects need to be flexible and agile to adapt to these dynamics and seize new opportunities. By continuously monitoring and understanding customer needs, behaviors, and preferences, organizations can adjust their RevOps strategies to deliver exceptional customer experiences and stay aligned with market realities.
The third step is to create and strengthen feedback loops. Implementing RevOps requires a mindset of continuous improvement. Feedback loops provide a mechanism for collecting insights, identifying areas for improvement, and implementing necessary changes. Create platforms in which regular feedback on RevOps efforts can be provided between teams and by individuals. Your feedback loops should also consider and prioritize the customer's point of view. Ensure feedback processes are not only internal-facing and that they incorporate customer input. By regularly seeking and incorporating feedback, organizations can refine processes, optimize strategies, and enhance overall RevOps effectiveness.
Finally, build and establish a single source of truth for all relevant RevOps data. Maintaining a central database ensures that your teams are using consistent and accurate information to make informed decisions. When multiple data sources exist, discrepancies and inconsistencies can arise, leading to confusion and suboptimal decision-making. By improving key information collection and consolidation from various teams, organizations can avoid data silos and maintain data integrity.
Shape the journey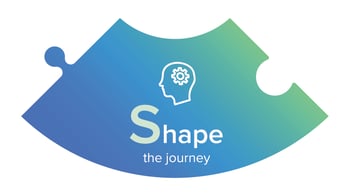 The 'S' and final component of our ABCs framework is about shaping your RevOps for future success by taking a holistic, forward-looking view of your organization. This stage emphasizes the importance of continually strengthening your partnerships and relationships that play a role in meeting broader goals tied to revenue generation.
Adhering and striving toward a long-term vision also requires building a demonstrable return on investment (ROI). To demonstrate ROI for your RevOps efforts, it's key to carefully track your progress, maintain consistent communication, be transparent about goal setting, and adjust your initiatives as needed.
Here are four ways to help shape your RevOps journey for future success.
The first way to shape your RevOps journey for success is to ensure stakeholders know how their work impacts objectives. When stakeholders understand how their day-to-day tasks are connected to the firm's larger goals, alignment, transparency, motivation, accountability, and adaptability are strengthened throughout your organization. Consistent communication between teams and across the company regarding stakeholder contributions to success facilitates a cohesive and results-driven approach to revenue generation
Next, hold your organization accountable for both measuring and sharing progress. Creating accountability starts with defining objectives and key results (OKRs) as well as key performance indicators (KPIs) for business units to monitor. Consistent communication regarding cross-team goals encourages interdependence and emphasizes the collective responsibility for revenue growth and customer satisfaction. Regularly review and discuss these metrics to foster a data-driven environment that encourages collaboration.
The third way is to maintain focus on the interconnectivity of each business unit. Ensure that all teams involved in RevOps share common goals and continue to work toward reaching revenue and customer-related targets. You can facilitate cross-functional discussions on a regular basis to keep all stakeholders unified, improve decision-making, encourage new ideas, and quickly pivot tactics and strategies when necessary.
Finally, continue to implement a wide-reaching RevOps perspective across your ongoing business efforts. Taking a holistic approach will provide a comprehensive view of your company's entire revenue lifecycle, reaching from lead generation all the way to customer retention and expansion. Continually applying this broader organizational context to your growth tactics and strategies will ensure a collaborative, data-driven, and customer-centric approach to revenue generation.
Realize ongoing, long-term value from RevOps
Each element of our ABCs framework will help you establish a unified approach to RevOps implementation from end to end. A defined process that brings together value drivers, breaks down silos, connects tactical business efforts, and implements performance metrics is key to ensuring your organization generates the highest ROI possible. It's important to remember that RevOps efforts are never complete. When implemented correctly, a RevOps-centric business model continues to improve over time as you find new ways to grow and scale your business.
By using the ABCs framework to focus your efforts, you have an opportunity to transform your business through revenue acceleration now and in the future.
---
This blog is the third post in a five-part series on best practices in RevOps. Check out the second post to discover the reasons your organization needs RevOps and why you should invest time and resources into focusing on it.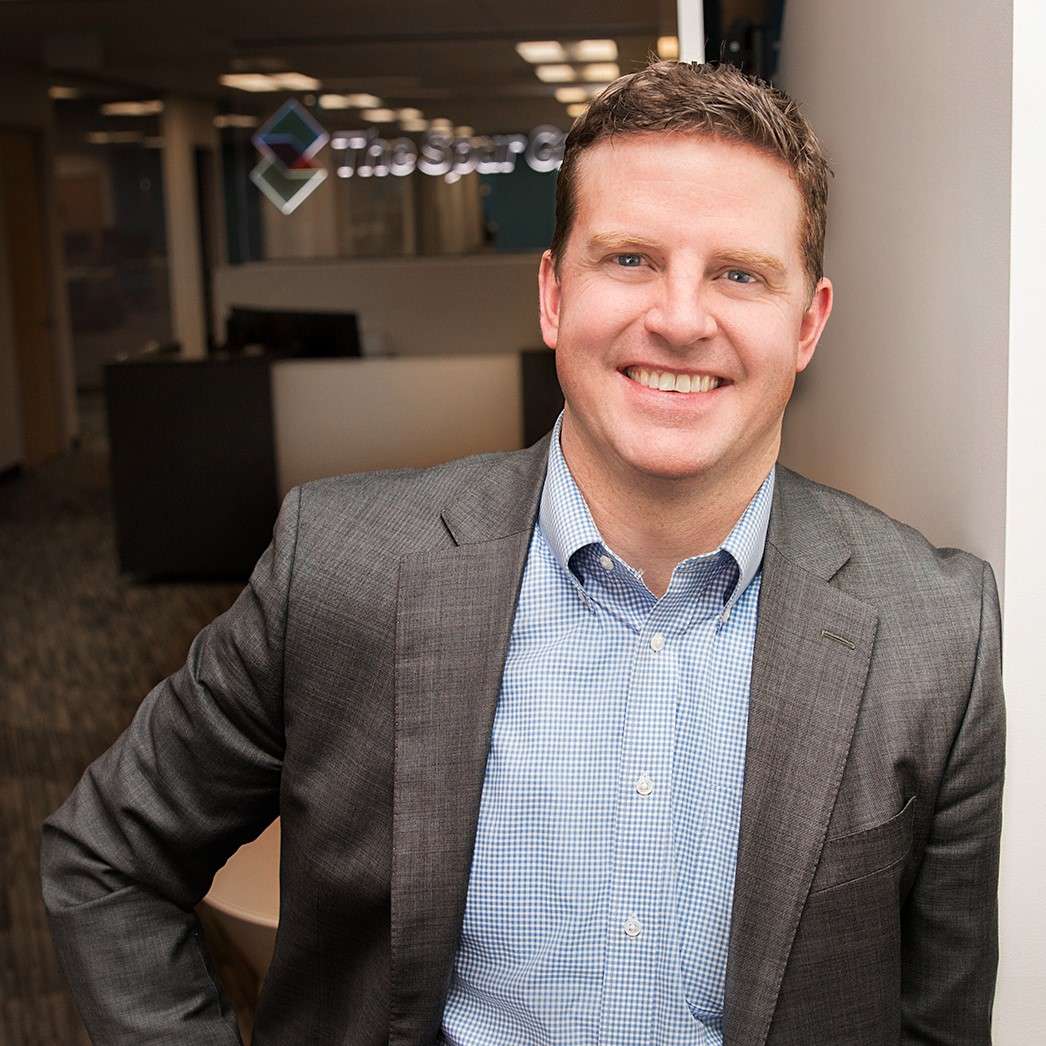 Dan Overgaag
Dan leads Spur Reply's channel management, sales transformation and business operations practices with over 11 years of industry experience. Dan has led countless projects and strategic initiatives across channel management and channel incentives programs within technology companies such as Microsoft, Cisco and Google.