Realizing your full revenue potential is no easy feat. To achieve the highest level of market success possible, you need to balance your growth strategies and also consistently drive and maintain alignment between the strategies, processes, and people that support your revenue operations (RevOps).
Spur Reply's years of experience partnering with clients to drive and optimize their growth have allowed us to develop a set of best practices to help you accelerate your organization's revenue and grow its profitability. We're sharing our tips with you in a five-part blog series. In our first article, we will cover what we believe traditional definitions of RevOps leave out, how we define it, and the positive outcomes this business approach can deliver for your business.

In the second article of our five-part series, we will tackle the reasons your organization needs RevOps and why you should invest time and resources into focusing on it.

Our third article will take a deeper dive into the core values a RevOps-focused business model delivers and how to make it work for your business.

Our fourth article will share our unique approach to executing successful RevOps.

Lastly, our fifth article will give you tips to help gain executive buy-in on implementing this business approach within your organization.
Rethinking RevOps
Depending on who you ask or where you go to research, the definition of RevOps is always slightly different.

Revenue Enablement Institute defines it as "a management model that better aligns sales, marketing, and customer success teams and the assets, systems, and processes that support the coherent set of customer and company goals." According to Forbes, RevOps aligns marketing, sales, and customer success through customer lifecycle to drive revenue growth. Tech Target offers a third viewpoint by describing it as "the strategic integration of sales, marketing and service departments to provide a better end-to-end view to administration and management, while leaving day-to-day processes within the departments. The holistic approach of RevOps is designed to break down silos between departments."

There is certainly nothing wrong with these definitions and they all capture critical aspects of the business approach. However, traditional explanations such as these don't always accurately reflect what we believe the approach entails and what it should achieve for your organization.
How we define RevOps
When effectively integrated into your business model, RevOps can help you identify and deploy new ways to drive market success. Your business model determines how you will enable long-term value for customers through the products and/or services you plan to sell and how you will go to market with them.
Our work with both large and small clients across a variety of industries has given us a unique perspective on RevOps and how it impacts organizational success. To create our own definition for the business approach, we took a hard look at all the business units it touches as well as the business functions that support it.

We came to the conclusion that RevOps can best be defined as a flexible system that integrates into your business model. It is designed to connect, analyze, and improve the lifecycle of revenue realization across an organization. Its objective is to align and integrate sales, marketing, channels, and customer success units for repeatable revenue growth and profitability by ensuring strategy, people, processes, technology, and data work together toward common goals.

RevOps isn't a new concept. Even if it is not distinctly acknowledged as such, every organization that deals with revenue incorporates it at some capacity. As a result, we believe the key to optimizing your revenue operations is to mature individual components, or the entirety of components, that make up your RevOps. Our mission at Spur Reply is to strengthen companies' revenue operations by advancing individual business functions and units, as well as addressing all routes to market, customer buying types, and marketing and sales motions.
What it looks like
When considering how we wanted to convey our thinking on the approach, we felt it was important to build a map that would help ground ourselves and our clients. Creating a universal framework is challenging as every organization is unique in structure, so it's worth noting that other companies can and should adjust our version to fit their own parameters.
Spur Reply's RevOps Framework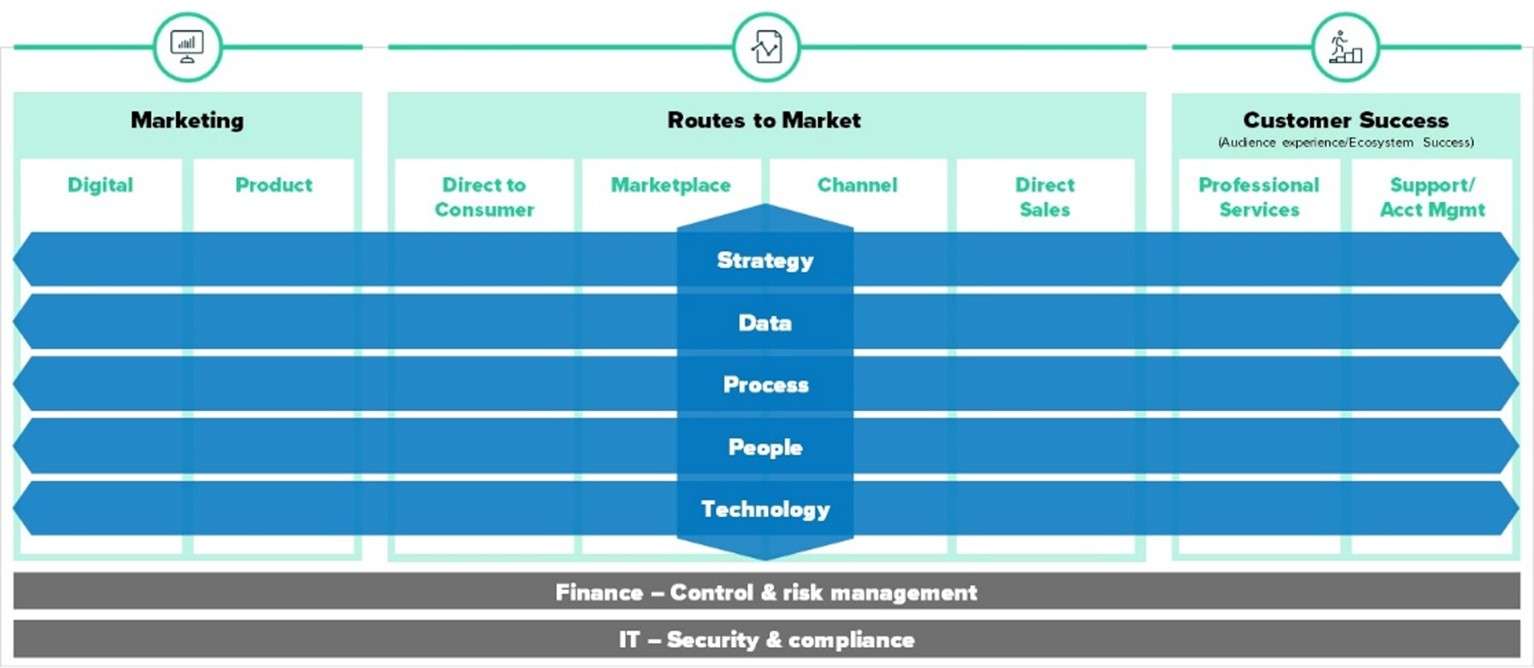 Let's first take a look at the various business units that engage in the RevOps lifecycle. Your three primarily involved units are as follows:
Marketing

: Including both digital and product teams who enact strategies that promote brand awareness and help drive sales for your products or services

Routes to market (or sales)

: Including teams who own and drive direct-to-consumer, marketplaces, channel, and direct sales strategies

Customer success

: Including the professional services organization — but also potentially support teams, who serve the function of account management and are responsible for driving renewals, upsells, cross-sells, and ultimately driving customer satisfaction and success
Across all three units are the organization's operational functions, including company strategy, data, process, people, and technology. Our approach emphasizes the alignment between each of these functions across all business units. Each function is interdependent on one another and should be fully integrated within the three business units end-to-end to achieve the highest outcomes possible.

Underpinning your organization are of course the finance teams responsible for managing your company's financial health and ensuring compliance control and risk management. Additionally, the IT teams work to develop, operate, and maintain the technologies needed to perform daily operations as well as ensure security and system compliance.
Why RevOps is important
Especially in the tech industry, companies are commonly faced with challenges such as short product lifecycles, extreme competition, and ever-evolving customer expectations. All too often, the root cause of these issues is misalignment among company teams, processes, and systems. RevOps provides a stable, agile foundation to adapt to and overcome these obstacles.

A study by SiriusDecisions found that organizations that effectively executed RevOps grew revenue three times faster than those that didn't. Additionally, public companies that focused on it reported 71% higher stock performance. The global research firm also claims that organizations that focus on alignment gain up to 19% faster revenue growth and as high as 15% higher profitability compared to other businesses.

The findings emphasize that when addressed in the right way, RevOps can play a key role in helping companies achieve market success. It's essential to build and maintain a focus around the drivers, strategies, and mechanisms that will be used to meet organizational goals from both individual and holistic standpoints.
The outcomes RevOps delivers
A RevOps mindset focuses on your organization internally and prioritizes the customer experience, positioning you to gain value externally. Through optimizing your growth strategies, the approach also allows you to improve customer experiences and maximize lifetime value. At its core, the approach drives revenue realization and profitability by increasing sales productivity, driving efficiency, and connecting data. RevOps achieves this in three ways:
Alignment and increased sales velocity across your complex GTM structure

: The RevOps framework allows you to strengthen alignment and therefore increase sales velocity across complex go-to-market (GTM) structures. With a RevOps-focused business model, paths are created to prioritize cross-functional collaboration, ensuring teams work toward common goals and share valuable insights for strategy optimization along the way.


Reduced friction and simplification across routes-to-market, marketing, and customer success: RevOps creates opportunities to grow your organization's potential for success. By streamlining your functionality across units, a more productive environment is created for stakeholders to find new ways of enhancing the customer experience or gaining increased value across unit and function interchanges.


Business functions working toward unified objectives and sustained growth: With RevOps, organizations can reduce friction and create simplification across their routes-to-market, marketing, and customer success units. Through collaborating around a shared understanding of collective goals, business functions can work toward unified objectives and sustain growth.
By bridging silos, identifying new opportunities for success, and unifying people, strategy, and systems, RevOps can bolster GTM effectiveness. By following our end-to-end approach, business leaders can optimize their RevOps to amplify positive outcomes for their organizations.
Three things traditional views on RevOps don't consider
Now that we've laid the groundwork for our take on RevOps and explained why it's important, we offer three things traditional definitions of the approach don't always take into consideration or miss in how they talk about it.
#1: Routes to market include more than direct sales
A consistent thread in traditional definitions of RevOps is that they tend to discuss direct sales teams as the "sales" element of their definition. However, we understand your path to revenue and routes to market are typically much more complicated than that.

In addition to direct sales, your routes to market may also include the many direct-to-consumer channels used to sell their products, services, and/or solutions to end consumers. These channels are primarily online and may include also online marketplaces, e-commerce websites, and apps.

Another critical element of your routes to market is your partner/channel ecosystem, which is extremely complex in and of itself. Making up your ecosystem are a wide variety of channel partners beyond traditional resellers and distributors, including managed service providers (MSPs), system integrators (SIs), independent software vendors, (ISVs), and more all potentially serving different and unique pieces of your solution and market. All channel partners operate and interact with each other within an intricate network built to support revenue growth.

Finally, you have your direct sales channel. This of course refers to the team(s) responsible for meeting your business' sales goals by actively growing your customer base. Working directly with customers, they use a variety of tactics and strategies to sell your company's products, services, and/or solutions.

Each route to market is different. They all require a different level of involvement and engagement from both internal and external stakeholders. For example, direct-to-consumer is typically very low touch, whereas direct selling is high touch and requires a greater level of investment to execute.

The key to building effective revenue operations is also arguably the biggest challenge: bringing all route-to-market channels together to optimize revenue generation for each one and avoid conflict between them. This is a heavy task, but as the leading go-to-market experts, our expertise in building and executing the strategies made to help our clients grow and accelerate revenue is based on a proven track record for success. We not only understand the importance of a GTM strategy, but also how to unify the strategy across systems, teams, tools, and processes from end-to-end so our clients can achieve their highest potential possible.
#2: RevOps goes beyond tools
Many traditional takes on RevOps claim that a critical aspect of the approach is aligning and getting the most out of the systems you have as well as connecting your data. Common viewpoints also usually emphasize that a RevOps-focused business model can help you identify tool redundancy and simplify your technology stack. To clarify, all of these points are correct and describe essential functions that will drive your RevOps' effectiveness. But they don't tell the whole story.

Tools and connected data only make up part of your RevOps — and traditional definitions often fail to put equal weight on its other important aspects and functions. We believe three counterparts make up the approach as a whole, including your:
Strategy

: Your strategies need to be fully understood, adopted, and cascaded throughout your entire organization by teams across all business functions. The objectives and key results that are integrated into your strategies need to maintain alignment or the purpose of connecting your tools and data is lost.

Process

: Processes need to be fully adapted to create value for your organization. As your business develops and grows, your processes also need to continue to meet the needs of your organization. They need to evolve in order to take advantage of improved solutions and maximize the outcomes of your connected data.

People

: To maximize the value of your RevOps, you will need to potentially adjust your organization's strategic efforts. Your people are your company's lynchpin, and it's up to you to ensure they are positioned carefully and intentionally to fully utilize new technology and processes. Changes to your business' technology and data structures need to be well-landed and adopted to be effective. Compared to your data and technology, your people also require a high level of investment and focus.
Ultimately, your tools and connected data cannot drive the highest ROI without working effectively in collaboration with your strategies, processes, and people. The three interdependent counterparts should equally serve as the foundation and driving force for your RevOps execution.
#3: Optimizing your RevOps isn't a one-stop-shop
Much of how we see RevOps portrayed seems to suggest that it's a solution. And it's not.

Successful RevOps isn't achieved as a single initiative or within a set point in time. It's not something that can be built and then walked away from. Creating and executing your RevOps requires a different mindset. It requires continual prioritization of growth and cost savings for your business.

Therefore, you will never be "done" with maintaining and finding new ways to better your RevOps lifecycle. As a catalyst to help generate the highest ROI possible, the business approach requires a consistent focus that never fades away. When performed well, it drives efficiency and serves as a perpetual cycle of alignment, growth, and optimization for your organization.

By taking into account all the business functions and units that work to accelerate your revenue, you will be able to better align the drivers that amplify your success. Our holistic approach to RevOps ensures you build an agile system designed to uncover and unify new opportunities to help you grow and scale.
---
This blog is the first post in a five-part series on best practices in RevOps. Check out the second post to discover the reasons your organization needs RevOps and why you should invest time and resources into focusing on it.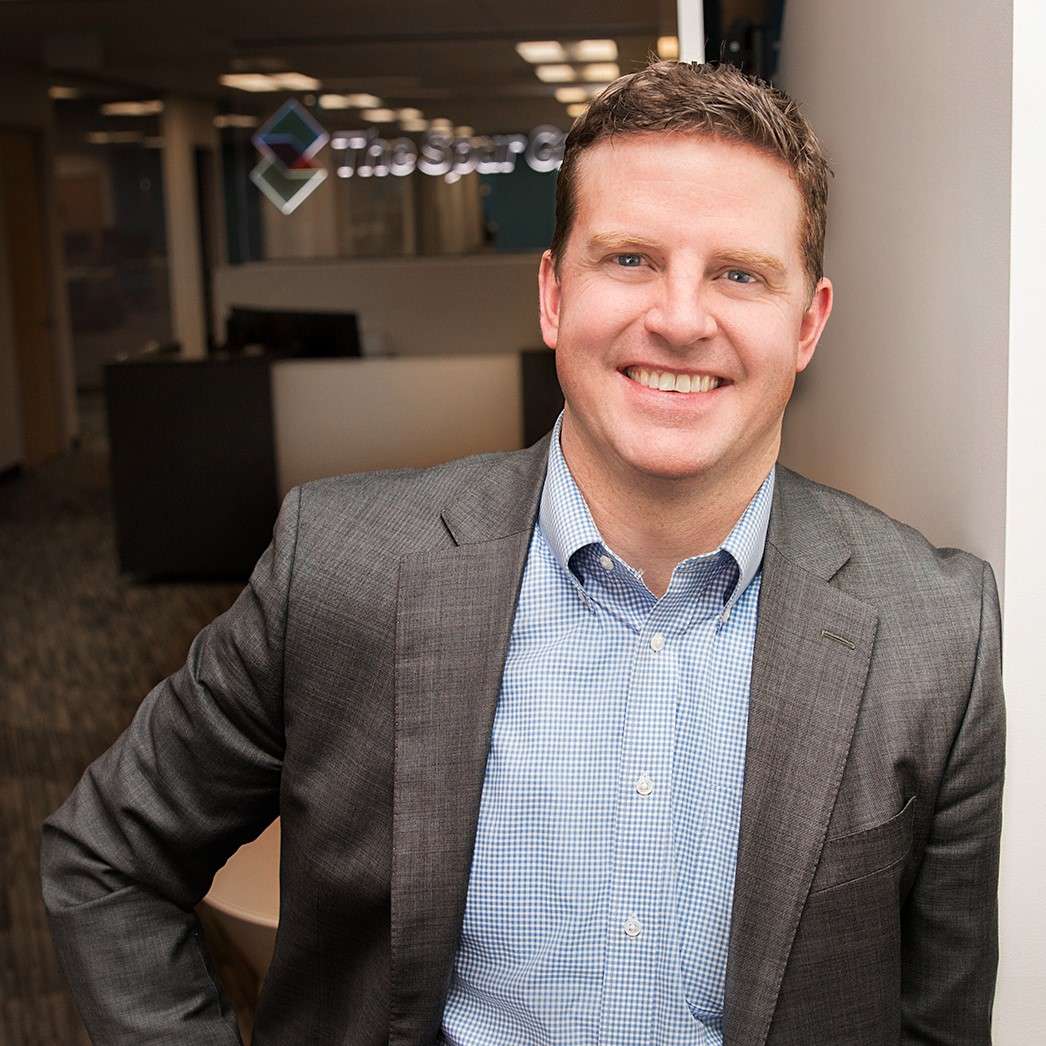 Dan Overgaag
Dan leads Spur Reply's channel management, sales transformation and business operations practices with over 11 years of industry experience. Dan has led countless projects and strategic initiatives across channel management and channel incentives programs within technology companies such as Microsoft, Cisco and Google.